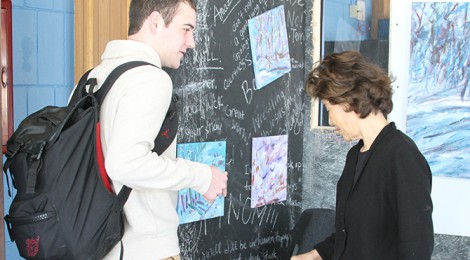 Culture is a deep-rooted sociological aspect of human life. Everything that we hold true—values, ethics, religion, dialect—is a direct result of exposure to national and regional culture. From the moment we are born, we are conditioned to observe our surrounding culture, learning how to survive, adapt, and thrive within its context.
What if at the age of 27, you completely uproot your life and move to another country whose culture is completely different from that of your country of origin? Such is the story of Korean-born artist Bukang Y. Kim, an accomplished abstract impressionism artist in both Korea and America. After obtaining her Bachelors of Fine Arts from Seoul National University in Korea, Kim set off for Cincinnati, Ohio, earning her Masters of Fine Arts at the University of Cincinnati.
Today, Bukang Kim seamlessly blends traditional east Asian techniques with modern western techniques in her art. It is her cultural adaptation, however, that may be even more remarkable. "Art is culture," explains Kim. "Your culture and geography are represented in your art. I've lived in Cincinnati for longer now than I did Korea, but I was raised in Korea, so my art is representative of both of these different cultures. Art is you—your background, where you're living, where you're educated. These are all different aspects that make up you, and your art will show this."
Kim has an impressive list of cities in which her art has been displayed, including New York, Seoul, Prague, South Korea, and the Czech Republic. Many of these exhibits highlight the vastly different cultures in Kim's background, including her most recent exhibit entitled Bukang Y. Kim: Journey at the Cincinnati Art Museum. This inspiring artistic journey was displayed from December 13, 2014to March 15, 2015.
"A lot of people say they can see Asian influence in my brush painting. Asian art involves a lot of energy, as well as Asian gestural and calligraphic painting, which my art shows. My culture makes me who I am, so I spend a lot of time comparing and contrasting Asian and American culture in my paintings," explains Kim.
In addition to the exhibit at the Cincinnati Art Museum, Kim served as Thomas More College's artist-in-residence from February 17 to March 5. She painted in a provided studio space in the Villa on campus, and participated as a guest teacher for art classes. "We were thrilled to bring Bukang Kim to campus for a two-week artist-in-residency," says Rebecca Bilbo, chair of the Thomas More College art department. "Our art students had the rare opportunity to work alongside this revered Cincinnati artist whose drawings and paintings so beautifully blend the Asian aesthetic of enlightenment with American expressionism."
"This is my first time visiting Thomas More. It's very warm and inviting," says Kim, describing her experience as Thomas More College's artist-in-residence. The College is grateful to have had a highly accomplished artist with such a unique background participate in the artist-in-residence program. It was a remarkable opportunity for art students to gain perspective on artistic expression from outside of their cultural norm.
For more information on Thomas More College's Art department visit http://www.thomasmore.edu/art/