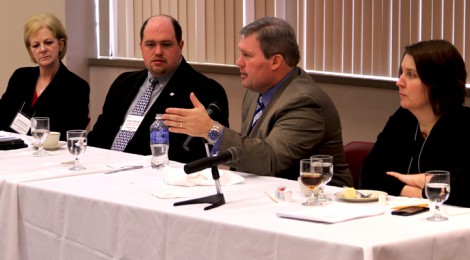 Thomas More College welcomed more than 55 higher education administrators to campus on Thursday, March 19, to discuss the importance of implementing effective Title IX and sexual violence policies and procedures as part of a Greater Cincinnati Consortium of Colleges and Universities workshop.
The all-day event featured speakers from leading area institutions, including Thomas More College, Mount St. Joseph University and Xavier University.
David A. Armstrong, J.D., President of Thomas More College, opened the workshop with a session on college president preparedness, citing the importance of establishing a culture of compliance in higher education.
"With more and more regulations in higher education today, the area that is most on the mind of legislators and advocacy groups is Title IX compliance and sexual misconduct on college campuses," said Armstrong. "I speak nationally on the importance of this issue and how colleges can navigate the best way to take care of all of their constituencies, but primarily taking care of our most important group, which is our students.
"I volunteered to work with our Greater Cincinnati colleges to make sure all of us are doing our best to comply with this legislation," added Armstrong. "It was wonderful to see four college presidents in attendance at this workshop. This shows their care for their institutions and how important these issues are. Quality compliance starts at the top and I believe we have this in this area."
The U.S. Department of Education recently released updated rules related to sexual assault, dating violence, domestic violence and stalking for the Clery Act, the primary legislation related to campus crime reporting. The workshop focused on helping institutions better understand applicable federal laws related to these complex topics and help ensure that these institutions have the right tools, procedures and policies in place.
Title IX of the Educational Amendments of 1972 is a federal civil rights law that prohibits discrimination on the basis of sex in federally funded education programs and activities. All public and private educational institutions receiving any federal financial assistance must comply with Title IX.
The Title IX law includes a school's responsibility to respond promptly and effectively to sexual violence, which can include rape, sexual assault, sexual battery, sexual abuse and sexual coercion. All those forms are considered sex discrimination and are prohibited by Title IX.
The Greater Cincinnati Consortium of College and Universities is a non-profit alliance of 17 area colleges and universities formed in 1974 to promote cooperation and collaboration among its members in the Greater Cincinnati area. Members include Art Academy of Cincinnati, The Athenaeum of Ohio, Chatfield College, Cincinnati Christian University, Cincinnati State Technical and Community College, Gateway Community and Technical College, God's Bible School & College, Good Samaritan College of Nursing and Health Science, Hebrew Union College/Jewish Institute of Religion, Miami University, Mount St. Joseph University, Northern Kentucky University, Thomas More College, Union Institute and University, University of Cincinnati, Wilmington College and Xavier University.