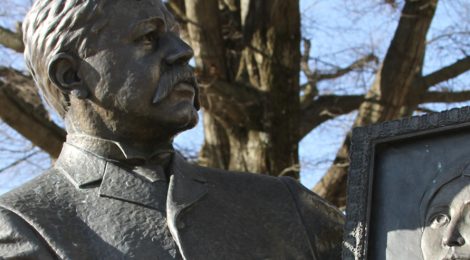 Through the Art@ThomasMore series, we've been discovering and shedding light on art and artifacts that have visually impacted campus since its founding 100 years ago. Though not physically on campus yet, in 2023, a new sculpture by Matt Langford will make its way home to Thomas More's Crestview Hills campus. A bronze sculpture of our patron saint, St. Thomas More, is currently under production, and we have the back story from Langford on the meaning and vision behind his work that will soon be erected on campus.
Matt Langford: "My work is focused on representing historic subjects in a monumental manner and light; seeking to reveal the internal strengths which brought these figures to greatness. I am selective in the work I undertake as I prefer subjects of merit which would benefit the public by being reintroduced in a formal and lasting manner.
"I seek to be an advocate for subjects which history may have underserved, or which deserve a regeneration of interest, particularly among coming generations. My work stands in several states, including the 'Horse Soldier' statue at Ground Zero in New York City, on which I was assistant sculptor. The bulk of my work, however, is viewable in this region, as I am inclined toward its related history. My themes are direct and accessible, and purposefully intended to 'boil things down' so as to create memorable images.
"My interest in sculpting began in childhood; formally I studied sculpture in college with Michael Skop, who was a student of Ivan Mestrovic, who was in turn a student of the great French sculptor Auguste Rodin. I am the son of a Londoner whose grandfather was a 'master joiner'(ornamental woodworker) in the service of the Royal Family, whose work adorns Windsor Castle and Westminster Palace and Abbey.
"The subject of Thomas More is the first of which I have undertaken which will allow me to review and represent history directly related to my own English roots, and I am also a man of Christian faith who understands the difficulty of standing firm in that faith when the world would have otherwise. That is all to say that this project will be of personally great interest, and will hopefully, as intended, reflect that interest to others."
Langford's work can be found throughout the region in communities such as Burlington, Covington, Fort Mitchell, Northern Kentucky University's campus, and Cincinnati. His work is also present in several states, including Illinois and as far as New York, where he assisted in the "Horse Soldier" statue that lives in Liberty Park at Ground Zero in New York City.