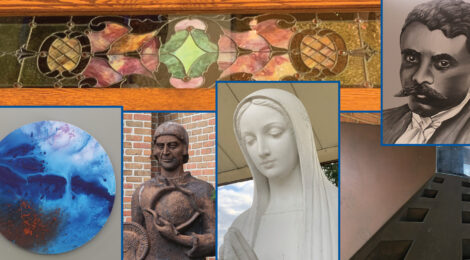 Hello, my name is Rose Hatmaker, I graduated in 2002 with a degree in art and art history. I am also part of the Art@ThomasMore Initiative and today's featured piece is a portrait commissioned by professor James Camp. This portrait of Emiliano Zapata is mounted for all to view in the stairwell between the first and second levels of the academic building. Here is professor Camp with an explanation for the inspiration for this portrait.
James Camp, Ph.D.: Hi, my name is James Camp, I'm a professor of sociology at Thomas More University. I'm here to tell you a little bit about the painting that is behind me. This particular painting was inspired by the Mexican/US border studies program that I have directed since its inception in 2000. That is an ongoing program where we take students to the US/Mexico border to explore issues of social justice, Catholic social teaching, migration issues in particular, and the relationship of that program to this particular painting has to go back in Mexican history.
During the Mexican Revolution in 1910, it went from 1910 to 1920, Emiliano Zapata, who this painting is of, led the in the southern part of the nation during that revolutionary decade. He particularly is known, and is an iconic figure actually in Mexican history, as a champion for the poor; a champion for the campesinos, the loqueras, the farmers, the poor in Mexico. His advocacy, his work during that revolution, his support for the poor led to a change in the Mexican Constitution, which exists still to this day, Article 27 in particular established what are called edigos which are basically communal lands where the poor can farm, use that, that resource to help sustain themselves and prior to Emiliano Zapata's intervention, there were what were called haciendas, the hacienda system. So, the rich basically benefited from the labor of the poor. During that Revolution, again, they established Article 27, and still to this day they have the edigo system in place in Mexico, where the poor can live off communal lands and live like they literally have lived for centuries.
He stands as a figure, an icon, for social justice, particularly in Mexico but in other places as well, and is central to some of our discussions in the border studies program as we start to look at the relationship of people's rights to land, their rights to migrate, to make a living, and he stands as an icon for much of the spirit of that particular program. I'm so happy that Rose Hatmaker long ago, if I'm not mistaken 2002, painted this for Thomas More. I commissioned that painting from her based on a photo that still is on my office door to this day.
Get to know the artist, Rose Hatmaker: After being out of school for 30 years, my children urged me to go back to school. They felt my art would benefit from the increased knowledge.
While at Thomas More I collaborated with Jenny Utz to do a piece of art for a flyer. This was done for Jud Newborn a New York-based scholar, journalist, and lecturer who was lecturing at Thomas More at the time. He was given this piece after that and a few years later, he asked our commission to put it in the Jewish Journal for the study of Jewish students. The art was placed on the leaflets that were circulated by the White Rose scholars during World War II in Germany. These leaflets let people know what was going on there at the time. They were young people and were executed for doing this.
Later, Charlene Barlow, executive assistant to the president of Thomas More commissioned me to do a portrait of Sister Margaret Stallmeyer, CDP, who was the president of Thomas More in 2013. Four years later, she also commissioned me to do another one of the president, which was Dave Armstrong. I did many portraits after college, some were paintings and some were charcoal drawings.
My first commission, however, was done for James Camp. It was a six foot by four foot black and white painting. Since this was a large frame and very difficult to find, it had to be built. My husband volunteered, Edward Hatmaker. He did this for me, he did a great job. He along with my friends Jenny Utz, Paula, and I stretched the canvas for the frame. Once this is done, I was able to do this painting. It now hangs is Thomas More University.
If you have any information or a story about any of the art located at Thomas More University, please contact Judy Crist at cristj@thomasmore.edu or call 859-344-3443.