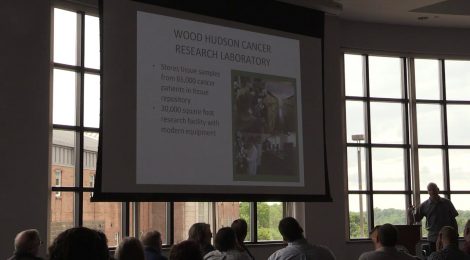 The President's Faculty Innovation Grant initiative was announced summer 2017 with the intention of an investment in faculty-driven research and projects. Project evaluation was based on: innovative in concept and design, Thomas More University mission focus, program quality, student outcomes, sustainable beyond summer 2018, affordable/fundable, and the potential to improve the University in the future. Following is a synopsis of the research funded by this initiative. When more information is available this story will be updated.
---
Title: Long-Term Storage of Monoclonal Antibodies at Room Temperature
Submitted by Dr. Meenakshi Bansal, Department of Chemistry, College of Arts and Sciences
Abstract
Storage of Biospecimens for long duration of time is a crucial challenge faced by our society. Most biospecimens when stored at room temperature are extremely unstable and degrade rapidly (1). Current methods for storage of biospecimens include freeze drying also known as lyophilization, standard refrigeration, freezing at very low temperatures and storing in commercially available chemical storage kits. These methods, however, are costly, require significant infrastructure, and are not practical for infield operations.
In this work, we propose to develop methods for longer storage of biospecimens at room temperature. We will demonstrate the storage of monoclonal antibodies (mAbs) using a novel one-step sol gel method developed in our lab. We will utilize UV-Vis spectrometer and newly acquired Raman spectrometer at TMU to monitor the long-term storage of the biospecimen. This technology will lead to significant cost reduction in storage methods that are currently been utilized by the biomedical community. The proposed research will help advance the research and academic careers of our undergraduate students and expose them to real-world challenges in the clinical field. To view this presentation, visit tmuky.us/bansal
Lou, J.J., et al., A review of room temperature storage of biospecimen tissue and nucleic acids for anatomic pathology laboratories and biorepositories. Clinical biochemistry, 2014. 47(0): p. 267-273.
---
Title: Twenty Years of Border Study: Looking Forward and Looking Back
Submitted by Dr. James Camp, Department of Sociology and Criminal Justice, College of Arts and Sciences
Abstract
This year, 2019, is the twentieth year of the Mexican-U.S. Border Studies Program at Thomas More.  As much as the future can be foreseen, this program is reaching its midpoint. It is time to look back over these twenty years with the hopes that this hindsight will inform and guide the future of the program. The program's efficacy has always been grounded in the evaluation of its impact immediately following the border experience. It has always been assumed that there are some lasting impacts that unfold over time, yet there is only anecdotal evidence of this lasting impact. Similarly, one of the persistently identified deficits of the program is the publicity of the program once it has been delivered. This deficit was identified in my 2017-2018 self-assessment as a goal for improvement in this current academic year.
It is proposed here to interview alumni from the program to 1) develop a documentary of the program that will provide a historical account of the program and 2) assess the long-term impact of the program on participants. This historical account could be used for promotional, recruitment and educational purposes, but most importantly this story needs to be documented as evidence of the Thomas More community living, serving, and learning its mission.
---
Title: Mission Minute
Submitted by Ms. Caitlin Dwyer, Department of Theology, College of Arts and Sciences
Abstract
The goal of "Mission Minute" would be to familiarize Thomas More University's faculty and staff with the Catholic Intellectual Tradition (CIT) through a fun introduction to some of its greatest figures in an effort to foster the institution's Catholic identity.
As, says Aristotle, one can better understand virtue by observing the virtuous person, so might we better understand the CIT by studying those who embody it. To that end, each week throughout the 2019-2020 school year, faculty and staff would receive an email profiling a different, prominent figure in the CIT.  There would be text and audio versions of the profile which would take no more than one minute to read or listen to.
The project would be interactive with all academic departments. Over the summer, faculty members would receive a PowerPoint presentation briefly explaining the CIT as both a body of classic treasures to be studied, appreciated and passed on, as well as a way of engaging modern questions and challenges.  After reviewing the presentation, each department would be asked to submit one figure from the CIT to be featured in a Mission Minute. Possible examples include Angelo Secchi, the Jesuit father of astrophysics and Antoni Gaudi, the renowned architect who designed Barcelona's Basilica of Sagrada Familia.
Each Mission Minute email would also include a question for faculty and staff to answer.  From those who answer the question correctly, one winner would be drawn each week who would receive a $5 gift card to TMU's coffee shop.
To view this presentation, visit tmuky.us/dwyer
---
Title: TMU Campus Garden: Connecting Student Research and Community Collaborations to Decrease Local Food Insecurity
Submitted by Dr. Shannon Galbraith-Kent, Department of Biological Sciences, College of Arts and Sciences
Abstract
Sustainability relies on a successful interaction of environmental health and scientific rigor, community collaboration, and economic contribution. Having our TMU students truly understand how aspects of this process work will benefit their personal and professional growth, while also helping to decrease hunger and food insecurity on our TMU campus and in the regional community. Our "TMU Campus Garden"proposal for Summer 2019 seeks to initiate a vegetable garden on campus that can be a sustainability model and connect to the three TMU ROI values (1) by providing research opportunities and experience for students in the areas of plant biology, ecology, and agriculture, (2) by being a source of community collaboration through interactions with local farmers and High Schools, and (3) by ultimately giving the results of the garden (i.e., fresh produce) to those in need within our community. While university food pantries are becoming more common across the United States (including recently starting at TMU), and organizations such as Mary's Meals are providing meals to schoolchildren on a global scale, we hope the TMU Campus Garden can make similar contributions by serving as a model for sustainability on a local scale (with potential for future growth) and simultaneously living out the mission of Thomas More University.
---
Title: Culturally Relevant Education and Health Services: Diversifying the CEHS Students' TMU Experience through Culturally Relevant Curricula and Intentional Placements
Submitted by Dr. Christine Griffiths, Department of Sports Sciences; Dr. Kim Haverkos, Dr. Julie Luebbers, and Dr. Christy Petroze, Department of Education; Dr. Becky Tacy and Dr. Lisa Torok, Department of Nursing, College of Education and Health Sciences
Abstract
Given the diversification of the American landscape, students graduating with service-oriented degrees–such as educator, athletic trainer, or nurse—must be prepared to work with and provide service to a culturally diverse group of communities. Thomas More University's mission asks us as faculty members to prepare our graduates "…to examine the ultimate meaning of life, their place in the world, and their responsibility to others." As students in service-oriented career trajectories, developing the knowledge, skills, and values to meet the needs of diverse communities is key to their ability to meet the mission.
Our goal with this grant is to develop a new, collaborative and college-wide curriculum that provides our students with the ability to work within these diverse communities and deliver key services for those who live on the margins right here in our neighborhoods. In addition to creating college-wide courses, we will be searching out specific locations within the Greater Cincinnati and Northern Kentucky area where hidden populations of marginalized people live and work to develop services with those communities that meet their needs in order to help improve their lives. This type of service learning is a key form of pedagogy that helps students engage, reflect, and work towards new definitions of community.
---
Title: Starlight Conquers Darkness – Supporting an Investigation of Eclipsing Binary Stars at the BB&T Observatory
Submitted by Dr. Wes Ryle, Department of Mathematics and Physics, College of Arts and Sciences
Abstract
We are currently in the process of expanding the undergraduate research opportunities associated with The BB&T Observatory. In January of this year, I received a grant from the NASA Kentucky Space Grant Consortium that supports research stipends for myself and two students, along with travel to visit NASA collaborators and to present our work at a national meeting of the American Astronomical Society (AAS). The grant totals over $62k, with some matching funds provided by the university. It is our hope that a President's Innovation Grant can be used as part of the university match for this work, specifically toward the associated travel. As we continue our transition to university status, bolstering support for research and innovation is a vital step and one that aligns well with the university mission. Additionally, the work completed by the students is an ideal opportunity for experiential learning in the field.
Our work will focus on eclipsing binary systems – a fundamental, yet relatively untapped source of precise physical parameters of stars. Monitoring the light of eclipsing binaries can produce very precise measurements of mass and radii of individual stars. Knowledge of these parameters is key in a wide variety of active astrophysical subfields, including, but not limited to studies of planets around other stars, the evolution of galaxies, supernova explosions, and newly discovered gravitational waves. This study will produce a series of publications and serve as a springboard for future research projects, broadening the research profile of Thomas More University.
---
Title: A Statistical Journey of "White Dog": the Evolution of Bourbon
Submitted by Dr. Jyoti Saraswat, Department of Mathematics and Physics, College of Arts and Sciences
Abstract
White Dog, White Whiskey, White Lightning, or White Mash, no matter what we call it, this is the foundation of all American whiskey. White Dog is raw unaged whiskey which has never seen the inside of a barrel. This project will statistically map the journey White Dog undergoes in the process of becoming bourbon. Building upon the previous work and collaboration with the OTR still house, we are collecting samples of White Dog, almost every month. These samples will be analyzed to determine the changes in the chemical composition of the White Dog as it ages over a period of time. Data collected will be analyzed by multivariate statistical techniques and will be used to study this evolution. The barrels are usually stored in a brick house- a large multi-tiered warehouse. Identical bourbons aged for the same period of time in separate parts of the warehouse can taste drastically different. This can depend on various factors like temperature, location of the barrel and a process called "Angel Share" i.e. bourbon evaporation during aging. One of many objectives in this project is to identify the changes in the composition of White Dog as it ages and how does the location of the barrel factor in. It has been studied that changes in temperature can bring about the variation in the amount of sugar. Little is known about the chemistry of bourbon maturation. Our investigation hopes to answer some of these questions.
---
Title: ELS 665: Research Methods with Edpuzzle
Submitted by Dr. Anthony Schumacher, Ethical Leadership, Institute of Ethical Leadership and Interdisciplinary Studies
Abstract
ELS 665 is the Research Methods course in the online Master of Arts in Ethical Leadership program. The course focuses on a variety of skills needed to conduct research and culminates in a project with input from the faculty member and the student's employer. Since the program is relatively new, ELS 665 has only been offered twice and is now undergoing a review as part of a continuous improvement process. One of the challenges related to teaching an online course on research methods is providing engaging content for students. The purpose of this proposal is to revise ELS 665 through the utilization of Edpuzzle, a program that allows videos to be made interactive, thus increasing student engagement in the course. ELS 665 will be offered in summer 2019; upon completion of the revised course with Edpuzzle's integration, students will be surveyed on the usefulness of Edpuzzle as a content engagement tool.
---
Title: Food and Culture in World History: History and Hands-on Learning
Submitted by Dr. Luis Sierra, Department of History, International Studies, and Political Science, College of Arts and Sciences
Abstract
Students often believe—when they step into a history classroom—that the kind of learning that takes places there only engages one's listening, reading, writing, rote memorization, and recall skills. This project aims to break with that perception by creating a course with a direct experiential component. This proposal focuses on World Civilization I and II—core requirements for many of Thomas More University's students. In 2018-2019, I developed thematic world civilization courses focused on food and culture. As the next step in the process of development, I aim to create three lab components for History 101 and three lab components for History 102. The History 101 labs will teach students about foraging, tool-making, and agriculture to emphasize the importance of these activities to human society. In History 102, our first lab will focus on coffee and sugar chemistry and the commodity chain by purchasing and roasting our own coffee beans and making our own coffee. We will learn about distillation and the effects of sugar and rum on world history. Our third lab would examine how corn and its derivatives are employed by the modern food system. These labs demonstrate the importance of commodities to the development of the modern capitalist system.
To view this presentation, visit tmuky.us/sierra
---
Title: From Barrel to Bottle: An Investigation into the Aging Process of Bourbon
Submitted by Dr. William C. Wetzel, Department of Chemistry
Abstract
Distilled alcohol spends a great deal of time resting in a charred, new oak barrel along its multi-year journey to become a bourbon. In this study, we will examine that process by identifying the changes in chemical composition that occur during the first, formative steps of that progression from distilled spirit to a fine bourbon. The chemical composition, investigated by using both solid phase microextraction and gas chromatography coupled with mass spectrometry, will provide insight into the complex set of changes that take place during a bourbon's maturation process.