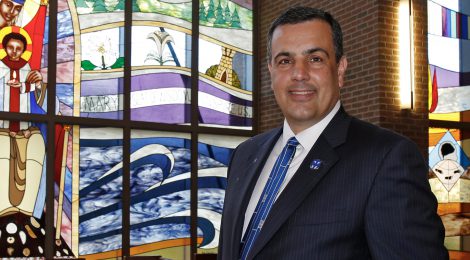 CRESTVIEW HILLS, Ky. (May 23, 2019) —Thomas More University faculty, staff, students, and members of the northern Kentucky community welcomed President Joseph L. Chillo, LP.D. to campus this morning with a celebratory ceremony and reception in the University's Benedictine Library.
"Being here today inside the Benedictine Library, we are reminded of the importance of values, faith, and Catholic Intellectual Tradition in which this University was founded," Chillo said. "This very Catholic identity bonds us all in the work that we do to make our mission relevant and transformative for our students."
This event was Chillo's first public address as the 15thpresident of the University. Following an introduction by the TMU Board of Trustees Chair Judith Marlowe, Ph.D., Chillo spoke to a crowd of trustees, alumni, employees, and prominent members of the region about his excitement to bring his family to Crestview Hills, Kentucky, and his eagerness to begin developing a shared vision for the future of TMU. The program concluded with remarks and a closing prayer by The Most Reverend Roger J. Foys, D.D.
"A great university not only achieves its goals, but dares to dream, inspire, and create hope and aspiration. I believe that Thomas More University is ready to be that great university."
The president-elect revealed a few of these goals during his address.
"We will work hard as an inclusive community dedicated to academic excellence, elevation of academic programs, and reputation of this University. We will look to ways to expand enrollment and fundraising, grow the endowment, and continue the important work of creating educational opportunity for every student. The transformative power of a Thomas More education will be exciting and relevant as we look to the future."
Chillo's first official day as president is June 1.
Chillo was announced by TMU's Board of Trustees as the University's next president on May 1. He served as the president of Newbury College in Brookline, Massachusetts, since 2014, where he was also a professor of humanities and taught first-year seminar and courses in American History. A first-generation college graduate, he earned his bachelor's degree at Binghamton University, a Master of Public Administration at Long Island University, and a Doctor of Law and Policy at Northeastern University. With more than 25 years of private, higher education experience, prior to Newbury, his past positions include senior leadership roles at Colby-Sawyer College, Wheelock College, and St. Thomas Aquinas College.
Thomas More University is the Catholic liberal arts university of the Diocese of Covington, Kentucky. At TMU, we challenge students of all faiths to examine the ultimate meaning of life, their place in the world, and their responsibility to others. Through our integrated and traditional undergraduate, graduate, and certificate programs, we are inspiring innovation for a better tomorrow. Learn more at thomasmore.edu.
###
MEDIA CONTACT: Rebecca Stratton, director of communications and PR, strattr@thomasmore.edu, 859.344.3309