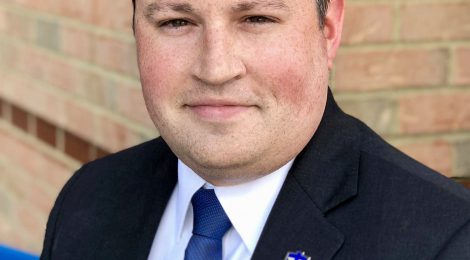 CRESTVIEW HILLS, Ky. (July 26, 2019) —Thomas More University President Joseph L. Chillo, LP.D. announced today that Kevin Reynolds, assistant vice president for advancement, has accepted a new role as vice president for institutional advancement for the University, effective August 16. In this capacity, Reynolds will oversee and lead all operations of the University's Office of Institutional Advancement, including supervision of all staff in the divisions of development, alumni affairs, marketing, communications, advancement services, and grants.
"In working with Kevin, I have been impressed by his commitment and energy in promoting the values and excellence of Thomas More University," said President Chillo. "As the University prepares for its centennial celebration, Kevin will play a major role in shaping the University's philanthropic efforts and the strategic positioning of the institution as a regional Catholic university. His understanding of the mission and the various positions he has held at Thomas More will serve him well as vice president for institutional advancement. The University will be a stronger institution as a result of Kevin's leadership of the institutional advancement team."
"Kevin Reynolds brings to this position a deep respect for the legacy of Thomas More and a vigorous commitment to its future as a university widely known for an innovative, transformative educational experience that prepares our graduates for the changes and challenges of today's world," said Board of Trustees Chair Judith Marlowe, Ph.D. "He enthusiastically demonstrates his dedication to the TMU community through his "can do" energy coupled with strategic thinking that is focused on achieving excellent outcomes all the time. His previous experience in student affairs, alumni engagement, communication, and leadership development have prepared him well to connect with individuals and organizations so vital to advancing our mission. His appointment as vice president for institutional advancement is one I celebrate as another important step forward for TMU."
Reynolds has been at TMU for nearly five years. Most recently, he has served in the role of assistant vice president for advancement, managing fundraising responsibilities, supervising the director of alumni and parent engagement, event manager, and the annual fund officers. Before moving into TMU's Office of Institutional Advancement in March 2018, Reynolds held the positions of dean of students, assistant dean of student affairs, and director of student engagement. Reynolds arrived at TMU in the fall of 2014 after spending two years at Belmont University in Nashville, serving as a coordinator for student affairs and the assistant director of student engagement and leadership development.
During his five-year tenure at TMU, Reynolds has played a pivotal role in several key initiatives including the development of the Saints Community Standards, the formation of the Institute for Higher Education Compliance, and the addition of Renaissance Hall.
"I am grateful for the opportunity to continue to serve TMU in this new capacity," said Reynolds. "I am inspired by the Catholic mission of the institution and have been blessed with opportunities to get to know many students, faculty, staff, alumni, and partners who all contribute to advancing it. I look forward to working with President Chillo, the Board of Trustees, and the entire TMU community to fulfill the philanthropic goals of the university."
Reynolds, a Louisville, Kentucky, native, earned a bachelor's degree in communication studies from Northern Kentucky University, a master's degree in college student personnel administration from Illinois State University, and will complete his doctorate in leadership from Spalding University this December. He and his wife, Christin, are expecting their first child this fall.
Thomas More University is the Catholic liberal arts university of the Diocese of Covington, Kentucky. At TMU, we challenge students of all faiths to examine the ultimate meaning of life, their place in the world, and their responsibility to others. Through our integrated and traditional undergraduate, graduate, and certificate programs, we are inspiring innovation for a better tomorrow. Learn more at thomasmore.edu.
###
MEDIA CONTACT: Rebecca Stratton, director of communications and PR, strattr@thomasmore.edu, 859.344.3309