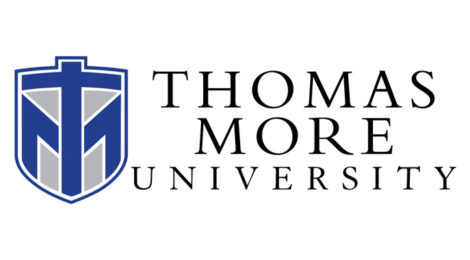 Thomas More University Community,
As has been the case with other higher education institutions in our community, our campus has fallen victim to vandalism from a white-supremacist group as we have identified Patriot Front stickers on campus property. Campus Safety immediately removed these stickers and has begun an extensive review of video surveillance. In collaboration with the Lakeside Park-Crestview Hills Police Department and security at other colleges and universities in our area, we are working diligently to appropriately identify the individuals vandalizing our communities.
In today's scripture reading from John 10:27 Jesus is asked, "How long are you going to keep us in suspense? Tell us the plain truth: are you the Messiah?" In responding to this question, Jesus says of his followers, "My sheep listen to my voice; I know them and they follow me."
The Catholic Intellectual Tradition our mission espouses calls this community to pursue the truth above all things. There is no truth in white supremacy. There is no truth in hate, bigotry, prejudice, or ethnocentrism. In our community and on our campus, white supremacy propaganda and defacement of our campus property will not be tolerated.
In this community, we will act as followers of Christ demonstrating love and compassion for others. We will uphold our duty to keep ourselves and each other safe; we condemn behaviors that go against these values and we will pray for those who are being led astray by false teachings that they find the truth.
At this time, we do not have reason to believe suspect individuals involved in the vandalism are associated with our University, but that doesn't mean we do not need to act when we see destruction or hate of this nature. I want to thank those members of our community that have alerted us about incidents taking place on campus, and I encourage you to continue to disclose information to Campus Safety should the white supremacist propaganda continue. If you have any information regarding who may be committing these acts, please contact Campus Safety at 859-341-4867.
Best,
President Joseph L. Chillo, LP.D.