Submitted by John Hagan '67 | foreword by Judy Crist
Ever since John graciously agreed to be interviewed for the Classic VMC column in 2016, he and I have had an ongoing correspondence. I truly enjoy getting his alum's perspective when it comes to what is published in the alumni magazine or in the greater public sphere (whether I want to hear it or not!). John has a dedication to Thomas More that I admire and appreciate, and when he emailed me about re-connecting with Larry Israel '65 as the result of a Moreover story on the Athletic Hall of Fame inductees, it made my heart glad. Thank you, John, for sending an accounting of that meeting; I would have loved to have been a fly on that wall. – Judy Crist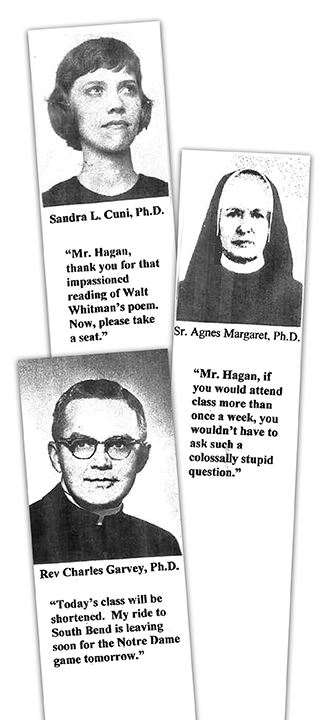 Having read in the fall 2020 edition of Moreover magazine that Larry Israel had been inducted into the Thomas More University Athletic Hall of Fame, I sent him a congratulatory email. Israel responded with a phone call suggesting lunch together.
When I joined Larry at Bob Evan's Restaurant on Tuesday, January 5, 2021, I was reminded of two phenomena: an O. Henry short story, "After Twenty Years," and a true story my brother shared with me. While O. Henry's Bob had not seen Jimmy for 20 years, I had not seen Larry for over 50 years. My brother's experience was, therefore, closer to Larry's and mine than O. Henry's characters.
My oldest brother, Jerry, is a graduate of the United States Military Academy (West Point), and while at the Academy, he and his two roommates had remained together for their entire four years. Upon the passing of one of his two roommates, my brother gave the eulogy for his friend, Al, at a beautiful Methodist church in Arkansas. Commissioned as lieutenants in the United States Army at graduation, the three roommates were, of course, sent to different reaches of the globe. As such, they had not been together until a milestone reunion. Jerry began his eulogy of Al in this way: "We hadn't seen each other since West Point, but 15 minutes into a 40-year reunion, and we were 18-year-old plebes again."
As an atypical student from Dayton, Ohio, and with no dorms at Villa Madonna College (now Thomas More University) in Northern Kentucky, I had few opportunities to develop close friendships, living as I did during my first three years at the L. B. Harrison Club in Cincinnati and commuting from Dayton during my last year. That circumstance, notwithstanding, I did form lasting impressions of certain professors and students. One such professor was the delightful Sister Loretto Marie Driscoll, and one such student was the brilliant Susan J. Court. Another such student was the venerable Israel who, like me, was a grade point or two behind Susan's summa cum laude status.
While I may have shared any number of classes with Larry, my most vivid memory of him was on the occasion of our taking the comprehensive examination in English on the same day in August of 1967 in one of the converted houses on the former downtown Covington campus. Having finished the two summer classes I needed to meet graduation requirements, I had been in the frenetic throes of two weeks cramming for the exam. One poem I had given only cursory attention in my cramming was John Milton's "Lycidas," thinking the obvious Milton piece would be "Paradise Lost." Arriving at the exam room fraught with anxiety, I took my seat about three or four chairs to the rear and left of Larry (students spaced strategically by professor Joe Connelly). Handed the exam sheet with 20 items from which to write upon 10, the first on the list was, surprise, "Lycidas." The irrepressible Israel turned to me and mouthed with the most quizzically and hysterically contorted facial expression, "Lycidas!" He so cracked me up that I relaxed enough to pass the exam and begin a 30-year career in education that September as a high school English teacher and principal.
During our telephone conversation and restaurant luncheon, the Larry Israel I remembered returned, as he was 50 years ago, a captivating character. We exchanged a few tales of personal foibles and machinations before I realized I had drifted into the fast lane and was completely out of my class as a raconteur. As a four-year baseball and basketball player, Larry had, of course, far more grist for entertainment than me. The Irish have a word for those such as Larry, "shanachie."
Among the slices of college life this Mark Twain aficionado shared with me are the following:
The research paper with a title page bearing the subject of baseball, 59 numbered but blank pages, and page 60 with "Sorry, rain, no game" submitted by a cheerleader friend to Sister Colleen. Claim: "I was leaving for a four-day basketball trip to New York and in a real time crunch."
The purloined copy of the Summa Theologica that was one of seven left on reserve in the library by Sister Camilla and pilfered after hours and returned the same way by a basketball teammate who had hidden in the stacks until the lights went out. Claim: "The copies were always in use."
The legendary heist of the huge spirit drum used to energize basketball crowds at Georgetown College. After some negotiations, the drum was returned intact. Names withheld to protect the culprits. Claim: "No harm, no foul."
The purchase of a treasured $40 fedora to wear rakishly like the coaches and other players on extended basketball trips. At a restaurant stop, the proprietor offered $100 for the hat, which the dapper Israel accepted, and the proprietor placed the hat on a cigarette machine. Coming out of the restroom later, a teammate noticed the chapeau, retrieved it, and handed it to Larry on the bus miles down the road, saying, "Here, you forgot your hat." Claim: "What could I do but accept the hat?"
The day of the aforementioned comprehensive exam when professor Connelly noticed the distressed Israel during the afternoon session and let him sit in back of the room so he could "pull a chaw" and spit out the second-floor window. Claim: "He knew I was suffering from the heat and conditions."
Given the breadth of the Israel anthology, you might imagine how mighty small I felt with an offering of only a satirical scolding in Sister Agnes Margaret's class and a tongue-in-cheek "compliment" in Professor Sandra Cuni's class. I richly deserved both. After 50 years, we were back in the exam room on that hot August day, and in 15 minutes we were college boys again.