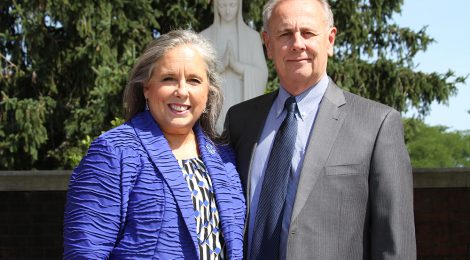 Dr. Kathleen Jagger, former Vice President of Academic Affairs for Thomas More College, stepped into the role of Acting President for TMC effective July 16, 2018. Prior to coming to the College, Dr. Jagger had worked for a number of higher education institutions throughout the Midwest.
Dr. Jagger served as a post-doctoral associate and instructor as well as an Assistant Professor at the Wright State University School of Medicine from 1979 to 1983. She continued her journey as an Assistant Professor and then an Associate Professor in the Biological Sciences department at DePauw University from 1983 to 1996. While at DePauw University, Dr. Jagger was awarded the Eli Lilly Faculty Fellowship which resulted in a sabbatical during which she mentored international health professionals from developing nations at the Harvard School of Public Health in Boston, Massachusetts, while earning her M.P.H.
Dr. Jagger worked as a visiting professor in the Department of Microbiology and Immunology at the Medical College of Ohio in Toledo in 1997. There, she conducted basic research in immunology, mentored postdoctoral scientists, graduate students, and lab technicians. She also lectured discussion groups for medical students and graduate students working towards their master's degree in public health. Dr. Jagger moved her career farther south in 2002 when she accepted a position at Transylvania University in Lexington, Kentucky. At Transylvania, Dr. Jagger worked as a biology professor, Associate Vice President and Associate Dean of the c+College, and then Interim Vice President and Dean of the College. After almost 13 years in Lexington, Jagger moved to Northern Kentucky to take on the role of Vice President for Academic Affairs and Dean of the College at Thomas More.
Dr. Jagger holds a number of distinguished degrees which include a Bachelor of Arts Degree in Zoology from DePauw University, a Doctorate in Medical Microbiology from the University of Cincinnati, as well as a Master's Degree in Public Health from Harvard. In addition to the degrees, she was honored to be awarded the Eli Lilly Faculty Fellowship in 1991.
The Vice President and Dean of the College at Transylvania University, William Pollard, spoke about what Dr. Jagger brought to Transylvania University during her time there.
"Dr. Jagger is one of the most competent and talented academics and administrators I have ever known," Pollard said. "It is difficult to say how much (she) contributed to … the Office of the Vice President when she served as Associate VP.  She filled a new position and largely created what it came to be.  Her initiatives greatly improved our retention of at-risk students and also created academic opportunities for our most talented students.  She initiated a relationship with The Yale Center for Bioethics whereby Yale saved a guaranteed space for a Transylvania student each summer.  She created service projects at home and abroad for our students, most notably in The Philippines, The Dominican Republic, and Panama.  Her attention to detail, her energy, and her concern for the success of others truly set her apart.  She will be first-rate as she leads Thomas More College as its President for the coming year and will make her mark as a president in the SACS region and with the Council of Independent Colleges."
One of the organizations that Dr. Jagger is most proud to be associated with is Habitat for Humanity. She has served on the boards of multiple Habitat for Humanity chapters, most recently Habitat for Humanity in Lexington, Kentucky.
The CEO of Lexington Habitat for Humanity, Rachel Childress, spoke about what a great asset Dr. Jagger was to Habitat for Humanity.
"Kathleen Jagger served on the Board of Directors at Lexington Habitat for Humanity for six years," Childress said. "During that time she worked on various projects, was a member of the Executive Committee and served as Secretary and Vice-President. Given her insight, wisdom and critical/analytical thinking skills, Kathleen was instrumental in our strategic planning process. She is dedicated to quality education and quality housing and has a deep understanding of the relationship between the two. Kathleen was a wonderful resource in inspiring the students at Transylvania University to start a Habitat Campus Chapter. Kathleen shared her time, talents and heart with us. She was an incredible support to me as CEO. Kathleen's trust, encouragement, a listening ear, and gentle yet firm challenges gave me strength, courage, and hope continues to sustain me today. Thomas More is blessed to have her as a leader."
Currently, Dr. Jagger serves on the board for the Tumaini Foundation for Global Health & Humanitarianism. According to its website, the Tumaini Foundation for Global Health and Humanitarianism, based in Indianapolis, Indiana, takes on the mission to educate physicians to have a combination of medical and public/global health knowledge to care for the underserved with minimal burden of educational debt.
Outside of work, Dr. Jagger likes to travel to places she has never been before. She enjoys reading, bicycling, and loves to be near water, especially for sailing. She enjoys visiting art galleries, zoos, aquariums, and museums. More than anything, Dr. Jagger loves spending time with her family. She and husband, Dr. Jim Jagger, have been married for 41 years. They have two sons, Matthew and Mark, a daughter-in-law, and two grandsons. Jim is a physician, board certified in emergency medicine and fellowship trained in sports medicine. He currently works for OrthoCincy, but was previously the Chief of Athletic Medicine and Head Team Physician at the University of Kentucky.