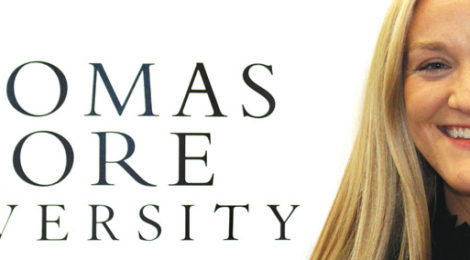 Submitted by Bailey Bundy
Hello all! I'd like to introduce myself as your alumni director at Thomas More. I grew up outside of Baltimore, with my mom, dad, and two sisters. You could say that the first 18 years of my life were very active with involvement in athletics, student clubs and organizations, youth groups at my church, or other volunteer activities. If something was going on, I wanted to be a part of it. As I got into high school, lacrosse became my passion, and I was certain that I wanted to play in college. 
When senior year of high school arrived, I had a better understanding of exactly what I wanted in a college. I wanted to continue playing lacrosse, but it was also important that I receive a liberal arts education that was values-based and mission-driven. So, I attended Gettysburg College in Pennsylvania, where I obtained a scholarship for lacrosse while getting the liberal arts education I wanted.
When I reflect on the decision I made to study at a liberal arts institution, I see clearly how that choice has played a big role in my life. Now, 10 years later, I realize that the education I received led me to where I am today – as Thomas More's director of alumni and parent engagement.
After I graduated from Gettysburg in 2014, I became a live-in nanny in Washington, D.C., started and finished my master's degree in higher education administration, and relocated to Cincinnati. While I had never traveled to Cincinnati, let alone the Midwest, I had no idea that it would be here that I would meet my now husband and grow to love the area so much. My husband, Tyler, and I tied the knot in 2019 and have decided to plant our roots in Independence, Kentucky. As a first-time mother, I'm excited to raise our baby in such a special place – Northern Kentucky. Not only do I see the value in our community, but I have the opportunity to see the impact that Thomas More and our alumni make to enhance the Northern Kentucky and Greater Cincinnati area.
What I love most about my job is the opportunity to connect and engage with our alumni. It's easy to love what you do when you hear inspiring stores from those that have a passion for Thomas More. There is a strong affinity for this institution, and that is a wonderful thing! I have now been with the University for more than a year. Just in this 12-month time frame, I have seen the Alumni Association grow, evolve, and become more diverse. There have been many exciting changes that have occurred this past year. One of these changes is the revamping of the monthly alumni e-newsletter, which is where alumni can find news, alumni stories, event information, and more. I also made it a priority to restructure the Alumni Board of Directors. Joe Durrett '05/'08, current president of the Board, has assisted tremendously, helping to spark excitement among board members, create sub-committees, develop new by-laws, and helping host our first-ever Alumni Board retreat at the Biology Field Station. As an association, we also added and enhanced events, such as the Bourbon Tasting with Alumni and Friends, Young Alumni Happy Hour, Alumni Wine Tasting, and more.
Seeing the progress we have made this year and with so much on the horizon for the future of the Alumni Association and the University, it's my hope that we continue making strides to provide meaningful opportunities for Thomas More alumni to come together to grow relationships, celebrate milestones, invest in the University, and better our Thomas More community. If we haven't had the opportunity to meet, please reach out to me! I'd love to connect and hear what makes Thomas More special to you. Please feel free to call or email me. I look forward to having coffee or lunch with you soon!
Bailey can be contacted by email at bundyb@thomasmore.edu or alumni@thomasmore.edu, or by phone at 859.344.3545