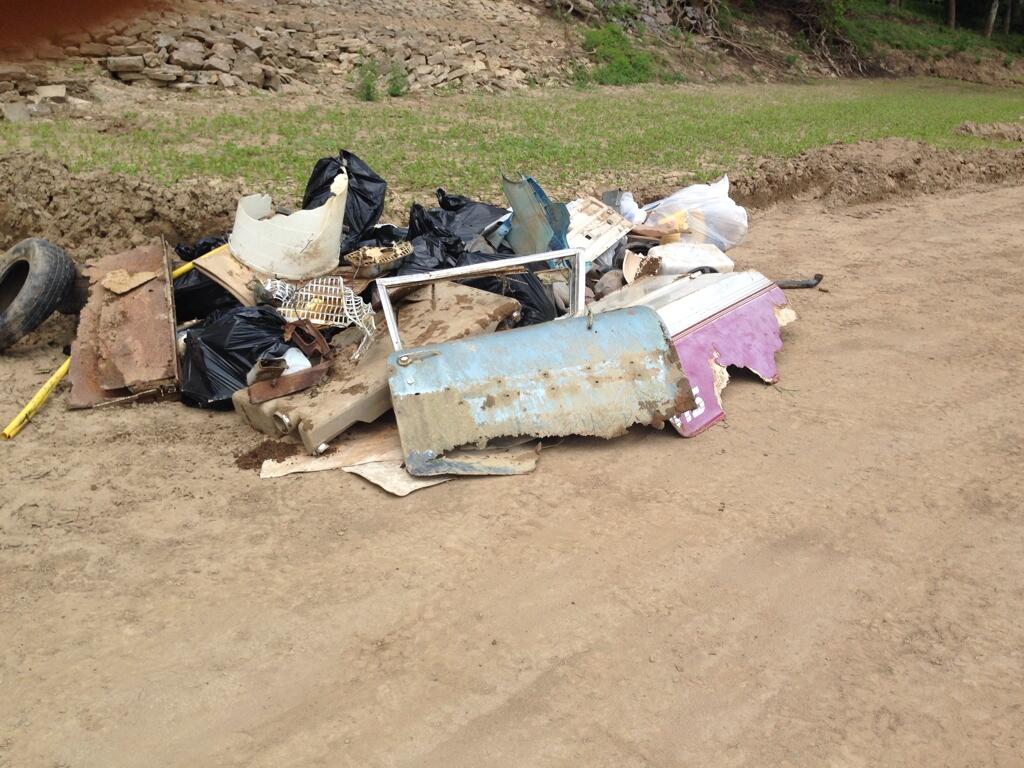 California, Ky. – River Sweep 2014 was held Saturday, June 21 along the shoreline of the Ohio River and its many tributaries. Thomas More College and the Biology Field Station (8309 Mary Ingles Highway, California, KY) has been a host site for the annual sweep since its inception 25 years ago.  River Sweep is a riverbank cleanup that extends the entire length of the Ohio River and beyond. More than 3,000 miles of shoreline were combed for trash and debris. This is the largest environmental event of its kind and encompasses six states.
Approximately 35 volunteers participated at the Field Station this year, joining hundreds of others along the entire stretch of the River. They covered about five miles of shoreline on the Kentucky side of the river, and another three miles on the OH side, which included the banks along Front St. in New Richmond, Ohio.
Trash bags were provided to each volunteer. They gathered approximately five pickup truck loads, including an abandoned boat, a car door the 1960s and a wagon wheel hub estimated to be from 1790-1800.
"In addition to removing litter and other debris which can be harmful to wildlife (and is unsightly), the Ohio River Sweep offers volunteers an opportunity to take action to better the environment and recognize the Ohio River as our region's most important natural resource," said Dr. Chris Lorentz, director of Thomas More College's Biology Field Station.
"We continue to find trash along the Ohio River and its tributaries as more people use the river for recreation." said Lisa Cochran, Project Manager at ORSANCO.
The River Sweep (www.OhioRiverSweep.org) is sponsored by the Ohio River Valley Water Sanitation Commission (ORSANCO) and other state and environmental agencies from Pennsylvania to Illinois. ORSANCO is the water pollution control agency for the Ohio River.
For more information about Thomas More College's Biology Field Station, please visit www.thomasmore.edu/fieldstation.