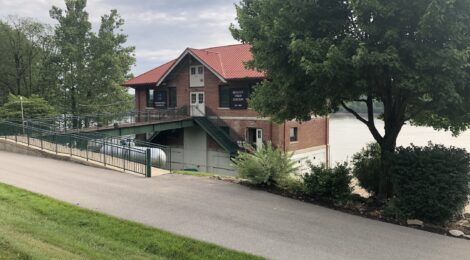 CRESTVIEW HILLS, Ky. (Oct. 27, 2020) — The Duke Energy Foundation announced on Tuesday, Oct. 22, in a press release that Thomas More University's Biology Field Station was awarded a $10,000 grant, which will support undergraduate research in the ecological and environmental fields.
The $10,000 was a portion of more than $200,000 in grants awarded to 18 Ohio and Northern Kentucky programs focused on environmental projects, wildlife conservation, and environmental educational programs in the region.
"Since 1971, undergraduate students and faculty have been conducting research on the river and offering STEM-related outreach programs for K-12, and throughout these years, Duke has supported these efforts every step of the way," said Director of the Biology Field Station Chris Lorentz, Ph.D. "The partnership between Duke Energy and Thomas More University is a special one."
Duke Energy has supported the Biology Field Station in some capacity every year since 1971. Overall, funding from Duke Energy awarded to the Biology Field Station totals more than $1 million. Next year will mark 50 years of this significant partnership. Lorentz noted that the investment Duke Energy has made throughout the years has been critical to the Biology Field Station's success.
"Together, we have helped maintain the health of the environment, particularly the Ohio River, while developing the next generation of STEM professionals and improving the quality of life of those living in our community," added Lorentz.
"We are proud to be a longstanding partner with Thomas More University, having supported the Biology Field Station for decades," said Amy Spiller, president, Duke Energy Ohio and Kentucky. "The Biology Field Station's water research programs continue to advance education and sustainability, both of which are vital to our region's bright future."
The Biology Field Station is a one-of-a-kind facility for applied biological research is the only working field station on the banks of the entire stretch of the 981-mile Ohio River just 30 minutes from Thomas More's main campus in Crestview Hills, KY.
---
Thomas More University provides students with something much more than job training. Graduates are prepared for any career. But they leave prepared for much more. They are exposed to the very best thought, literature, art, and music. They learn to harness the power of human reason to solve problems and discover truth. Most importantly, they have the chance to begin to become the person they were created to be. This is the power of the liberal arts in the Catholic Intellectual Tradition at Thomas More University. Our students come here looking for more. And that's exactly what we offer. Here our students take that opportunity and…Make It More. Learn more at thomasmore.edu.
Duke Energy
The Duke Energy Foundation provides philanthropic support to meet the needs of communities where Duke Energy customers live and work. The Foundation contributes more than $30 million annually in charitable gifts and is funded by Duke Energy shareholder dollars. More information about the Foundation and its Powerful Communities program can be found at duke-energy.com/foundation.
Duke Energy Ohio/Kentucky, a subsidiary of Duke Energy, provides electric service to about 860,000 residential, commercial and industrial customers in a 3,000-square-mile service area, and natural gas service to approximately 538,000 customers.
Duke Energy is transforming its customers' experience, modernizing the energy grid, generating cleaner energy and expanding natural gas infrastructure to create a smarter energy future for the people and communities it serves. The Electric Utilities and Infrastructure unit's regulated utilities serve approximately 7.7 million retail electric customers in six states – North Carolina, South Carolina, Florida, Indiana, Ohio and Kentucky. The Gas Utilities and Infrastructure unit distributes natural gas to more than 1.6 million customers in five states – North Carolina, South Carolina, Tennessee, Ohio and Kentucky. The Duke Energy Renewables unit operates wind and solar generation facilities across the U.S., as well as energy storage and microgrid projects.
###
MEDIA CONTACT: Rebecca Stratton, director of communications and PR, strattr@thomasmore.edu, 859.344.3309