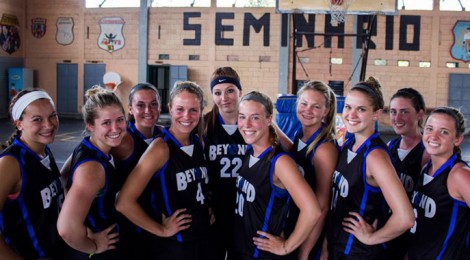 Katie Kitchen graduated in 2014 with a bachelor's degree in communications and associate degrees in English and psychology. Before she pursues a Master of Arts in Teaching, Katie is taking the rest of this year to complete a teaching program in Costa Rica. She spoke with Moreover about how she ended up in the small Central American country.
A new experience awaits Katie Kitchen as she finalizes plans to assist in the first grade classrooms at the Pan-American School in Heredia, Costa Rica (www.panam.ed.cr). The school is bilingual with children learning for part of the day in English and part of the day in Spanish. In addition to time in the classroom, Katie will be working as a private tutor helping children with reading and writing. Having worked with children over the years at sports camps and Special Olympics, she is thrilled to have the opportunity to make a difference in the lives of children in a different country.
Why does Costa Rica hold a special place in Katie's heart? Flashback to May 2013, Thomas More College's women's basketball team took a 10-day trip to Central America through Beyond Study Abroad. The team was immersed in the culture and played basketball games against national Costa Rican teams. When the team wasn't playing basketball, they experienced the beach, national parks and rainforest – including visits to Manuel Antonio National Park and LaFortuna, site of the Arenal Volcano.
Designed specifically for student athletes, Beyond Study Abroad is a cultural immersion program based in Costa Rica. Participants take academic courses offered through two local universities. The students continue a rigorous workout routine with qualified trainers, stay with host families, and volunteer in the community by coaching youth sports. In Katie's case, the organization has done its job exceptionally well, which is to show visiting students the benefits of cultural immersion and inspire them to continue their "global education."
Head women's basketball coach Jeff Hans says, "Probably the best part of the (2013) trip was the two basketball clinics. Both were in San Jose; one was at a local school and the other was at a basketball club. It was a very good experience for our team. The opportunity to spend 10 days in another country together as a team is something our players will never forget."
Katie knew she wanted to go back after that experience; from the culture to the people she loved everything about the country. "I just felt the desire to return someday," Katie says. Little did she know she would have the opportunity to go back twice in 2014. Her first chance was from May 21-June 4, again with Beyond Study Abroad. This time just she and Coach Hans represented Thomas More College. Coach Hans coached a group made up of athletes from several NCAA colleges and universities. Katie was part of a basketball team with students from all over the United States, which competed against the national teams in Costa Rica.
When she returned home, Katie saw a post on Facebook from a friend who was teaching in Costa Rica. Katie was ready to go back and this got the wheels turning. She messaged her friend and asked about any opportunities to which her friend responded that there was an assistant teaching job open in her classroom at the Pan-American School. Though Katie's original plan was to begin the MAT program and work in the office of enrollment at Thomas More College, she jumped on the opportunity to assistant teach in Costa Rica and sent the principal her resume via email. A few days later, she interviewed with the first grade teachers and within days received an offer from the principal for the position.
Katie will be in Costa Rica from mid-July
until early December 2014. She plans to live in Santa Ana, which is 10 miles from the capital city of San Jose. The school is only 15 minutes away and the beach is a little over an hour."I feel that this experience will make me a more well-rounded teacher, and will give me so many stories that I can tell my students … someday," says Katie. "Being in a different country will help me learn a lot about myself too, on top of having incredible experiences. In addition to teaching, I plan to volunteer with the Special Olympics, which I am very excited about! Not only will this help to prepare me for my teaching career, but it will help to teach me life lessons that will prepare me for my future."
To read the Cincinnati.com news story about TMC Grad Katie Kitchen teaching in Costa Rica click here.