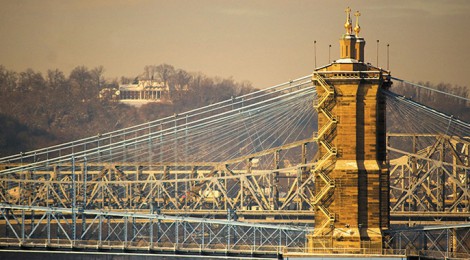 Inspired by an educational foundation that promotes service to others, TMC alumni are actively involved in making a difference in their communities. These alumni are on a mission to help area youth get the resources, love and attention they need to thrive. Learn more about their organizations, their involvement and how their TMC experience helped shape this passion …
DCCH Center for Children & Families
The Diocesan Catholic Children's Home (DCCH) Center for Children & Families has served the needs of more than 3,000 children in Northern Kentucky over the last 165 years. Located on an 83-acre campus in Ft. Mitchell, Ky., DCCH Center for Children & Families helps rebuild the lives of children with traumatic, emotional and behavioral difficulties. Citing a unique, onsite personalized approach that allows each child to thrive socially, mentally and physically, the facility, its partners and staff help make positive, permanent life changes. DCCH Center for Children & Families provides residential treatment, foster care, adoption, therapy and training services to children, families and residents in the community.
Sr. Jean Marie Hoffman, SND '81
BA Social Work, 
Executive Director 
As executive director of DCCH, Sr. Jean Marie Hoffman, SND, oversees the day-to-day operations. She begins each day with a prayer to be Christ-like to those she serves, following the words of Saint Teresa of Avila, "Christ has no hands, no feet on earth but mine. My eyes are His eyes that bring compassion and healing to God's little ones." Sr. Jean Marie emphasized the necessity for residential treatment for children who have been moved many times. "The children we serve at the Home have suffered the degradation of hatred, abuse, violence and neglect. Such abuse heightens the anxiety of our children and the staff who minister to them."
Sr. Jean Marie noted the impact that DCCH makes: "I am extremely grateful to our staff for the compassion and dedication they extend to these hurting children. Every day I am fortunate to see miracles occurring on our campus. What a blessing that is to me; I know we are forever changing lives," she said.
Sr. Jean Marie said she is grateful to her religious community for the wonderful education they provided for her at TMC. "The education I received helped prepare me for the position I have today. Studying in the field of social work provided me with a better understanding of the problems of those who are in need of help." Sr. Jean Marie described the legacy she would like to leave behind someday. "I hope that people will say, 'Job well done, good and faithful servant' and that the children's best interests were always my first concern and I was their voice," she said.
Sr. Pamela Mae Geiger, SND '78
BA Elementary Education
Development Assistant
Sr. Pamela Mae Geiger, SND, is no stranger to helping kids succeed. After earning her degree in elementary education in 1978 from Thomas More College, she went on to teach a variety of grade levels for 20 years in Kentucky, Ohio and Alabama and served as principal for two schools, Holy Spirit (now called Holy Trinity) and Guardian Angels School at DCCH. In 1999, she entered the foster care field and worked with DCCH's foster care program for 10 years. Currently, she is working behind the scenes in helping the organization raise funds in the Development Office. She said she has always felt a desire to help the children of DCCH. "It feels good to help those children who are the neediest in our society. My original goal … was to serve DCCH on the childcare staff, but education called me on another path."
Sr. Pamela's experience as an educator and administrator brings valuable life experiences to her job at DCCH, and she credits many of her professors at Thomas More College for helping shape her as an individual. "I really liked my experience there and my teachers as well, especially my children's literature teacher. Several others helped me develop a strong work ethic and standards which I have used my entire career. Thomas More helped me become the person I've come to be," she added.
Gayle (Gay) Trame '84
BA Business Administration, AA Accounting & Economics
Accountant
Gay Trame has served as the accountant for DCCH for eight years. In that role, she manages the finances and oversees compliance and audits. She said her passion for her job is fueled by the people she serves. "It helps to know that, even though I don't have direct daily contact with the children, I'm still making a difference in their lives. I'm so blessed to do what I love and very rarely have time to get bored. And, the people I work with are awesome," she said.
Gay's multi-tasking abilities have guided her throughout her career. At Thomas More College, she earned a BA in business administration and an AA in both accounting and economics. In addition, she holds an education certificate, which she earned at TMC, to teach grades K-12. She also holds a master's degree in education from Xavier University.
Ronald M. Bertsch '86
BA Social Work and Sociology
Director of Foster Care and Adoption

Ron Bertsch came to the Center nearly 15 years ago after working with the state of Kentucky's foster care and adoption program. He said he loved the idea of working with a Catholic agency and living out his passion for foster care and adoption in an organization that reflected his values. "Working with and recruiting potential foster families to help serve the kids here who need a good home and realizing the success of my efforts is very fulfilling. It's great to see families who feel God is calling them to do this, and they are offering their love. Being able to facilitate that is wonderful," he said. Ron explained that the process can sometimes be a long journey. "When you see a child who has to wait, it's the hardest thing; and it's frustrating for a family to have to wait, but there are delays in place to ensure the birth parents are respected. It's great to see a child reunited with his birth family, but our ultimate goal is to find them a safe, loving home."
Ron credits his experience at TMC for setting the trajectory for his career. "I loved my TMC experience. I came in without a major for the first two years, but when I took that first social work class, I knew I had found my path. My professor made a statement about how his class would open doors for me, and it did. I loved the religion and philosophy classes, and I served as editor of the newspaper at the time, so I had a chance to interview and meet a lot of people," Ron recalled. He still keeps in touch with good friends he made at TMC and just this January more than a dozen of them met for dinner. "I made a lot of friends and it was a good cross reference of majors. It was good to get to know people who were entering other fields. My fellow students, the staff and professors at Thomas More really played a part in who I am today," he added.
Colton Callery '11
BA Psychology
Therapeutic Behavior Case Manager
Before he even graduated from TMC, Colton Callery began working for DCCH Center for Children & Families. A friend was fulfilling a work study position at DCCH and told him about a part-time job working over the weekends. He applied and began working with the kids at DCCH, helping them go through their basic routines and practice their coping skills. "We went on outings and basically re-taught them daily living skills," he explained. Now Colton serves in the role of therapeutic behavior case manager where he continues to work directly with the children and describes his job as very fulfilling. "Most of these kids come in resistant to building relationships with anyone. Some of their backgrounds are really horrific, but it's wonderful to work with them and see them grow. My job allows me to get to be a kid again and connect with the children here," he said.
Colton described his time at Thomas More College as the best years of his life. "I loved it there and was very happy I decided to attend TMC. The faculty were great. Dr. (Maria) McLean was one of the hardest teachers I ever had, but I learned a lot from her. Dr. Langen did a very good job of teaching us how to talk to people in general and develop an empathetic nature while working with different diagnoses."
For more information on DCCH Center for Children & Families, visit dcchcenter.org or call 859-331-2040.
Children, Inc.
Through children's advocacy, parent and community outreach, and early childhood education programs, Children, Inc. represents the interests of thousands of children across the region. Beginning in 1977, Children, Inc. was founded on a promise to bring families and children in Northern Kentucky quality child care services, preschool offerings, kindergarten programs and early childhood learning services. It has since grown to offer all those services in addition to many more, including advocacy and collaboration with numerous entities, and school age programs before and after-school care at nearly 30 schools.
Jim Epping '75
BA Accounting
Director of Finance
Jim has served Children, Inc. since 2000 and is responsible for all financial record-keeping and reporting of the organization. In addition to his degree from TMC, he holds a Master of Divinity from Christ The King School of Theology in East Aurora, NY. He described the role that he believes Children, Inc. plays in the community. "Children, Inc. is a leader in Northern Kentucky and Greater Cincinnati when it comes to early childhood education. It serves as a voice in relation to children's education and their rights. I'm proud to be a part of all that. Even though I'm not directly involved with the children, what I do plays an important role in the overall organization."
Jim said his experience as a student at TMC equipped him with the knowledge to successfully do his job, and it also challenged him to think about the world differently. "My experience at TMC was very good. Being in a small, Catholic school where theology and philosophy classes broadened my views really challenged me. That challenging opened me up to possibilities and is probably where my desire and awareness of working with children originated."
He elaborated on how Children, Inc. serves not only children, but their parents as well. "There's a definite emphasis on children's development. We are not babysitters for children. We are very concerned about children developing and working closely with families to help make that happen. Parents are the primary influences in kids' lives, so we want to be a support for them as well." Jim and his wife Sheryl (Ruberg) Epping, who graduated from TMC in 1980 with a degree in elementary education, know a thing or two about child development first-hand. They've served as foster parents for more than a dozen children and adopted three seven years ago. Jim's experience as director of finance for Children, Inc., involves keeping track of all the money that goes in and out of the organization, but his role as a foster parent has enabled him to put those math skills to another use – counting his blessings.
For more information on Children, Inc., visit childreninc.org or call 859-431-2075.
Covington Partners
Covington Partners brings together key community stakeholders to work towards the goal of helping Covington's youth achieve success in every phase of their lives. Originally founded in 1999 to reduce drug abuse and violence among youth, Covington Partners offers training and resources for school staff and administrators, and conducts campaigns that increase youth leadership and safety. In addition, the organization offers programs to help families support their children's learning process. These programs include homework help, after-school activities, life skills, leadership training, mentoring, family activities, meals, and summer programs, all impacting more than 4,000 urban youth.
Julie Geisen Scheper '76
BA Psychology, AA Sociology
Julie Geisen Scheper is a past chair and current board member of Covington Partners. In addition, she's on the board of Covington Independent Schools. Julie said that being a former counselor has contributed to her passion for education and her efforts to find ways to help young people reach their full potential. "Sometimes students living in the city don't have as many opportunities as others. They are smart and can learn well. They just need a bit more assistance," she explained. Her roles with Covington Partners and the school board include providing leadership, decision-making, advocacy and fundraising. "What I love about Covington Partners is that it is a collaborative effort among many businesses, organizations, agencies and community leaders.
At TMC, Julie's major was psychology with a minor in sociology. She credits two internships/practicums for setting the pace for her career. "One was tutoring an urban third grader at a community agency, and the other was shadowing and working with a guidance counselor at a local elementary school. I credit Dr. Jim Becker, who was a psychology professor at that time, with seeing the potential in me, knowing the practicums would be a good fit, and helping to light that spark." Julie has been a mentor to a young woman since the girl was in the eighth grade. In May, Julie said she will graduate as the first person in her family with a college degree.
Tom Haggard '06
BA Political Science
Resource Development Coordinator
Tom Haggard describes his role as resource development coordinator at Covington Partners as the perfect destination for his journey toward giving back to a community that he loves and a cause that's close to his heart. As a Holmes High School graduate and TMC alumnus, Tom said he enjoys working to promote Covington Partners and provide resources for Covington youth. "One thing I've learned is how resilient our kids are. … With all the struggles they've gone through, they just let it roll off their backs and get on with their lives," he explained. "It's incredibly meaningful work to be a voice for these children to help make sure they have the opportunities that other kids might have."
Prior to changing his focus to political science, Tom was an education major at TMC, and Dr. Beth Penn was his professor. "She has been an outstanding advocate for the kids in Covington and very instrumental in opening doors for me," he said. "We were pretty lucky at Thomas More to have the professors we did and the great, personalized education we received. I felt like I had a responsibility to do something meaningful with that education," he added. Tom came to Covington Partners from Crayons to Computers where he served as the operations manager. While at TMC, he had a work study job with Crayons to Computers which allowed him to get his foot in the door. During his senior year, he completed an internship with the city of Ft. Wright, Ky., where then TMC Adjunct Professor Larry Klein was the city administrator. "That whole experience was a big reinforcer that I wanted to be in a job for the public good," Tom added.
Dr. Beth Penn
Retired TMC Professor and Chair of the Education Department
Beth Penn serves as the board chair of Covington Partners. Beth taught at TMC for 23 years, serving as department chair for 13 years. She said she is motivated to work with Covington Partners because she sees the potential and promise of Covington children. "Covington Partners collaborates with other organizations and agencies to meet the needs of children and families without duplicating efforts. I am also impressed by our focus on results. Our mission is to eliminate boundaries to learning and success in a variety of ways, including programs in mentoring, wellness, leadership, academic support and substance abuse prevention." Beth also serves as a mentor for a seventh grade student at Holmes Middle School.
For more information on Covington Partners, visit mycovingtonpartners.org or call 859-392-3179.
Children's Home of Northern Kentucky
The Children's Home of Northern Kentucky (CHNK) provides children and families with opportunity and hope for better lives by offering a residential treatment program for boys between the ages of seven and 17. CHNK operates two campuses in Burlington and Covington's Devou Park. The Home impacts children and families in counties across Kentucky. The youth whom CHNK serves in their residential and community based programs receive state-of-the-art treatment services from skilled therapists, case managers and support staff.  Because of this care, family functioning improves, academic performance increases, mental and behavioral health is nurtured, and opportunity and hope emerge.
Rick W. Wurth '89
BA Sociology, AA Theology & Philosophy
Chief Executive Officer
TMC alumnus and CHNK Chief Executive Officer Rick Wurth emphasized the role that CHNK plays in the lives of area youth, but he also elaborated on how it makes the community better. "Because of the work we undertake for the 400 children and family members we served last year, there are fewer children in the state's custody, fewer children incarcerated, fewer addictions and higher graduation rates for at-risk youth. All of this means a safer, more vibrant community with less crime and fewer taxpayer dollars going to services that none of us wants to fund, and more dollars devoted to increasing the quality of life for all citizens. CHNK brings benefits to every Northern Kentuckian, even though our work is mostly 'under the radar' for most folks."
Rick said he is grateful that Thomas More College played a role in expanding his world-view. "As a sociology major, my instructors taught me the fine art of describing the world without immediately trying to prescribe how the world should function. That starting point is very helpful in my work at CHNK today where I'm reminded daily that there are very few clear cut answers and a lot of gray areas in human life. At CHNK, we undertake our work with youth and families with a starting-point focus on what is rather than what should be."
He further expanded on why he is inspired to work at CHNK: "I want to spend my life making a difference for others. I want to undertake that service to others working with a team that is open and diverse, representing a wide array of backgrounds, talents and world-views. I found that here, at CHNK.  My 65 team members embrace our diversity, but we all share one common belief: that the bad things that happen in life won't have the last word." Rick said it's that belief that builds bridges to better futures for the hundreds of abused, neglected, at-risk youth they serve.
"In my social science undergraduate studies, Thomas More College nurtured within me a deep desire to be of service to others. More importantly, TMC gave me the ability to see that service to others isn't simply about feeling compassion for the plight of others less fortunate. In addition to compassion, there has to be a corresponding degree of competency if human and social services are going to be truly effective and not simply a band-aid masking underlying root causes of social ills." Rick said that TMC's emphasis on critical thinking and lifelong learning gave him the ability to be effective in a number of different roles he has played throughout his life. "I will always remember the faculty members who took a personal approach with me and my fellow TMC students. Many of the faculty members who taught me have stayed at the college for many years and provide a consistent basis for excellence in instruction. These professionals challenged my world-view, expanded it, and provided me with tools that I use daily in building bridges to better futures for the hundreds of children and family members served at CHNK."
Anne Sturgis '01
BA English
Development Manager
Three years ago, Anne Sturgis found herself at a crossroads in her career. Having graduated from TMC in 2001 with a degree in English, she was working as a communications manager with The Kroger Co. when Rick Wurth, who had recently been hired at Children's Home of Northern Kentucky, asked if she would ever consider a career in the non-profit world. "I was intrigued by the opportunity. My mom, a Class of 1960 Villa Madonna graduate, and dad, who served in the Air Force, introduced me to the concept of service to others when I was just 12 years old, taking me with them as they volunteered at a local food pantry. That experience impacted me to such an extent that I began to pursue numerous additional volunteer opportunities throughout middle school, high school and college."
Anne said her time at TMC, specifically her work study experience in service learning, fostered her growing sense of social responsibility. "But in hindsight, I believe it also was the period in my life when service to others truly became a calling for me," she explained. Since college, Anne has been very involved with service to the community, from founding and chairing a community service group at her home parish of Mary, Queen of Heaven to organizing fundraisers and service fairs. While she enjoyed her job at Kroger, she said she couldn't pass up the opportunity to take something that had become a passion and turn it into a profession. "Working for a nonprofit is daunting even on a good day, and as Rick often says, it is not for the faint of heart. But the strength, determination, and dedication required to show up, day after day, and pour your entire self into difficult work done in service to others are exactly the traits that TMC fosters in its 'Saints' during their time at the college," she added.
Rachel Powell '11
BA History & English
Executive Administrative Assistant
When Associate Professor James Schuttemeyer contacted Rachel Powell in September 2013 about a job opportunity at CHNK, Rachel said she felt an instant connection to the nonprofit's mission of providing hope and opportunity to abused, neglected and at-risk children and their families. "As a James Graham Brown Honors Program student, I learned valuable leadership skills in program workshops and in service to the community at Sixth District Elementary School in Covington, Ky. These experiences at TMC prepared me for the work I now do at CHNK."
As a double major in history and English literature, Rachel said she honed critical thinking skills in classes taught by faculty who encouraged her to analyze her world-views and to explore issues of socioeconomic and cultural differences. "The education I received and friendships I fostered at Thomas More College instilled in me the confidence and integrity needed to pursue my personal and occupational goals in a socially responsible manner," she said.
Bill Marsh '08
BA Social Studies, Secondary Education
Residential Treatment Specialist (RTS) Supervisor
Bill Marsh said that his original goal to pursue a job in teaching took a detour that landed him into his current role as residential treatment specialist supervisor at CHNK. Sometimes it's those detours in life that can lead to one's true calling. Bill said his work is very fulfilling, "To know that I help kids who are really struggling is what motivates me." The youth that Bill works with now are at a point in their lives where they need to make some decisions of their own. His role at CHNK is somewhat parental in that he helps them manage their time and makes sure they eat well, do their chores, study and maintain hygiene. In addition, he makes sure they have time for fun as well. "Many come from a troubled background of neglect or abuse or have mental health disorders and do not know the opportunities they have," Bill said, noting that the education he received at TMC has helped him guide these youth to make positive choices and grow to become successful both in the home and in the community.
"My time at TMC taught me many important things, none more important than the social responsibility we all have in improving the world we live in. When I first arrived at Thomas More, I did not know what career path I would take in the future. I can still remember the first class I attended. The professor discussed the mission statement of the college and the three most important parts of it: finding the ultimate meaning of life, finding one's place in the world, and the responsibility towards others. All of the classes I attended made mention of this mission and how what I was learning fit into that mission statement," Bill elaborated.
Victoria Long
TMC Student, Accounting
Current TMC student and cheerleader Victoria Long is fulfilling an internship at CHNK. She said that she's thankful her professor introduced her to the idea of doing the internship. "The values-based education at TMC has helped me. I had a lot of leadership skills coming into TMC, but I've since realized how much organization really does affect outcomes." Victoria said that her organization and leadership skills have been fine-tuned during her time at TMC.
For more information on Children's Home of Northern Kentucky, visit chnk.org or call 859-261-8768.