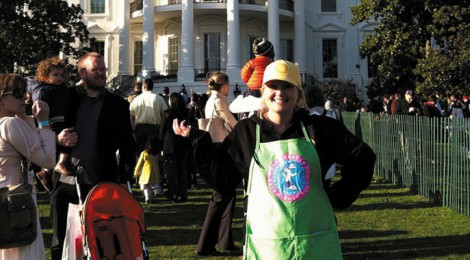 Maria Heim '10 is from a large family which resides in Alexandria, Ky. and falls right in the middle of seven children. "Catholic education has always been a part of my life. I went to St. Mary of the Assumption Parish, Bishop Brossart High School and Thomas More College was the only college I wanted to go to, therefore the only place I applied." Maria shares with us how attending Thomas More College was a perfect decision and has helped her reach success in her career.
The quality of a Thomas More College education has made an impact on the Heim family. Maria's mother, Donna (Kremer) Heim graduated from TMC in 1978, and Maria's younger sister, Gina, will graduate this year.
"I came from a strong, supportive family and attending Thomas More College was like an extension of that environment. The college years are so formative. Being in an encouraging environment with an emphasis on faith and social responsibility has shaped who I am. I've always had a firm belief that God puts you where you're meant to be, and TMC reinforced that belief. While TMC was pushing me towards success, they were also saying, "How are you going to use that success to make the world a better place?"
"Washington, D.C., sometimes feels like a world away from Northern Kentucky, and it's easy to get caught up in yourself. For 3 1/2 years, I worked full time and went to law school four to five nights per week. Most weekends I just wanted to sleep, but I still felt a responsibility to do something for others. That led me to start volunteering at Mount Vernon, George Washington's Estate. I spent many weekends dressing up in colonial costumes, directing tourists and assisting the interpreter playing the role of Martha Washington. It ended up being a lot of fun! Every time a young tourist asked if the interpreter was the real Martha Washington, which happened at least once a shift, I felt like I was really making a difference by teaching children about history. I've also found other opportunities to get involved with the community here, such as working at the White House Easter Egg Roll."Maria discusses the transformative experience of an education at Thomas More College. She took a leap of faith and moved to Washington, D.C. to further her education and career.
"I knew that if I applied the things I learned at TMC, I would be successful in whatever I chose to do and, therefore, was not afraid to take a leap of faith. I still carry the confidence I gained at TMC; therefore, I'm not shy when it comes to speaking up during a class or in a meeting at work.
"Overall, I'm glad I followed my instincts, and I know I was right to trust that God would put me where I was supposed to be. In addition to the professional accomplishments I've had in D.C., I've also grown personally by taking advantage of everything the city has to offer."
In a variety of ways, TMC paved the way for Maria's life-changing opportunities.
"In addition to refining my personal values and building skills through my education, I literally started my career path through TMC. I was walking down the hall during my junior year of college and saw a flyer for an internship program in Washington, D.C. On a whim, without having any of the details, I decided I was going to do it. Everything was arranged through Thomas More College. I ended up landing an internship with the IRS and moved to Washington, D.C., for the summer. Unbeknownst to me, the division I interned with was headquartered in Florence, Ky. At the conclusion of the summer internship, I was offered a job at the Florence office. The plan was for me to work in that office for the school year, then I would quit to attend law school. But I didn't end up quitting. When I was accepted to a law school in D.C., the IRS allowed me to transfer to that office in June, knowing I would be starting law school that August."I worked in downtown D.C. over the summer before law school began. Realizing how expensive everything was, and knowing the state of the economy, I decided that I could not give up a good job. So I decided that I would continue working there and do the night program at George Mason University. This meant that I worked all day, rode home from the metro, then went to law school for four hours. This occurred five nights per week. After class, I went home, did homework, slept for a few hours, then started it all over again the next day.
"The first year of law school was one of the hardest things I've ever done. I can remember many instances where I called my dad crying because I was so incredibly exhausted, but I knew I had the ability to do it. After the first year and countless Hail Marys, it did get easier. I established a routine and adjusted my schedule to have class four nights per week instead of five. In the end, I was able to finish law school in 3.5 years instead of the expected four. I graduated in December 2013 and after a few weeks of a break, I'm now studying for the bar exam, which I will take in Virginia the last week of February. As far as future career plans, I'm really interested in criminal law and would like to be a prosecutor."
Maria attributes a lot of her success to Dr. Ray Hebert, Professor of History. His enthusiasm made her want to learn and not miss a class.
"(Dr. Hebert) took such an interest in me, as he does all students, and helped develop my critical thinking skills. He showed a confidence in my abilities that really inspired confidence in myself. He always went the extra mile to ensure that I got the most out of my education. For example, when I was offered an internship with Judge Ward in Campbell County, he helped me configure a class schedule that would work, even though it meant taking a class at NKU. He made sure that I received credit for my time spent at the courthouse.
"When I was starting to look at law schools, he scheduled lunch meetings with attorneys he knew that had been to the various law schools I was considering."
The well-rounded nature of a liberal arts education has served Maria well. She frequently draws upon the things she learned at Thomas More College.
"I learned how to analyze, write well and communicate my ideas at TMC – something that has proven invaluable in law school and at work. George Mason University, where I attended law school, is known for its economics approach to law (which is something I had no interest in), so thank God I had been previously exposed to the subject of economics in my political science classes and had taken an environmental economics class. I had to take an economic foundations class during my first year of law school at GMU, and it was difficult enough; I can't imagine having done so without at least the cursory knowledge I had from my classes at TMC. I used my notes from Dr. Cimprich's American History and Constitutional Law classes to study for both of my constitutional foundation and constitutional law classes.
"Strangely enough, since living in D.C., there has been more than one time that I've been part of a conversation about the Cincinnati area that involved the Ohio River. Because of my Science on the River class with Dr. Chris Lorentz, I was able to add to the conversation."
---
TMC Professor of History Dr. Ray Hebert had this to say about Maria:
TMC Professor of History Dr. Ray Hebert had this to say about Maria:
"Maria Heim is a truly remarkable young lady. She was the most entrepreneurial and the most visionary of her peers. She was also the hardest worker, who did everything she could to get better and better with each course, and I taught her in six classes.
"She also took advantage of myriad opportunities: the Washington, D.C., internship semester, which led to her position with the IRS where she has risen meteorically. She also went to London on one of our Cooperative Center for Study Abroad (CCSA) London Winter Program classes and was the best student in that class, according to the instructor.
"When it came to choosing a law school, she realized the benefits of returning to Washington, D.C., and with several acceptances, chose George Mason University for extremely logical reasons. Now, having graduated in December after having attended while continuing to work full-time with the IRS, she will be promoted to a GS12 after her anticipated successful passing of the Bar Exam. And she will be married in June!
"That is all well deserved because of her hard work, her determination to succeed and her appreciation for the liberal arts education that she took such full advantage of while at TMC."
---
All in the family
Donna (Kremer) Heim '78, Maria's mother had this to say about her TMC experience:
"There was something that drew me to Thomas More College the first time I visited. I had a full scholarship at a different university, but I knew that TMC was the place for me. I entered as a psychology major, but one theater class and I was hooked as a drama major with certification in secondary education. The quality education by professors who knew me by name and their emphasis on forming the whole person through experiential opportunities allowed me to discover my gifts and talents and shaped me for the path God laid out for me. I'm very pleased that Maria and Gina experienced those same TMC strengths."
Gina Heim '14, biology, Co-President of the Biology Club, Secretary Pre Health Professionals and a Pharmacy Tech at St. Elizabeth Healthcare has this to say:
"I looked for two things as I explored colleges: one in which I would feel part of a community, and one that would prepare me well for a profession in the medical field. My mom spoke highly of TMC, and I saw first hand Maria's experiences of small class sizes, study abroad, involvement in student leadership and the internship she was selected for because her well-connected professors knew the quality of student she was. I've experienced the same atmosphere at TMC. I appreciate the challenging classes and the constant support from my professors. They prepared me well to achieve my dream. I will be attending The University of Pikeville Kentucky College of Osteopathic Medicine in July 2014."