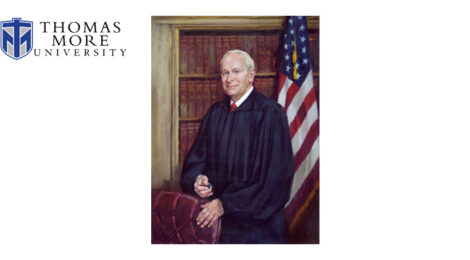 CRESTVIEW HILLS, Ky. (March 15, 2021) — Thomas More University will honor the late Justice Donald C. Wintersheimer '53, an alumnus and longtime servant leader at the University, through the renaming of the annual Lawyers Lunch to the Justice Donald C. Wintersheimer '53 Lawyers Lunch.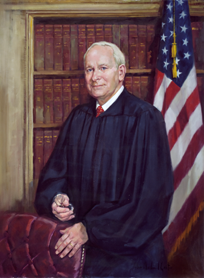 "Late last month, the University and law community lost an icon in the passing of Justice Donald C. Wintersheimer '53," said President Chillo. "He was a brilliant lawyer, scholar, and teacher who epitomized the values that Sir Thomas More instilled upon many generations of lawyers and others who have had an impact on our society. We are honored to remember and recognize Justice Wintersheimer's legacy through the renaming of our Lawyers Lunch."
Wintersheimer served the University in many capacities since his graduation from Villa Madonna College (now Thomas More University) in 1953. He held the roles of former adjunct instructor of business law, former president of the Thomas More Alumni Association Board, and as a lead member of the Planning Committee and honorary chairman of the annual Lawyers Lunch for decades. He was also a recipient of an Outstanding Teacher Award in 1975. His wife, Alice, is also an alumna who graduated in 1956.
"It was Justice Wintersheimer who immediately agreed to serve first on the Planning Committee and later as the honorary chairman of the event every year for decades," said Ray Hebert, Ph.D., dean of the university emeritus, in regard to Wintersheimer's impact on the Lawyers Lunch. "This event will not be the same without him, but those who attend it will now know how special the event was to him and what it means to us to forever celebrate our patron saint's birthday in his name."
In addition to honoring Justice Wintersheimer's legacy by naming this event after him, the University has announced an initiative to secure $50,000 in donations to permanently endow the lunch in his name and ensure that the Justice Donald C. Wintersheimer '53 Lawyers Lunch will exist in perpetuity. 
---
Thomas More University provides students with something much more than job training. Graduates are prepared for any career. But they leave prepared for much more. They are exposed to the very best thought, literature, art, and music. They learn to harness the power of human reason to solve problems and discover truth. Most importantly, they have the chance to begin to become the person they were created to be. This is the power of the liberal arts in the Catholic Intellectual Tradition at Thomas More University. Our students come here looking for more. And that's exactly what we offer. Here our students take that opportunity and…Make It More. Learn more at thomasmore.edu.
###
MEDIA CONTACT: Rebecca Stratton, director of communications and PR, strattr@thomasmore.edu, 859.344.3309