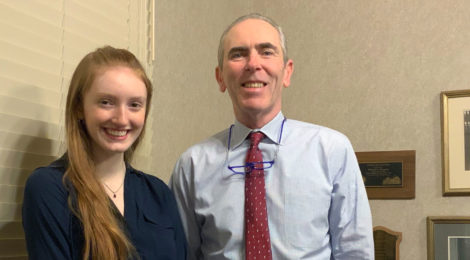 Jeff Mando '80, J.D., Kentucky's 2018 defense lawyer of the year, attributes his success directly to a liberal arts education.
Submitted by Evelyn Brauer '22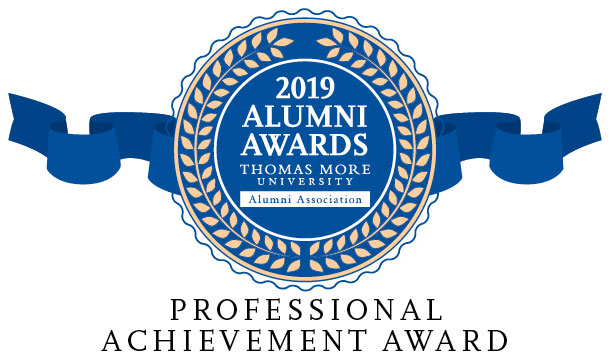 Jeff Mando '80, J.D., is a veteran appellate and trial attorney working today with the firm Adams, Stepner, Woltermann & Dusing, PLLC in Covington, Kentucky. He traces a considerable and meaningful part of what is and has always been essential to discovering his true purpose in life to his liberal arts education at Thomas More University. Hearing what is meaningful to him when looking back at some of the most shaping years of his life, is an immeasurably useful tool to current college students looking to find their own paths.
Originally, Jeff was from Fort Thomas, Kentucky, and in 1972, his family moved to Lakeside Park. Both his family and his wife's family come from Northern Kentucky, so staying in this community has brought a personal connection to what he does and who he works to help. While attending Thomas More, he majored in business administration, although he expresses how important it was that his education extended past just that field. He spoke to how, at the time, those majors felt practical. "The whole Thomas More experience – that whole liberal arts education" was what truly molded him into who he is today. He explained the variety of learning points of which he was lucky to be a part of and gain perspective from. He credits what he learned and experienced at Thomas More in the numerous reasons as to why he feels he has been able to be effective in his career.
Beyond academics, Jeff was involved in student government and chapter president of the fraternity Alpha Delta Gamma (ADG), which he thinks was critical to forming his leadership abilities. "It helped me evolve socially and develop a little bit of maturity. I felt like [joining the fraternity] helped me with my friendships, my relationships, and set a foundation." He is enthusiastic when expressing that college should be more than the academic mindset for students. It was clear that Jeff could not speak highly enough about creating a well-rounded environment during one's college years. His actions follow his words, as well, as he is part of the group of individuals that created an endowment that provides scholarship funds for ADG fraternity undergraduates, giving as much effort as possible into making sure that the experience that helped him as a young adult is available to form the minds and values of today's young adults.
Unfortunately, there has been a visible decline in the state of fraternities across the country, negative criticism of some putting a harsh view on the collective perception. Jeff stressed the commendable impact that a Catholic-based fraternity like ADG at Thomas More can leave on a student. "It's committed to scholarship, it's committed to service, it's committed to fraternal charity and helping people," Jeff states. He still has good friends that were made during his time in this fraternity and discusses how successful leaders have also shared that same connection to Alpha Delta Gamma.
Jeff's community ties gave him opportunities and fortunate chances. The beginning stage of his career had close ties to college connections. He began his practice at Spalding, Grause, Robinson and Arnzen, a firm built by Thomas More graduates and fellow lawyers Larry Grause '62 and Bill Robinson '67, along with other members and leaders of the community. "I was fortunate to be able to immediately become involved in litigation and trial work, and had an unbelievable opportunity to take cases to trial early on in my career when that necessarily wasn't the norm," explains Jeff. This brought about the chance of taking on his first civil rights case, an area of law in which he takes great interest. He went from representing police officers to local government, to representing jailers, and this niche now encompasses about 80 percent of his litigation practice.
From law school to starting a family, Jeff has always felt at home in this area. He has built his familiarity here. "I just think there's something special about being here in Northern Kentucky and Greater Cincinnati that I find particularly comforting. Knowing people, knowing the places… I just think this is a good place to call home. It's a good place to practice law; it's a good place to raise a family." When working with clients, Jeff places importance on assisting people in need. There is comfort in the knowledge that there is some form of help for individuals out in the community, and that the help given will be ethical and efficient.
"Now more than ever, we need folks to graduate with a Thomas More education, with that liberal arts background. We need folks in our community and across the country who are ethically driven leaders, and that's what Thomas More produces."
– Jeff Mando '80, J.D.
Jeff is also an advocate for education. He served 12 years on the Kentucky Board of Education and is currently a member of the Thomas More Board of Trustees. He feels it is an honor to serve and explained that with many small, private colleges having a hard time in recent years, Thomas More stands out as thriving in its community. "Now more than ever, we need folks to graduate with a Thomas More education, with that liberal arts background. We need folks in our community and across the country who are ethically driven leaders, and that's what Thomas More produces," Jeff emphasizes. Just because someone may follow a certain path for a time does not limit where they can go from there. More particularly within his path, Jeff speaks about how attending a law school does not necessarily define your career as becoming a lawyer. "Law school is great at teaching critical thinking skills, analysis, and creative solutions to problems. These skill sets apply across the board in terms of different careers."
This passionate stance on the future starts in creating a better experience for students now. When asked to impart some personal knowledge to those looking to follow in similar footsteps, Jeff explains that exploring your world ultimately shows what is crucial. He emphasizes the importance of getting plenty of exposure to all kinds of subject matter because it is not in one area that a person learns how to handle the world. Getting involved and taking action in one's own life opens up endless opportunities. Thomas More embodies that ideal for Jeff, and to encourage that journey for each new generation can only improve lives around the globe.
To read the press release and view a photo gallery from the Alumni Awards, visit tmuky.us/2019awards.