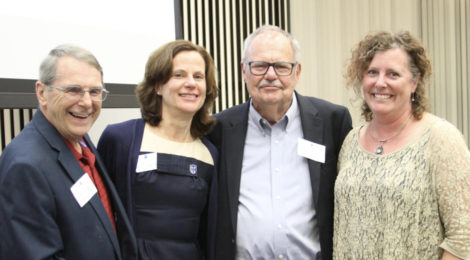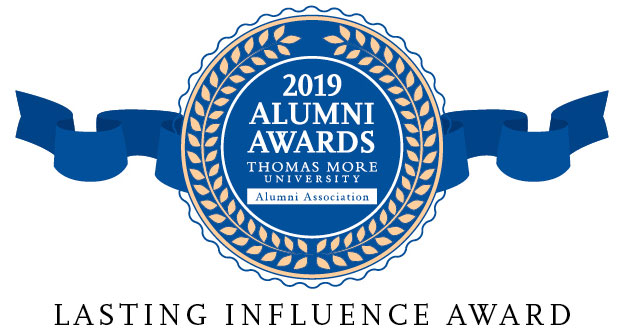 As a member of the Institutional Advancement communications team, I have the wonderful opportunity to work with many of the outstanding faculty at Thomas More as they push outside the boundaries of the classroom creating opportunities for students and alumni in the community-at-large. Sherry Cook Stanforth was an excellent choice to receive the 2019 Lasting Influence Award from the Thomas More Alumni Association. She walks-the-walk and talks-the-talk when it comes to the passion she has for her craft and for teaching.
Sherry has been a Thomas More English professor since 2000 and is the founder and director of the Creative Writing Vision (CWV) program. She champions the interaction of students with regional authors and performance artists, providing educational and public arts programs for diverse and underserved populations in the community. It's not unusual for her to produce anywhere from 30-40 events each academic year which include workshops, visiting authors/artists, literary readings, book signings, open mic sessions, and writers retreats. As an offshoot of CWV, Sherry brought award-winning writers Pauletta Hansel (Poet Laureate of Cincinnati) and Richard Hague to Thomas More as campus artists-in-residence contributing to literary programming.
As an educator, she designed and directed "Express Appalachia: Keeping Community" and "Express: Urban Appalachian Showcase" for the Aronoff's Jarson-Kaplan Theater in 2019 with several students among the cast of performers. She also serves as co-editor for "Pine Mountain Sand & Gravel," the literary journal of the Southern Appalachian Writers Cooperative, and is faculty advisor for "Words," the student produced literary publication. As managing editor of "Riparian: Poetry, Short Prose and Photographs Inspired by the Ohio River" (Dos Madres Press, 2019), she combined emerging young artists from the University with regionally-awarded authors. Thank you, Sherry, for all you do!
To read the press release and view a photo gallery from the Alumni Awards, visit tmuky.us/2019awards.
To read a Saints Spotlight interview with Sherry from 2019, CLICK HERE.