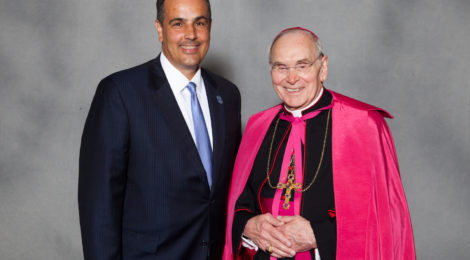 CRESTVIEW HILLS, Ky. (Sept. 27, 2019) — Thomas More University hosted its 24th Annual Bishop William A. Hughes Award dinner yesterday evening, Sept. 26, at the Drees Pavilion in Covington, Kentucky. Most Reverend Roger J. Foys, D.D., bishop of the Diocese of Covington, was recognized as this year's award recipient.
Bishop Foys was named bishop of the Diocese of Covington on May 31, 2002 and was consecrated and installed as the 10th bishop of Covington in the Cathedral Basilica of the Assumption in Covington on July 15, 2002. Bishop Foys is a graduate of the Franciscan University of Steubenville and completed his seminary studies at St. John Vianney Seminary in Bloomingdale, Ohio. He also pursued studies at Catholic University of America in Washington, D.C., and the Pontifical Gregorian University in Rome. He was ordained a priest on May 16, 1973, by the late Bishop John King Mussio at Holy Name Cathedral in Steubenville, Ohio, for service to the Diocese of Steubenville. Currently, Bishop Foys is the chancellor of Thomas More University, serving on the Board of Trustees since 2002.
"The quality education that we provide today, and aspire to enhance in the future, would not and will not be possible without the leadership and support of our chancellor," said TMU President Chillo. "As president, I am grateful for mentorship and spiritual guidance that Bishop Foys provides for me, for our board of trustees, and for our community of learners."
The Bishop William A. Hughes Award was established in 1996 to honor those who have made significant contributions to Catholic higher education. Bishop Hughes was an active member and served as chairman of various committees within the National Conference of Catholic Bishops and the United States Catholic Conference. He served on various boards within the Greater Cincinnati community and was chancellor of Thomas More College. He retired in July 1995. Bishop Hughes passed away on Feb. 7, 2013, at Carmel Manor, in Fort Thomas, Kentucky.
Thomas More University is the Catholic liberal arts university of the Diocese of Covington, Kentucky. At TMU, we challenge students of all faiths to examine the ultimate meaning of life, their place in the world, and their responsibility to others. Through our integrated and traditional undergraduate, graduate, and certificate programs, we are inspiring innovation for a better tomorrow. Learn more at thomasmore.edu.
###
MEDIA CONTACT: Rebecca Stratton, director of communications and PR, strattr@thomasmore.edu, 859.344.3309