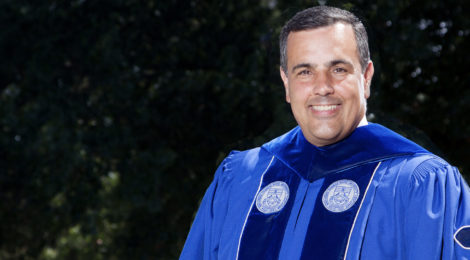 CRESTVIEW HILLS, Ky. (Sept. 25, 2019) — Joseph L. Chillo, LP.D., was installed as Thomas More University's 15th president during an installation ceremony this afternoon in the Connor Convocation Center on TMU's campus.
The University's Board of Trustees elected Chillo as TMU's next president in April after a national search. He began on June 1, after serving as the president of Newbury College in Brookline, Massachusetts, since 2014. With more than 25 years of private, higher education experience, prior to Newbury, his positions include senior leadership roles at Colby-Sawyer College, Wheelock College, and St. Thomas Aquinas College.
"Dr. Chillo is committed to service, collaboration, diversity, inclusion, and student-centered leadership and has demonstrated these values energetically since his arrival as he explores new initiatives and provides intentional, strategic guidance aimed at advancing the academic excellence inspired by the Catholic Intellectual Traditional that distinguishes Thomas More University," said Board of Trustees Chair Judith Marlowe, Ph.D. "We are delighted that Dr. Chillo, his wife, Laura, and their children, Colin and Emma are now members of the Thomas More University community."
"The power of a Catholic, liberal arts education is needed more today than ever in our history," said Chillo. "We are building Thomas More University to ensure that our impact on the lives of our students remains relevant and needed as our alumni go out and transform the world."
Chillo used his inaugural address to speak to his commitment to enhance the student experience, celebrate the importance of a Catholic, liberal arts education, and share his bold vision for positioning TMU as a regional and national leader as the institution evolves become the agile university of tomorrow. He also used the opportunity to officially to announce two new initiatives on the horizon to boost affordability, accessibility, and entrepreneurship: the Diocese of Covington Guarantee, which will financially assist graduates of high schools within the Diocese of Covington, and the formation of the Center for Entrepreneurship and Innovation, which will provide a new program and physical space that allows TMU students and faculty to collaboratively develop initiatives to better serve the future of the northern Kentucky region.
"In the United States, now more than ever, students and their families are feeling the burden of rising college costs. We are combatting this issue. The Diocese of Covington Guarantee ensures that all diocesan graduates starting with this year's high school graduating seniors who meet our admission criteria will be awarded $20,000 in institutional aid. Every diocesan student that wants to gain a Catholic higher education deserves the assistance to do so. Creating opportunity for our diocesan high schools to effectively position the values and significance of a Catholic higher education begins with our responsibility of being the diocesan University."
The new guarantee was only one aspect of Chillo's student-focused vision.
"I commit to each of the students here today, I will continue to be present for you. I will be unyielding in my commitment to student-centeredness and serving each of you as we embark upon our Thomas More University educational journey together and set the tone for the next 100 years for our alma mater."
The ceremony also officially launched the University's new fundraising initiative focused on student scholarships called 1221: A gift for every student, because every student is a gift!The initiative seeks 1221 donors to support the 1221 traditional current students at TMU and is a response to Chillo's dedication to affordability and accessibility. The support ensures each student at TMU receives the mentorship and financial support needed to make an impact in an evolving world and workforce.
"Each student here at the University is a gift. I'm committed to ensuring that every student – all 1221 of our traditional students and almost 1000 adult, online, dual credit, and graduate students – receives the mentorship and financial support they need to make an impact in an evolving world and workforce."
As a first-generation college graduate and product of a liberal arts education, Chillo expressed the importance of providing each student with a holistic and transformational college experience.
"A college education isn't supposed to be a hoop to jump through or a box to check in order to get a good job. Education is a transformative endeavor, not a transactional exchange. It is a community, not a commodity."
Among the hundreds present in the Connor Convocation Center, representatives from numerous constituencies gave welcoming remarks and words of assurance for the new president. Among these speakers were TMU Board of Trustees Chair Judith Marlowe, Ph.D., Most Reverend Roger J. Foys, D.D., Student Government Association President Eric Carrus, City of Crestview Hills Mayor Paul Meier, and Athletic Director Terry Connor.
"I chose Thomas More for the opportunities, traditions, and for the fact that even if a person is brand new to Thomas More, they're instantly welcomed in the way everyone should be," said Erin Carrus, TMU student body president. "President Chillo, we would like to welcome you into your role as our president and remind you that you and your family are already a part of ours."
"I'm grateful for the opportunity to serve this institution as a servant leader, dedicated to the needs and aspirations of our students and alumni; the teaching and scholarship of our faculty; and the work of our administrative and staff teams to ensure that our future of providing a mission-driven education is unparalleled," said Chillo.
The inauguration day began with a Mass at Mary, Seat of Wisdom Chapel and concluded with a reception following the Installation Ceremony in the Chapel Lawn.
A week of events open to students, alumni, faculty, staff, and the community surrounded the ceremony, beginning with TMU Night at the Reds on Sept. 20. An Inauguration Mass designated to pray for Chillo was hosted at the Cathedral Basilica of the Assumption in Covington, Kentucky, last Sunday. The week of celebration will continue with the 24thAnnual Bishop William A. Hughes Awards Dinner on Thursday, and it will conclude with a family-friendly pig roast on campus Sunday.
Thomas More University is the Catholic liberal arts university of the Diocese of Covington, Kentucky. At TMU, we challenge students of all faiths to examine the ultimate meaning of life, their place in the world, and their responsibility to others. Through our integrated and traditional undergraduate, graduate, and certificate programs, we are inspiring innovation for a better tomorrow. Learn more at thomasmore.edu.
###
MEDIA CONTACT: Rebecca Stratton, director of communications and PR, strattr@thomasmore.edu, 859.344.3309