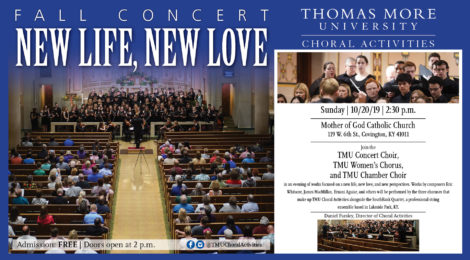 CRESTVIEW HILLS, Ky. (Oct. 7, 2019) — Thomas More University Choral Activities will present "New Life, New Love," their fall concert, on Sunday, Oct. 20 at 2:30 p.m. at Mother of God Catholic Church located in Covington, Kentucky.
The community is welcome to experience an evening of works focused on a new life, new love, and new perspectives. Works by composers Eric Whitacre, James MacMillan, Ernani Aguiar, and others will be performed by the three choruses that make up TMU Choral Activities alongside the SouthBank Quartet, a professional string ensemble based in Lakeside Park, Kentucky.
"'New Life, New Love' features our three TMU choruses housed in the department: the 40-voice TMU Concert Choir, the 24-voice TMU Women's Chorus, and the 24-voice TMU Chamber Choir, in the historic and visually stunning Mother of God Catholic Church," said Director of Choral Activities Daniel Parsley. "You will hear an extensive, eclectic program of works that incorporates works from around the world in a variety of languages including Latin, Spanish, Zulu, English, and even Hebrew! You will definitely hear something new and hopefully experience this music with an open heart."
Admission is free, and the doors open at 2 p.m.
For more information, photos of past concerts, or to stay up-to-date on Choral Activities happenings, visit their Facebook page.
Thomas More University is the Catholic liberal arts university of the Diocese of Covington, Kentucky. At TMU, we challenge students of all faiths to examine the ultimate meaning of life, their place in the world, and their responsibility to others. Through our integrated and traditional undergraduate, graduate, and certificate programs, we are inspiring innovation for a better tomorrow. Learn more at thomasmore.edu.
###
MEDIA CONTACT: Rebecca Stratton, director of communications and PR, strattr@thomasmore.edu, 859.344.3309