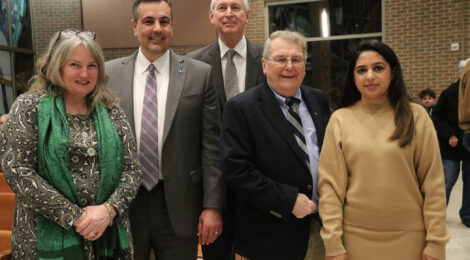 CRESTVIEW HILLS, Ky. (Feb. 14, 2023) — The Wm. T. (Bill) Robinson III '67 Institute for Religious Liberty (IRL) presents "Political Partisanship and Its Impact on the Future of Religious Liberty," an interfaith event at Thomas More University campus on Thursday, Feb. 16, 2023. Keynote speaker in the spring discussion is religious liberty lawyer and scholar Asma T. Uddin who is the current visiting assistant professor of law at the Catholic University of America located in Washington, D.C. William Madges, Ph.D., chair of the theology department and faculty director of the Brueggeman Center for Dialogue at Xavier University, serves as commentator with the University's own Catherine Sherron, Ph.D., chair of the philosophy department and director of the James Graham Brown Scholars moderating.
"Ms. Asma Uddin is a talented religious liberty lawyer, scholar, and author who is domestically and internationally respected for her experience and writings on behalf of religious expression for people of all faiths in the U.S. and abroad," says Raymond G. Hebert, Ph.D., IRL executive director. Hebert further explains, "Few in the country are as prepared to talk about political polarization as it applies to Muslim-Christian relations in the U.S. I feel privileged to have had several conversations with her since she accepted our invitation and have been impressed with the sense she has developed for Thomas More University as a crucial part of the Northern Kentucky community."
A prolific author, Uddin has penned two books centered around religious liberty, including "When Islam Is Not a Religion" (2019) and "The Politics of Vulnerability" (2021). As visiting assistant professor of law at the Catholic University of America, she explores the multifaceted issues of gender, politics, and religion. In addition to her legal work, Uddin writes and speaks on Muslims and gender. Uddin has advised on numerous media projects about American Muslims, including, most recently, as executive producer for the Emmy and Peabody nominated docu-series, "The Secret Life of Muslims."
In preparation for the talk, Uddin was interviewed by Thomas More University communications student Bella Young and offered this insight for individuals and communities in navigating cultural or religious divides, "look beyond the headlines. Don't believe everything you read on the internet and try to reach out to the actual people, the actual humans who are involved and learn their story."
For more information about Thomas More University, visit www.thomasmore.edu.