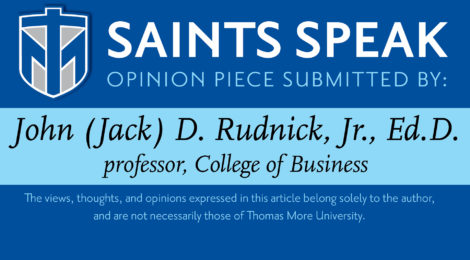 Submitted by: John (Jack) D. Rudnick, Jr., Ed.D., professor, Thomas More University

One of the ironies with the United States healthcare services delivery system is that outcomes are highly dependent on non-clinical or scientific variables. Lifestyle choices, personal nutritional decision-making, challenges with finding timely transportation, and an inability to navigate a complex continuum of services are among the social determinants affecting the ability to obtain optimal and timely care and services.
Treatment for COVID-19 appears to be no different. The COVID-19 pandemic has caused enormous disruption to the lives of those living in the United States and around the world. The virus has caused an evolving spike in COVID -19 sickness and death. The incidence of illness (new cases) and its prevalence (existing cases) surpass most other health crises and natural disasters that have confronted the United States and many other nations.
The Silver Lining
Because of the need for social isolation/physical distancing and a good deal of sheltering in place, people are traveling and driving less, socializing in crowded places less, and finding themselves under an additional scrutiny of public law officials to ensure that there is minimal human interaction. The changes in behaviors has affected deaths from other sources. Supportive data for this from the Centers for Disease Control and Prevention (cdc.gov, 2020) reveal that accidents due to unintentional circumstances rank third behind heart disease and cancer as the leading causes of death in the United States. The significant reduction in (elective) surgeries, motor vehicle accidents, and gunshot wounds contribute to these data. (The unexpected lack of activity on the US Navy ships Comfort and Mercy reflect this unanticipated result.)
Pillars of U.S. Healthcare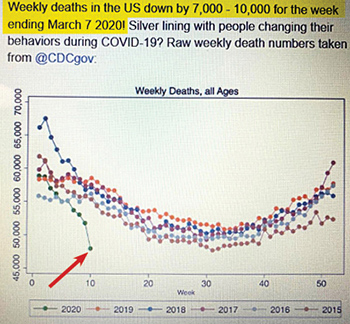 The U.S. healthcare delivery system is provided on four conceptual pillars: access, quality, cost, and continuity. Prior to COVID-19, the two areas of focus were largely cost and quality. Eligibility for non-emergency treatment of those seeking care had been prioritized to those with insurance and those confirmed as U.S. legal residents. However, while these two dimensions continue to be critical, COVID-19 has seemingly shifted the conceptual priority to the access and continuity. Public health officials want to ameliorate the spread and ensure that care is provided in the appropriate milieu (e.g. not directing care to emergency rooms where care needs to be reserved for those with more critical conditions than are typical.)
Reflection
Policy makers and sociologists will join healthcare researchers, practitioners, and leaders in the retrospective analysis of the U.S. response, lifestyle modifications prompted by the pandemic, and attitude toward access and care eligibility. Front and center with this pandemic is the elusive element of patient self-responsibility. Efforts to mitigate the pandemic through social distancing is an example of patient responsibility and self-choice. This is a healthy start for encouraging lifestyle and behavior choices to promote prudent decision-making and consumption of limited resources to preserve services and supplies for the greater good.
The COVID-19 Health Paradox will join other phenomena in history to provide an historical basis for study and efforts to be more ready and responsive for future crises that face the U.S. and the world.
John (Jack) D. Rudnick, Jr., is a tenured professor at Thomas More University in the Department of Business Administration and Accountancy. He served as a healthcare administrator in the U.S. Navy Medical Service Corps and as a physician/medical programs recruiter. He also served as chief operating officer for a large specialty medical group practice and ambulatory surgery center, administrator for long term care facilities, director for a school-based health center initiative, and vice president for large healthcare systems.
The views, thoughts, and opinions expressed in this article belong solely to the author, and are not necessarily those of Thomas More University.