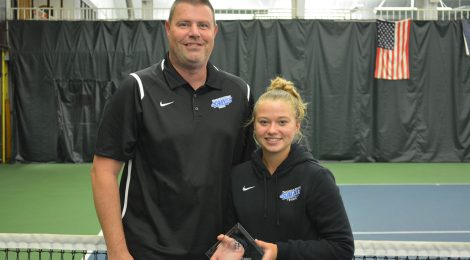 The success on the court for the Thomas More College women's tennis team continued its steady improvement this season. Over the past three seasons, the Saints have produced a match record of 32-14, including a 10-3 record at the conclusion of the fall championship season. This represents the third consecutive season with at least 10 victories.
On Saturday, October 21, 2017, the women's tennis team finished second at the Presidents' Athletic Conference (PAC) Championship tournament at the Pennbriar Racquet Club in Erie, Pennsylvania. The second-place finish for the Saints was their best in program history at the PAC Championship. The Saints tallied 37 points, trailing only Grove City College who placed first for the third time in the past four years.
Individually, sophomore Brooke Warden '20 (Edgewood, Ky. / Dixie Heights) received PAC Player of the Year honors for the second consecutive year becoming the first repeat women's tennis champion in the PAC since the 2007-2008 season. Brooke won the championship match at the number one singles flight against PAC rival Grove City, 7-6 (7-3), 6-1. Over Brooke's first two seasons for the Saints, she has a career singles record of 35-1, including a perfect record of 16-0 in the fall 2017 season.
In addition, Warden and first-year Hannah Lowman '21 (Vine Grove, Ky. / North Hardin), placed third in the first doubles flight, and had an 8-2 upset victory in the championship final over Westminster College, the flight's top seed, to claim the doubles title. The victory earned both Warden and Lowman the distinction of being named First Team All PAC. This was the first doubles championship for TMC since entering the PAC conference. Warden and Lowman had an exceptional regular season together, going 13-2 as a doubles team, all at the number one doubles position.
At the conclusion of the PAC Championship, all of the Saints' players that participated at the championship received conference recognition.  Junior Sarah Fellinger '19 (North Bend, Ohio / Taylor) was named Second Team All PAC for her performance at the number six singles flight. Sarah lost in the final at number six singles 6-4, 6-1 to the number one seed from Grove City College.
"The team continued to improve throughout the season and I believe they played their best tennis at the PAC Championship," said the Saints' Head Coach Chris Eilerman, who just completed his fifth season as head coach and has an overall record of 43-29 with the women's team. "Without question, I believe this group of ladies overachieved by giving their full effort and being willing to continually improve, and as their coach, nothing could make me more proud."
The Saints return to action in March 2018, during the non-championship segment of their season, when they head to Hilton Head Island, SC, for the spring break tournament.