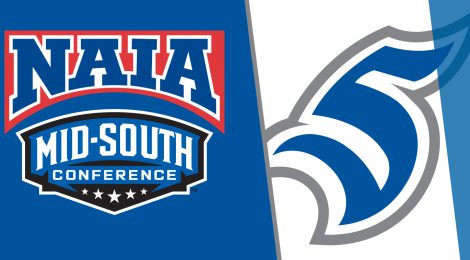 CRESTVIEW HILLS, Ky. (July 1, 2019) — Effective today, Thomas More University makes its official move to the National Association of Intercollegiate Athletics (NAIA) and the Mid-South Conference from the National College Athletic Association (NCAA) Division III. TMU was a previous member of the NAIA from 1947 to 1990 before joining the NCAA.
"As a former college athlete myself, I have seen firsthand the impact that participation in athletics can have on the development of character," said President Joseph L. Chillo. "I'm excited to be here for this transition to the NAIA and into the well-respected Mid-South Conference. I'm looking forward to watching our Saints compete."
The NAIA has more than 250-member institutions, which have an average full-time enrollment of 1,700 students. The NAIA's focus on character-driven athletics is exemplified in its Champions of Character program. Champions of Character provides training for student-athletes and professional development for coaches and staff. The values of integrity, respect, responsibility, sportsmanship and servant leadership are put into play and accounted for at NAIA institutions. Part of the Champions of Character program is LIVE 5 Training for student-athletes, which focuses on modeling, leading, and building values-based skills for life after college.
Academically the NAIA is known for its Play NAIA eligibility center. The Play NAIA program functions similarly to the NCAA Division I and II Clearinghouse. The NAIA evaluates students' ACT/SAT scores, grade point averages, and class ranks in order to determine if student-athletes are eligible to compete in NAIA athletics.
TMU also joined the Mid-South Conference, a NAIA conference with eight core member institutions in Kentucky, Tennessee, Ohio, and Georgia. The member institutions include Campbellsville University, Cumberland University, Georgetown College, Life University, Lindsey Wilson College, Shawnee State University, University of Pikeville, and University of the Cumberlands. The Saints have old rivalries with a majority of the member institutions that date back to TMU's former membership in the Kentucky Intercollegiate Athletic Conference (KIAC). The Mid-South Conference sponsors 27 varsity sports, but also offers junior varsity (JV) schedules, which enable a greater number of students to participate in intercollegiate athletics.
"As an athletic department, we are excited to formally begin our membership in the NAIA and the Mid-South Conference today," said Director of Athletics Terry Connor. "We look forward to creating great rivalries with institutions that share the same philosophies academically and athletically as Thomas More."
For a schedule of upcoming Saints games, visit thomasmore.edu/athletics.
For information on NAIA visit www.naia.org and for information on the Mid-South Conference visit www.mid-southconference.org.
Thomas More University is the Catholic liberal arts university of the Diocese of Covington, Kentucky. At TMU, we challenge students of all faiths to examine the ultimate meaning of life, their place in the world, and their responsibility to others. Through our integrated and traditional undergraduate, graduate, and certificate programs, we are inspiring innovation for a better tomorrow. Learn more at thomasmore.edu.
###
MEDIA CONTACT: Cory Blackson, assistant athletic director for compliance and communication, blacksc@thomasmore.edu, 859.344.3672