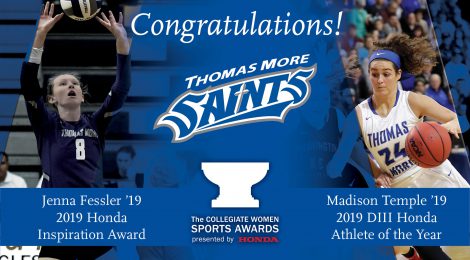 CRESTVIEW HILLS, Ky. (June 19, 2019) —Scholar C.S. Lewis once said, "Hardships often prepare ordinary people for an extraordinary destiny." As "ordinary" student-athletes, Madison Temple '19 and Jenna Fessler '19 had no idea the adversity and triumph that was to unfold leading up to their graduation from Thomas More University. This week, recent TMU alumnae and student-athletes Fessler and Temple were both acknowledged by The Collegiate Women Sports Awards (CWSA) for their extraordinary accomplishments. Announced Monday, Temple is named the 2019 Division III Honda Athlete of the Year, and, as of today, Fessler is named the 2019 winner of the Honda Inspiration Award.
Temple experienced hardship during her career as a basketball student-athlete beginning her sophomore year of high school, tearing both of her anterior cruciate ligaments (ACL)only one year apart. Unsure if the injury would result in the end of a dream, she prevailed.
"I never wanted to be that person who gave up because of a little adversity," said Temple. "I figured if I was going to rehab for nine months, it wasn't going to be for nothing. I didn't want to let the fear of getting injured again stop me from doing what made me happy."
Before graduating from TMU in May, Temple was a star on the basketball court. In four short years, she acquired numerous Division III national awards, including being named the Jostens Trophy winner, the Women's Basketball Coaches Association (WBCA) Division III Player of the Year, and the WBCA All-American. She was also named the Google Cloud Academic All-American by the College Sports Information Directors of America (CoSIDA) and was an Academic All-American Collegiate Athletic Association Honoree.
She led her team in scoring, rebounds, assists, and steals while helping the Saints win the 2019 NCAA DIII Championship title and an undefeated 33-0 record. She was also third on the team in blocked shots with 23. Temple made 186 free-throws, which is a single-season record at TMU, while her 187 assists and 776 points are second in TMU single-season records. Her 254 rebounds are third most in a single-season. Temple finished her career as the school's all-time leader in scoring, assists, made field goals, and made free-throws while finishing third in rebounding.
When the title of Division III Honda Athlete of the Year was added to her athletic resume on Monday, she was overjoyed.
"I cried, honestly, just because this isn't just a player of the year in basketball, it's for all sports," said Temple. "To know that I am being recognized for all the hard work I've put in on the court and off the court in the classroom and community means so much to me. It makes me emotional to think of everything I went through with my ACL tears and the mental aspects of the game that I had to go through to get to this point."
In addition to her ACL injuries prior to TMU, Temple claims she found it difficult to prioritize school work, a job, and a social life with the demanding schedule of road trips during the basketball season. She recalls some instances where the team would return to campus at 3 a.m. when she'd have to be in class only five hours later for an 8 a.m. test. But, she was willing to put in the effort to be the best version of herself to push towards an extraordinary dream.
"The adversity I faced and overcame is a really special story that I can share with people," Temple said. "I hope that my story can inspire other young athletes who may be going through a tough time or dealing with their own adversity."
Also facing adversity and prevailing during her student-athlete days at TMU is Fessler. As the 2019 Honda Inspiration Award winner, Fessler claims that she was filled with pure excitement and happiness when she received the call saying she won.
"I never thought I would be winning this award because I never expected to get sick and have a story that is considered inspiring," said Fessler. "True inspirations are my family and friends who helped me through the difficult times."
Fessler was a student-athlete at TMU, playing volleyball for four years. But, due to an unexpected illness, she had to take a year off of school and a year away from her passion – volleyball. After an annual family vacation to Destin, Florida, in the summer of 2016, Fessler began to not feel like herself. It began with bad headaches, lower back pain, and nausea and eventually progressed to a drawn-out process of doctor visits and trips to the TMU athletic trainers, resulting in a hospital stay. After days in the hospital, she was diagnosed with West Nile Virus, causing meningitis and encephalitis, swelling her brain. Unfortunately, the diagnoses weren't the end to the struggle. Thinking she was on the road to recovery, the disease came back more severely than before, causing Fessler to go into a coma for six days due to the swelling and pressure on her brain.
Finally, yet slowly, Fessler began to regain her health and strength – a process that would take a year. Though her body was fighting this life-threatening illness, Fessler had only one thing on her mind – getting back to her volleyball teammates at TMU.
"My doctors did not know if I would recover enough physically to be able to play volleyball again, but I knew if I could, nothing was going to stop me," said Fessler. "The thought of getting back on the court was one of the biggest things getting me through. I was not satisfied after my first two years of playing at TMU, and I know I had more in me, and I had more to achieve with my teammates."
Fessler returned for the 2017 volleyball season and played for the remainder of her college athletic career, even suffering through a blood clot in her arm during her senior year in 2018. Though told her condition would require surgery, she made the decision to finish her volleyball career before undergoing the procedure.
"There are many positive things that I was able to experience from getting sick," Fessler added. "If I would not have gotten sick, I would not have played on the 2018 TMU Volleyball team that had one of its best years in quite a while. I never would have experienced beating the number one team in the country on their home court in five sets. I never would have experienced our NCAA Tournament run and the Sweet 16. Throughout all the challenges, I became so much stronger."
Like Temple, Fessler achieved many accolades during her athletic career at TMU. She started all matches her senior season and was awarded the American Collegiate Athletic Association (ACAA) Setter of the Year, First-Team All-Conference, two-time ACAA Player of the Week, and All-Great Lakes Honorable Mention.
Both women used their hardships to strive towards their destiny. Fessler is the new varsity assistant volleyball coach at Seton High School in Cincinnati and is planning on earning a master's degree in sports administration, and Temple is chasing after her dream of remaining involved in basketball programs by working in sports analytics, becoming a sports agent, working for basketball operations or program at a university, or working for ESPN as a sports reporter.
Temple and Fessler will be presented with their honors on a live telecast on CBS Sports Network at 9 p.m. EST on Monday, June 24.
The CWSA, in its 43rd year, honors the nation's top NCAA women athletes recognizing superior athletic skills, leadership, academic excellence and eagerness to participate in community service. Since commencing its sponsorship in 1986, Honda has provided more than $3.1 million in institutional grants to the universities of the award winners and nominees to support women's athletics programs at the institutions.
Thomas More University is the Catholic liberal arts university of the Diocese of Covington, Kentucky. At TMU, we challenge students of all faiths to examine the ultimate meaning of life, their place in the world, and their responsibility to others. Through our integrated and traditional undergraduate, graduate, and certificate programs, we are inspiring innovation for a better tomorrow. Learn more at thomasmore.edu.
###
MEDIA CONTACTS:
Cory Blackson, assistant athletic director for compliance and communication, blacksc@thomasmore.edu, 859.344.3672
Rebecca Stratton, director of communications and PR, strattr@thomasmore.edu, 859.344.3309