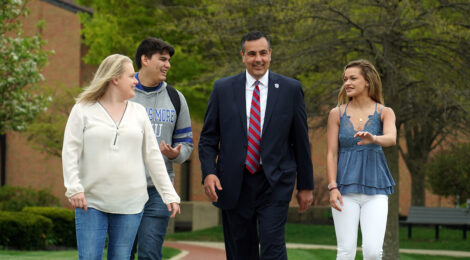 CRESTVIEW HILLS, Ky. (Sept. 13, 2022) — U.S. News & World Report, the global authority in education rankings, announced the 2022-2023 Best Colleges Monday, September 12, 2022. Thomas More University earned multiple spots on the badge-eligible list, seeing a nine-spot jump in Regional South Universities and moving up three spots in Best Value. Serving as a guide for prospective students and their families, the rankings evaluate 1,500 colleges and universities on up to 17 measures of academic quality.
"As we celebrated the first 100 years of Thomas More in 2021, we shifted our focus to the next 100 years, announcing a new Strategic Plan: Lighting the Way, a vision focused on three themes, Student Success, Academic Innovation, and Responsible Stewardship," says Thomas More University President, Joseph L. Chillo, LP.D. "This transformational plan includes elevating our reputation in the U.S. News & World Report and creating awareness of the high quality, Catholic Liberal Arts education that we offer our students at Thomas More."
Thomas More University has garnered additional recognition recently, being named second in the region for economic mobility and the return on investment for low-income students and Pell Grant recipients, according to a 2022 report by the public policy think tank, Third Way. Thomas More was one of only three Kentucky universities named in the second of five tiers used to evaluate colleges and universities in the study. It is also noted that Thomas More graduates do more with their investment in education according to two other studies. Highlighting the high-quality education offered at the University, Georgetown University named Thomas More second in long term gain in Kentucky in their 2022 study, and MSN Money named Thomas More number one among private universities and colleges in Kentucky for return on investment in 2021.
Immense campus changes have taken place since the launch of the 2021-26 Strategic Plan – Light the Way, and the corresponding Second Century Campaign – It's time for More, with a philanthropic target of raising $30 million for the University enhancements geared toward student success. The University recently broke ground on a new academic building, introduced esports, gained naming rights to the Florence Y'All's home field, launched the Center for Teaching, Learning, and Scholarship, and started renovations of the Saints Center, returning it to its original purpose as a student center.
For more information about Thomas More University, visit www.thomasmore.edu.
###
About Thomas More University
For 100 years, Thomas More has created a university for the student who wants to Be More, Do More, Seek More, Win More, Achieve More, and Create More. Since its founding in 1921, Thomas More has provided a mission-driven, liberal arts education that is based in the Catholic Intellectual Tradition. Students learn to harness the power of human reason to solve problems and discover truth, which allows them to begin the journey to become the person they were created to be. Entering into the second century, it's time for More. Serving more than 2,000 students, Thomas More aspires to be the premier Catholic university in the Cincinnati/Northern Kentucky region, build upon its excellent return on investment (ranked #1 among private universities/colleges in Kentucky by MSN Money in 2021 and ranked #2 for long term gain in Kentucky by a 2022 Georgetown University study) and share with this generation the transformative power of the Thomas More experience. To find out more, visit thomasmore.edu.
MEDIA CONTACT: Lyna Kelley, director of communications and PR, kelleyl@thomasmore.edu, 859.344.3309