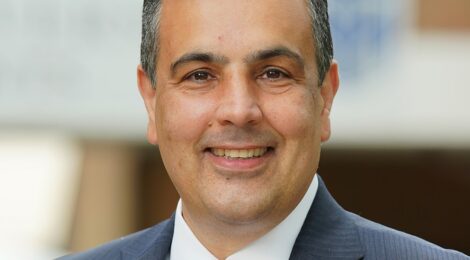 CRESTVIEW HILLS, Ky. (Aug. 23, 2023) — Thomas More University President Joseph L. Chillo, LP.D., is named among the Rising Stars feature of Cincy Magazine's 2023 Power 100. In its inaugural year, the Rising Stars feature recognizes individuals who make a significant impact on their organizations, the region, and the community at large through their work in business, education, government and politics, and nonprofits.
"I am truly honored to be recognized as a leader in the region," says Chillo. "My responsibility as a servant leader at Thomas More University is to lead in service to our mission and community, so that all may benefit from the high quality, Catholic liberal arts education we provide. As the Second Century Campaign: It's time for More continues to exceed goals, we move forward with work to expand the University and elevate our institution as the region's premier Catholic Liberal Arts University through new academic programs, facilities, and the continued focus on a mission-driven educational experience for our students."
After his arrival at the University in 2019, Chillo gathered key leadership to conceptualize and introduce the 2021-2026 Strategic Plan: Lighting the Way, designed to propel the University forward through innovation and agility. In support of this plan, Chillo and leadership announced the largest comprehensive capital campaign in the University's history, the Second Century Campaign: It's time for More, which surpassed its $30 million goal three years ahead of schedule. The campaign promises to secure the funds necessary to ensure continued student success, academic innovation, and a commitment to responsible stewardship. Under President Chillo's capable leadership the University has secured record-breaking enrollment, expanded its physical footprint, and elevated Thomas More University athletics through provisional acceptance into the Great Midwest Athletic Conference of the NCAA Division II.
President Chillo is joined on the magazine's Rising Stars list by several Thomas More alumni including Adam Davey '97, Adam Kuehne '10, and Jason Payne '15. Alumni Garren Colvin '86 and Moira Weir '00, as well as Diocese of Covington Bishop John C. Iffert, were named to the overall Power 100 list.
Find the Power 100 flipbook HERE.
For more information about Thomas More University, visit www.thomasmore.edu.
###
About Thomas More University
For 100 years, Thomas More has created a university for the student who wants to Be More, Do More, Seek More, Win More, Achieve More, and Create More. Since its founding in 1921, Thomas More has provided a mission-driven, liberal arts education that is based in the Catholic Intellectual Tradition. Students learn to harness the power of human reason to solve problems and discover truth, which allows them to begin the journey to become the person they were created to be. Entering into the second century, it's time for More. Serving more than 2,000 students, Thomas More aspires to be the premier Catholic university in the Cincinnati/Northern Kentucky region, build upon its excellent return on investment (ranked #1 among private universities/colleges in Kentucky by MSN Money in 2021 and ranked #2 for long term gain in Kentucky by a 2022 Georgetown University study) and share with this generation the transformative power of the Thomas More experience. To find out more, visit thomasmore.edu.
MEDIA CONTACT: Lyna Kelley, director of communications and PR, kelleyl@thomasmore.edu, 859.344.3309