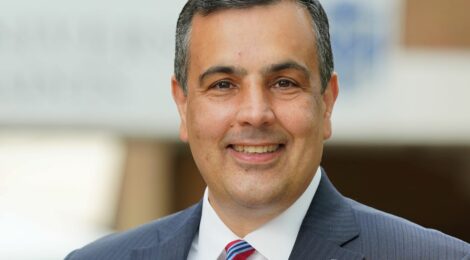 CRESTVIEW HILLS, Ky. (Oct. 20, 2022) — Cincinnati Magazine named Thomas More University President Joseph L. Chillo, LP.D., one of the region's 300 most powerful business leaders for the third consecutive year in a row. Cincinnati 300's fourth annual edition echoed the two previous years by highlighting leadership through the pandemic. The magazine focuses the special edition on leaders that guided public, private, and non-profit organizations by persevering the pandemic, this year zoning in on the continued waves of challenges it has presented.
This special publication by Cincinnati Magazine recognizes Chillo's accomplishments with the recent groundbreaking of the new Thomas More University academic center, a 34,000 square-foot building that will house advanced technology and state-of-the-art classroom environments, including a 450-seat auditorium, a technology and prototype lab, a Bloomberg financial technology lab, the Dr. Anthony '65 & Geraldine '66 Zembrodt Center for Entrepreneurship & Innovation, the Center for Faith, Mission, and Catholic Education, and the College of Business. The magazine also notes athletic victories as Thomas More partnered with the Florence Y'Alls this year to introduce Thomas More Stadium, the new official home of the University's baseball team.
"We continue to be a mission-driven institution, but we've changed how we support our students and community by being more agile and intentional," says Chillo. "At Thomas More, we have created an exciting and ambitious vision for the future. With the Second Century Campaign, we plan to continue to expand the University and elevate our institution as the region's premier Catholic Liberal Arts University. This is an exciting time as we grow the size of our campus and augment our academic space for teaching, learning, and innovation."
President Chillo is in good company as fellow honorees include several Thomas More alumni. Graduates of the University included in the piece are Toby Coston '11, general manager of Heidelberg Distributing, D. Lynn Meyers '77, producing artistic director at the Ensemble Theatre of Cincinnati, Garren Colvin '86, president and CEO of St. Elizabeth Healthcare, Moira Weir '00, president and CEO of United Way of Cincinnati, and Sarah Tomes '99, CEO of LPK.
For more information about Thomas More University, visit www.thomasmore.edu.
###
About Thomas More University
For 100 years, Thomas More has created a university for the student who wants to Be More, Do More, Seek More, Win More, Achieve More, and Create More. Since its founding in 1921, Thomas More has provided a mission-driven, liberal arts education that is based in the Catholic Intellectual Tradition. Students learn to harness the power of human reason to solve problems and discover truth, which allows them to begin the journey to become the person they were created to be. Entering into the second century, it's time for More. Serving more than 2,000 students, Thomas More aspires to be the premier Catholic university in the Cincinnati/Northern Kentucky region, build upon its excellent return on investment (ranked #1 among private universities/colleges in Kentucky by MSN Money in 2021 and ranked #2 for long term gain in Kentucky by a 2022 Georgetown University study) and share with this generation the transformative power of the Thomas More experience. To find out more, visit thomasmore.edu.
MEDIA CONTACT: Lyna Kelley, director of communications and PR, kelleyl@thomasmore.edu, 859.344.3309