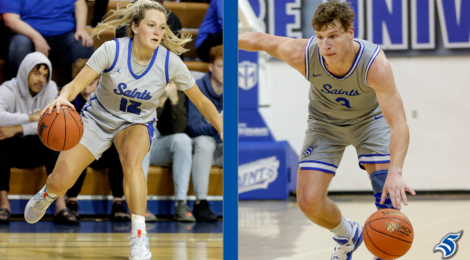 CRESTVIEW HILLS, Ky. (Nov. 30, 2022) — It is a historical day for the Thomas More University men's and women's basketball teams, as for the first time in school history, they are both ranked number one in the latest NAIA Coaches' Polls released this morning. Both teams were unanimously the top ranked team, gaining all 42 possible first place votes.

It is the seventh time that the women have been ranked number one since joining the NAIA during the 2019-20 school year, after gaining the top ranking 28 times during their tenure in NCAA Division III. It's the first time in school history that the men are ranked in the top spot.

This is not only a great feat for their programs, but for all of college basketball. This is an accomplishment that has only been achieved by a few programs in college basketball history. The last time a program's men's and women's team were both ranked number one was during the 2021-22 season, where the Lubbock Christian University Chaparrals of NCAA Division II achieved the feat in two polls.

The Saints are off to a combined 14-0 start with a 6-0 record in the Mid-South Conference. Over the weekend in the 21st Annual Julie Costello Memorial Classic, the women's basketball team won a pair of games, including coach Jeff Hans' 300th victory at Thomas More.

The women have been ranked number one throughout the entire season and are 8-0. It has been a team effort, with five players recording 50 or more points and senior Courtney Hurst leading the way with 97 points. Leading the team in rebounds is Emily Simon with 51, Zoie Barth leads with 29 assists and 17 steals, while Rylee Turner has the most blocks with 12. The women have beaten four Top-25 opponents in Indiana Wesleyan University, Carroll College (Mont.), University of the Cumberlands, and Georgetown College.

They have been solid defensively. They are tied for 16th in the NAIA in opponent's three-point percentage at 22.2% and are tied for 17th in points allowed at 54.3 a game.

The men's team has been ranked number two throughout the season and are 6-0. Reid Jolly leads the team in points with 118, as five players have 65 or more points. Jolly also leads in rebounds (42) and is tied with Casey George for the team-lead in steals with seven. Jacob Jones leads the team with 18 assists, while Noah Pack has a pair of blocks to lead the Saints. The men have beaten a pair of Top-10 opponents in Indiana Wesleyan University and Georgetown College.

Offensively, the team is seventh in the NAIA in field-goal percentage at 53.1%. Defensively, they are third in opponent's three-point percentage at 21.7%, second in opponents rebounding at 25.3 a game, third in opponent's assists at 6.3 a game, and second in opponent's scoring with 57.2 points allowed per game.

With this great start to the season, head coach Justin Ray is now four wins away from his 100th victory at Thomas More.

The Saints defend their dual rankings for the first time tomorrow night inside the Connor Convocation Center against the University of Tennessee Southern Firehawks in MSC action. The women play at 5:30 p.m. with the men following at 7:30 p.m.

Keep up with the Saints on thomasmoresaints.com or on social media @tmusaints.
For more information about Thomas More University, visit www.thomasmore.edu.
###
About Thomas More University
For 100 years, Thomas More has created a university for the student who wants to Be More, Do More, Seek More, Win More, Achieve More, and Create More. Since its founding in 1921, Thomas More has provided a mission-driven, liberal arts education that is based in the Catholic Intellectual Tradition. Students learn to harness the power of human reason to solve problems and discover truth, which allows them to begin the journey to become the person they were created to be. Entering into the second century, it's time for More. Serving more than 2,000 students, Thomas More aspires to be the premier Catholic university in the Cincinnati/Northern Kentucky region, build upon its excellent return on investment (ranked #1 among private universities/colleges in Kentucky by MSN Money in 2021 and ranked #2 for long term gain in Kentucky by a 2022 Georgetown University study) and share with this generation the transformative power of the Thomas More experience. To find out more, visit thomasmore.edu.
MEDIA CONTACT: Lyna Kelley, director of communications and PR, kelleyl@thomasmore.edu, 859.344.3309  
MEDIA CONTACT: Macara Vonderahe, co-sports information director, vonderm@thomasmore.edu, 859.344.3398