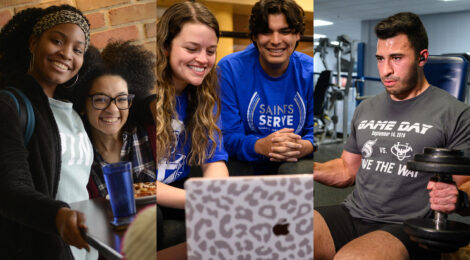 CRESTVIEW HILLS, Ky. (Feb. 23, 2023) — When a student chooses to attend Thomas More University, they can rest assured that the essentials are included. In an effort to offer students a greater value and ensure transparency, the University introduces the "Saints Essentials" program beginning in the 2023-24 academic year for all new students. Under this new campus initiative to promote student health and wellness, what other colleges tack on as extra "fees" are consolidated and included in the price of tuition with every student receiving a full suite of benefits.
Instead of finding an exhaustive list of additional fees on their tuition statement, a multitude of benefits to meet students' social, academic, spiritual, and physical needs will now be included in the price of tuition. These benefits include an All Access Dining Pass, expanded access to the Northern Kentucky Five Seasons Family Sports Club, a $300 credit per semester toward the purchase of textbooks and course materials, parking, year-round TANK bus transportation, intramural sports programming, unlimited access to wellness services, unlimited printing, and admission to all home athletic events.
"We want to ensure that our students can fully focus on what is important- their education," says Thomas More University President, Joseph L. Chillo, LP.D. "Students at other institutions have the added stress of worrying about costs related to food, transportation, gym memberships, and even basic needs. With Saints Essentials, Thomas More University is taking an innovative approach to college costs by providing every student with what they need to be successful in the classroom and beyond."
Paramount to the health and wellness focus of Saints Essentials is an included membership to the Northern Kentucky Five Seasons Fitness Center and an all-access dining plan. Thomas More University announced in early January that it had acquired the Northern Kentucky Five Seasons Family Sports Club facility. While students have always had access to the facility, under Saints Essentials, their club benefits are expanded. Students will now be granted entry from 9 a.m. – 9 p.m. Monday – Friday and 7:30 a.m. – 8 p.m. on the weekends. Students can also participate in group fitness classes. Current Thomas More students will have these expanded benefits to the Northern Kentucky Fives Seasons Fitness Center effective April 1, 2023.
The All Access Dining Pass portion of Saints Essentials seeks to address the staggering statistic of food insecurity among college students in the United States. A recent article in HealthAffairs.org notes that the food insecurity crisis "profoundly impacts college students, a population whose food insecurity issues are largely under-recognized, under-examined, and under-addressed," adding that according to a recent survey "38% of students in two-year colleges and 29% of students at four-year colleges reported experiencing food insecurity in the previous 30 days." With Saints Essentials, the University strives to eradicate that statistic on Thomas More's campus with the All Access Dining Pass which provides students with unlimited access to the dining hall, as well as one retail meal a day at any of the campus cafes Monday – Friday.
For more information about Thomas More University, visit www.thomasmore.edu.
###
About Thomas More University
For 100 years, Thomas More has created a university for the student who wants to Be More, Do More, Seek More, Win More, Achieve More, and Create More. Since its founding in 1921, Thomas More has provided a mission-driven, liberal arts education that is based in the Catholic Intellectual Tradition. Students learn to harness the power of human reason to solve problems and discover truth, which allows them to begin the journey to become the person they were created to be. Entering into the second century, it's time for More. Serving more than 2,000 students, Thomas More aspires to be the premier Catholic university in the Cincinnati/Northern Kentucky region, build upon its excellent return on investment (ranked #1 among private universities/colleges in Kentucky by MSN Money in 2021 and ranked #2 for long term gain in Kentucky by a 2022 Georgetown University study) and share with this generation the transformative power of the Thomas More experience. To find out more, visit thomasmore.edu.
MEDIA CONTACT: Lyna Kelley, director of communications and PR, kelleyl@thomasmore.edu, 859.344.3309