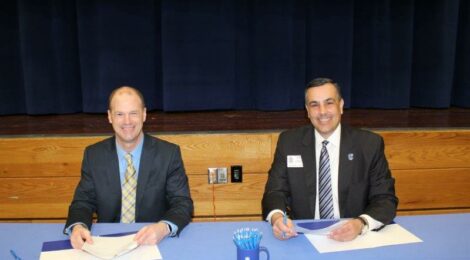 CRESTVIEW HILLS, Ky. (Feb. 10, 2023) — On Friday, Feb. 10, 2023, Thomas More University held a signing event at Lloyd High School to launch the Thomas More University College Prep Program in conjunction with Erlanger-Elsmere Independent School District. This specialized program, created through the Thomas More Dual Credit (TMDC) program, seeks to help high school students stay academically engaged during the summer and to keep college on the horizon as a post-high school option. The program is set to pilot in summer 2023. TMDC looks to collaborate with additional high schools in the region after this pilot to expand the College Prep Program.
"I'm excited about the creation of the College Prep Program and what it could mean for students who are timid about the transition from high school to college," says James Catchen, associate director of Dual Credit at Thomas More. "It can be a scary time for students. It is my hope that with this program we can highlight the true benefit of dual credit in helping students learn about the college process beyond just applying, such as what it means to be on a college campus and utilizing its resources. This program will help students build a strong foundation of confidence towards knowing how to navigate college."
The signing event kicked off with opening remarks from Thomas More President Joseph L. Chillo, LP.D. Chad Molley, superintendent of Erlanger-Elsmere Independent Schools, also addressed the crowd prior to the signing of the agreement. A reception was held after documents were signed.
Students participating in the program gain college experience and earn Thomas More University college credits at a significantly reduced rate. Students also gain valuable networking opportunities as they receive personal and academic support from Thomas More University faculty and staff. The program is strategically designed to help students build confidence while learning to navigate the structure and rigor of college. To ensure a seamless transition into their first year of college, students have access to all of Thomas More University's campus resources and services.
To participate in the College Prep Program, a partnering high school identifies a cohort of students during the summer before their junior year. Differing from the TMDC program requirements, this special program allows students to enroll who have a minimum unweighted high school GPA of 2.5 or higher. Preference is given to first generation students and students from diverse socio-economic backgrounds. Interested students should speak to their high school counselor about the dual-credit program.
For more information about Thomas More University, visit www.thomasmore.edu.
For more information about Thomas More University College Prep Program, visit tmuky.us/collegeprep.
###
About Thomas More University
For 100 years, Thomas More has created a university for the student who wants to Be More, Do More, Seek More, Win More, Achieve More, and Create More. Since its founding in 1921, Thomas More has provided a mission-driven, liberal arts education that is based in the Catholic Intellectual Tradition. Students learn to harness the power of human reason to solve problems and discover truth, which allows them to begin the journey to become the person they were created to be. Entering into the second century, it's time for More. Serving more than 2,000 students, Thomas More aspires to be the premier Catholic university in the Cincinnati/Northern Kentucky region, build upon its excellent return on investment (ranked #1 among private universities/colleges in Kentucky by MSN Money in 2021 and ranked #2 for long term gain in Kentucky by a 2022 Georgetown University study) and share with this generation the transformative power of the Thomas More experience. To find out more, visit thomasmore.edu.
MEDIA CONTACT: Lyna Kelley, director of communications and PR, kelleyl@thomasmore.edu, 859.344.3309