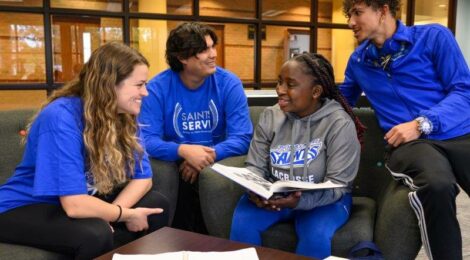 CRESTVIEW HILLS, Ky. (April 27, 2023) — Innovation continues at Thomas More as the University announces a new core curriculum design. The Second Century Core curriculum streamlines the path to graduation and offers students greater flexibility. Officially gaining Board approval in March 2023, the new core curriculum allows the University to modernize its approach to liberal arts education by moving from a traditional "two-bucket" (core and major) design, to a "three-bucket" (core, major, and more) design. Courses completed in the "more" category are intended to help students supplement their degree program with other areas of interest, allowing them to uniquely prepare for modern day career demands.
A core redesign team of faculty and staff from across the University worked for more than a year to build the new core curriculum. Together the team researched various core programming models before innovating, planning, and presenting ideas for the redesign. "The second century core is driven by Thomas More University's mission," explains Kimberly Haverkos, Ph.D., dean of Thomas More's College of Liberal Arts and Social Sciences. "It provides space for students to explore their interests and their place in the world, while also taking opportunities to figure out their responsibilities to others. With a focus on the interdisciplinary nature of life, it provides the breadth and depth our graduates will need to succeed in the 21st century."
With an inner core focused on breadth and an outer core sequence focused on depth, the Second Century Core provides students with a common intellectual experience and choice, both necessary for a successful education. Students choose a 9-credit concentration of study for their outer core, which can be part of a second major, a minor, or an approved interdisciplinary cognate of coursework. "I'm excited to be able to do my art major and a sequence in biology and still have room for other interests I have," shares Hannah Haverkos, an incoming first-year student at Thomas More. "It will help me be better prepared for my future." Incoming students will begin with the new core design in fall 2023, with an institution wide roll out set for fall 2024.
The new curriculum is a result of goals set forth in the University's five-year Strategic Plan: Lighting the Way, supported by the major comprehensive fundraising campaign, The Second Century: It's time for More. Through new academic offerings, the University propels forward, maintaining its commitment to student success and academic innovation.
For more information about Thomas More University, visit www.thomasmore.edu.
###
About Thomas More University
For 100 years, Thomas More has created a university for the student who wants to Be More, Do More, Seek More, Win More, Achieve More, and Create More. Since its founding in 1921, Thomas More has provided a mission-driven, liberal arts education that is based in the Catholic Intellectual Tradition. Students learn to harness the power of human reason to solve problems and discover truth, which allows them to begin the journey to become the person they were created to be. Entering into the second century, it's time for More. Serving more than 2,000 students, Thomas More aspires to be the premier Catholic university in the Cincinnati/Northern Kentucky region, build upon its excellent return on investment (ranked #1 among private universities/colleges in Kentucky by MSN Money in 2021 and ranked #2 for long term gain in Kentucky by a 2022 Georgetown University study) and share with this generation the transformative power of the Thomas More experience. To find out more, visit thomasmore.edu.
MEDIA CONTACT: Lyna Kelley, director of communications and PR, kelleyl@thomasmore.edu, 859.344.3309