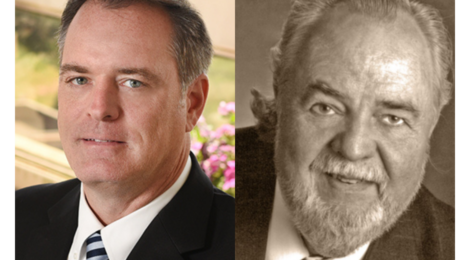 CRESTVIEW HILLS, Ky. (May 2, 2023) — Thomas More University is set to award two honorary doctorates during the 2023 Commencement Ceremony. Recipients include Robert W. Plaster (posthumously), former member of the U.S. Treasury Department who founded the Empire Gas Corporation and internationally renowned litigator, advocate, and author, Robert A. Bilott. Bilott also serves as the commencement speaker. The ceremony takes place at Thomas More Stadium in Florence, Kentucky on May 13, 2023, at 10:30 a.m.
Bilott, who has been a guest lecturer at Thomas More University several times over the years, receives a Doctor of Laws (honorary). He earned a Bachelor of Arts from the New College of Florida and a Juris Doctor from the Mortiz College of Law at The Ohio State University. Bilott currently serves as a partner at Taft Law in Cincinnati, Ohio and is married to Thomas More alum Sarah Bilott `88. Bilott gained international recognition through his work uncovering and disclosing the world-wide impact of environmental contamination by the "forever chemicals" known as per- and polyfluoroalkylated (PFAS). The original case involved a West Virginia farmer whom Bilott assisted with an environmental suit which arose due to issues caused by run-off chemicals from a DuPont production plant. In 2020, Robert wrote a book about his experience with DuPont and PFAS entitled "Exposure." In addition, his life's work was made into a movie entitled "Dark Waters" which was released in 2019. "Bilott has been engaged in a number of organizations in Cincinnati, along with environmental and sustainability issues," says Joseph L. Chillo, LP.D., Thomas More University president. "His work aligns with our mission and commitment to sustainability."
Plaster receives a Doctor of Business Administration (honorary). Prior to his passing in 2008, Plaster devoted his life's work to the promotion and sustainability of the American free enterprise system. In 1983, he established the Robert W. Plaster Foundation which is dedicated to helping students by providing transformational gifts to colleges and universities to expand educational opportunities, pride in America, and belief in the American free enterprise system. In recognition of one of the first gifts to the University's Second Century Campaign: It's time for More, Thomas More announced the official naming of the Robert W. Plaster College of Business. Plaster attended Missouri Southern State University and has since been awarded honorary degrees from Southwest Baptist University and Missouri Southern State University.
"We are looking forward with great excitement to Commencement and the opportunity to celebrate the accomplishments of the Class of 2023," says Chillo.
For more information about Thomas More University, visit www.thomasmore.edu.
###
About Thomas More University
For 100 years, Thomas More has created a university for the student who wants to Be More, Do More, Seek More, Win More, Achieve More, and Create More. Since its founding in 1921, Thomas More has provided a mission-driven, liberal arts education that is based in the Catholic Intellectual Tradition. Students learn to harness the power of human reason to solve problems and discover truth, which allows them to begin the journey to become the person they were created to be. Entering into the second century, it's time for More. Serving more than 2,000 students, Thomas More aspires to be the premier Catholic university in the Cincinnati/Northern Kentucky region, build upon its excellent return on investment (ranked #1 among private universities/colleges in Kentucky by MSN Money in 2021 and ranked #2 for long term gain in Kentucky by a 2022 Georgetown University study) and share with this generation the transformative power of the Thomas More experience. To find out more, visit thomasmore.edu.
MEDIA CONTACT: Lyna Kelley, director of communications and PR, kelleyl@thomasmore.edu, 859.344.3309