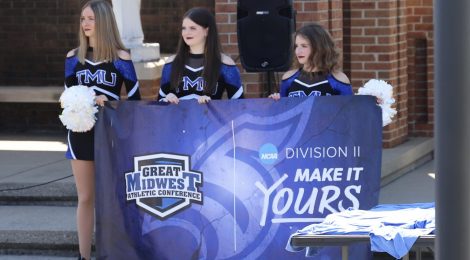 CRESTVIEW HILLS, Ky. (July 13, 2023) — It was announced today that Thomas More University moves forward with year two of provisional membership to the National Collegiate Athletic Association (NCAA) Division II in the Great Midwest Athletic Conference (G-MAC). This move transitions the Saints from the Mid-South Conference (MSC) in the National Association of Intercollegiate Athletics (NAIA), where they have competed for the past four academic years. The Saints are set to compete in their first official Division II contest at Republic Bank Field with men's soccer taking on Salem University on August 31, 2023, at 7:00 p.m. 
During their time in the NAIA, the Saints earned several major accomplishments and notable records including one team National Championship, two National team Runner-Ups, two individual National Runner-Ups, and one National Team Semi-finalist. For a full list of all records and major accomplishments from each program over the last four seasons in the NAIA, visit THIS page.
"We are thrilled to receive the official word that Thomas More is moving forward to year two of provisional membership in the NCAA Division II," says Terry Connor, vice president and director of athletics. "Our team has really come together and worked diligently to prepare for the move. We are excited for the opportunities this presents to our student athletes, and we cannot wait to see what they accomplish."
In preparation for applying to return to the NCAA, the University approached and was unanimously approved in summer 2021 for provisional membership to G-MAC. With the successful bid in 2022 to rejoin the NCAA as a Division II competitor, the University looks forward to competing in the Great Midwest and being eligible for conference championships and tournaments in the upcoming 2023-24 academic year. Following the mandatory transition period, the University would then become eligible for NCAA Championships during the 2025-26 year.
"The transition to the NCAA is significant as we continue to enhance our regional position as the premier Catholic Liberal Arts University," Thomas More University President Joseph L. Chillo, LP.D. said about the move. "The experience that we create for our student-athletes is intentional and designed for success in the classroom and on the field of competition. As we invest in our athletics program by adding new sports, full-time coaches, and renovations and expansions in facilities, this opportunity to elevate the position of Thomas More Athletics with the reputation and brand of the NCAA is a significant and transformational endeavor."
Thomas More announced a major comprehensive fundraising campaign in Fall 2021 in support of a five-year strategic plan that includes enhanced athletic facilities for many of the Saints intercollegiate sports teams. On Thursday, July 6, 2023, Thomas More University held a ceremonial groundbreaking event as construction begins on the softball field and surrounding complex. In March of 2022, Thomas More University and the Florence Y'alls Baseball Club announced a partnership that resulted in the renaming of the home of the Florence Y'alls to "Thomas More Stadium." As part of the agreement, the stadium also became the home of the Thomas More Saints' baseball team starting in spring 2023. Renovations at Republic Bank Field and the surrounding track, home to the football, soccer, rugby, lacrosse, cross country, and track & field teams, were completed in 2021. Additional plans are in place for other facility upgrades that will positively affect additional Saints sports teams.
For more information about Thomas More University, visit www.thomasmore.edu.
For more information about Thomas More University Athletics, visit www.thomasmoresaints.com.
###
About Thomas More University
For 100 years, Thomas More has created a university for the student who wants to Be More, Do More, Seek More, Win More, Achieve More, and Create More. Since its founding in 1921, Thomas More has provided a mission-driven, liberal arts education that is based in the Catholic Intellectual Tradition. Students learn to harness the power of human reason to solve problems and discover truth, which allows them to begin the journey to become the person they were created to be. Entering into the second century, it's time for More. Serving more than 2,000 students, Thomas More aspires to be the premier Catholic university in the Cincinnati/Northern Kentucky region, build upon its excellent return on investment (ranked #1 among private universities/colleges in Kentucky by MSN Money in 2021 and ranked #2 for long term gain in Kentucky by a 2022 Georgetown University study) and share with this generation the transformative power of the Thomas More experience. To find out more, visit thomasmore.edu.
MEDIA CONTACT: Lyna Kelley, director of communications and PR, kelleyl@thomasmore.edu, 859.344.3309
ATHLETICS MEDIA CONTACT: Macara Vonderahe, sports information co-director, vonderm@thomasmore.edu, 859.344.3398