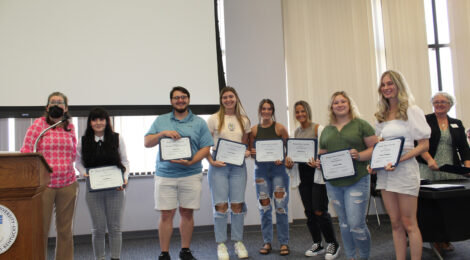 Thomas More University held its Academic Awards Event on Friday, August 26 in Steigerwald Hall in the Saints Center.
Over 100 students from the College of Business, the College of Liberal Arts and Social Sciences, and the College of Natural and Health Sciences were honored for their academic achievements and excellence during the 2021-22 school year.
Here is a list of the students and their awards:

College of Business
ACCOUNTING
Rudler PSC Scholarship: Matthew Weil, Annika Gels, Kallie Riley

VonLehman CPA & Advisory Firm Scholarship: Hannah Halbig, Maggie Jones, Samantha McLanahan, Erin Molony, Alexis Starns

Joseph Connelly Endowed Scholarship: Amos Griffith
Financial Executives International Scholarship : Braden McKinley
BUSINESS ADMINISTRATION
Outstanding Business Major Award: Erin Preston
Outstanding Junior Business Major Award: Olivia Glore
Caroline Buddenberg Outstanding Sophomore Business Major Award: Gavin Pearson
Outstanding Sports & Entertainment Marketing Award: Troy Messerschmitt
Outstanding Economic Student Award: Robert Bennett
Internship participation: Madi Carle ,Erin Preston
Outstanding International Student: Kim Sabga
ORGANIZATIONAL MANAGEMENT & ETHICAL LEADERSHIP
Outstanding Student Award: Clarrissa Harvey
College of Liberal Arts and Social Sciences
Humanities & Fine Arts Award: Emily Hartline
EDUCATION
Jordan Logan Award for Service, Scholarship, and Integrity Award: Olivia Staverman
Krystal Pepper Scholarship: Destiny Souder
Outstanding Academic Achievement: Hannah Back, Annabel Clayton,
Juli Ezell, Natalie Hamilton, Brooke Howe, Destiny Souder, Olivia Staverman.
Outstanding Fourth Year Student Award: Duncan Hoffman
Outstanding Third Year Student Award: Brooke Howe. Annabel Clayton
Outstanding Second Year Student Award: Frank Stoddart
Outstanding First Year Student: Jacob Dunn
Outstanding BAES Award: Olivia Staverman
Debra Allen Resiliency Award: Samantha Potter
School of Education Leadership Award: Hannah Back
ENGLISH & CREATIVE WRITING
The Cuni Scholarship Award: Jessica Thomas

Outstanding English & Creative Writing Award: Ashley Albrink

Jessica Thomas Outstanding English & Creative Writing Award: Abigail Bambach
FOREIGN LANGUAGES
Outstanding Student in Spanish Award: Zoie Barth

Madison Davis Outstanding Student in French Award: Ruth Hahn
HISTORY & LAW
Nancy Bruns Scholarship Award: Ruth Hahn, Kevin Bissonnette, Emily Hartline

Tschoefen Scholarship Award: Emily Aisenbrey

Dr. Ray Herbert Scholarship Award: Logan Rauen

Sister Mary Albert Murphy SND Award for Serving as President of Pre-Law Society: Abby Hightchew

Outstanding Junior in History Award: Ruth Hahn, Kevin Bissonnette

Outstanding Sophomore in History Award: Andrew Bailey

Holbrook Pre-Law Scholarship Award: Joseph Burke Lieberman

Outstanding Junior in Law Award: Ian Daugherty

Outstanding Sophomore in Law Award: Sienna Anderson

Wilbert L. Ziegler Scholarship Award: Niyokwizera Eva, Sienna Anderson
PHILOSOPHY & POLITICAL SCIENCE
Sr. Cahill Scholarship Award: Dominic Lemma, Hannah Strange
PSYCHOLOGY
Presenting at the Mid-America Undergraduate Psychology Research Conference (MAUPRC): Chloe Woeste, Caitlin Dawson, Hannah Bishop

Presenting at the Student Research Forum: Mariah Palmer, Serah Whitacre

Outstanding Psychology Major Award: Serah Whitacre, David Moore

Wilbert L. Ziegler Scholarship Award: Serah Whitacre, David Moore, Hannah Bishop, Chloe Woeste, Caitlin Dawson, Mariah Palmer, Laurna Verbrugghen, Harley Tomlin

Internship Participation: Alexa Canup
SOCIOLOGY & CRIMINAL JUSTICE
Outstanding Service Award: Maycie Merritt

Outstanding Student Classroom Engagement Award: Yennefer Heun
College of Natural and Health Sciences
BIOLOGY
Academic Excellence -Service: Madison Davis

Academic Excellence – Research: Nicole Arkenau, Jenna Cayze, Sarah Gibson, Lillie Daniel, Derek Drago, Nolen Honkomp, Kailan Keith, Sawyer Lorentz, Dominic Mazzella, Emmanuel Oloo, Gemma Sanders, Chase Scheben, Matthew Wimmers

Academic Excellence- Research & Service: Sophie McVay, Bo Stoll, Spencer Trimpe, Katelyn Weldon
CHEMISTRY
General Chemistry Award: Noelia Martinez Garcia

Organic Chemistry Award: Bo Stull

Sr. Julitta Chemistry Scholarship Award: Kateri Hennessey

B'Hymer Chemistry Scholarship Award: Madison Genslinger

Zembrodt Chemistry Scholarship Award: Kodie Goble
MATHEMATICS AND PHYSICS
Outstanding Underclassmen Award: Ashlyn Coleman, Madison Genslinger