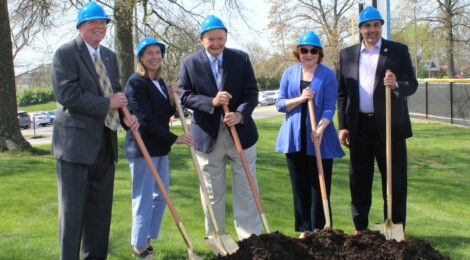 CRESTVIEW HILLS, Ky. (July 19, 2022) — At their June 2, 2022, meeting, the Thomas More University Board of Trustees selected Turner Construction Company as the general contractor of the University's new Academic Center.
"The selection of Turner Construction Company as the contractor for Thomas More's new academic center moves our vision for expanded signature programs and new initiatives closer to becoming a reality as we enter the University's second century," says Judith A. Marlowe '69, Ph.D., chair of the Thomas More board of trustees. "Upon careful review of the proposals submitted, Turner emerged as the company of choice given their experience with similar projects as well as the detailed preparation and analysis describing their proposed construction process. The academic center will increase our opportunities to foster engagement and collaboration that benefit not only our students, but also the Greater Cincinnati community."
The University broke ground for the new academic center on April 23, 2022. When complete, the 34,000-square foot building will house advanced technology and state-of-the-art classroom environments, a 375-seat auditorium, a technology and prototype lab, the Dr. Anthony '65 & Geraldine '66 Zembrodt Center for Entrepreneurship & Innovation, the Center for Faith, Mission, and Catholic Education, and the College of Business. Construction is scheduled to start this summer.
"We are thrilled to partner with Thomas More University and MKC on this new academic center," says Jessica Fitzwilson, business manager at Turner Construction Company. "The groundbreaking event showcased the rich history and community-centric mission of the University. The entire team is committed to delivering a facility that highlights the exciting transition of the University into its second century of providing Catholic education."
When celebrating its centennial in Fall 2021, Thomas More announced a major comprehensive fundraising campaign entitled The Second Century: It's time for More. This campaign provides financial support for the five-year Strategic Plan: Lighting the Way, which, in addition to other campus improvements, includes plans for the new academic center with enhanced student spaces. "This is an exciting time as we grow the size of our campus and augment our academic space for teaching, learning, and innovation with the construction of the new academic center," says Thomas More University President Joseph L. Chillo, LP.D. "With the new academic building, we want to ensure that our students are set up for success with the very best facilities that will fuel their passion for learning. We are now seeing goals set by the Second Century Campaign becoming a reality. This is an essential piece of the puzzle as we move forward with our Strategic Plan: Lighting the Way and the University's commitment to student success and academic innovation."
For more information about Thomas More University, visit www.thomasmore.edu.
For more information about the Turner Construction Company, visit www.turnerconsrtuction.com.
###
About Thomas More University
For 100 years, Thomas More has created a university for the student who wants to Be More, Do More, Seek More, Win More, Achieve More, and Create More. Since its founding in 1921, Thomas More has provided a mission-driven, liberal arts education that is based in the Catholic Intellectual Tradition. Students learn to harness the power of human reason to solve problems and discover truth, which allows them to begin the journey to become the person they were created to be. Entering into the second century, it's time for More. Serving more than 2,000 students, Thomas More aspires to be the premier Catholic university in the Cincinnati/Northern Kentucky region, build upon its excellent return on investment (ranked #1 among private universities/colleges in Kentucky by MSN Money in 2021 and ranked #2 for long term gain in Kentucky by a 2022 Georgetown University study) and share with this generation the transformative power of the Thomas More experience. To find out more, visit thomasmore.edu.
About Turner Construction
Turner is a North America-based, international construction services company and is a leading builder of some of the most ambitious projects in the world. The technical expertise of our people makes us a recognized commercial contractor across our network of 47 offices. Turner is the largest General Contractor in the country, completing $12 billion of construction on 1,500 projects each year. We have been building in the Greater Cincinnati/Northern Kentucky region since 1903. Over our 120-year history, we have had the opportunity to build across a diverse portfolio of markets including healthcare, higher-ed, K-12, sports, public assembly, government, industrial, data centers, commercial office, restaurant and retail, hospitality, and mixed-use multi-family developments. Some of our most recognizable projects include Ovation Music Pavilion, Newport on the Levee Redevelopment, St. Elizabeth Healthcare Cancer Center, Kenton County Administration Campus, and Northern Kentucky University Health Innovation Center just to name a few. Our mission goes beyond the bricks and sticks of building and is rooted in being the highest value provider of technical expertise in order to maximize the investments of our clients.
The work we have done around creating a diverse and inclusive company culture has been recognized nationally. Turner is a proud recipient of the 2020 Ohio Minority Supplier Development Council Corporation of the Year Award, the 2021 NKY Chamber Business Impact Awards, the 2021 CLIMB Award for Creating Economic Inclusion with Intention, and, for the seventh year in a row, is the only construction company that achieved a perfect score of 100% on the Human Rights Campaign Foundation's Corporate Equality Index, designating us as a "Best Place to Work for LGBTQ Equality". Our work is the result of partnering with a variety of organizations who share a similar passion in creating positive change within the communities in which we live, work, and play. Together, we are Building the Future. Learn more about Turner here.
MEDIA CONTACT: Lyna Kelley, director of communications and PR, kelleyl@thomasmore.edu, 859.344.3309