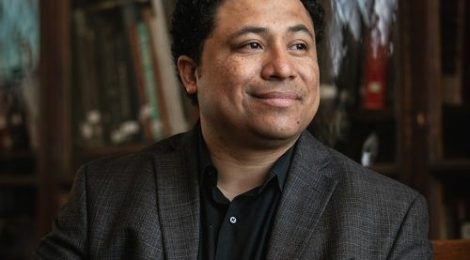 CRESTVIEW HILLS, Ky. (Aug. 31, 2023) — Thomas More's English and Creative Writing Department announces Manuel Iris, poet laureate emeritus of the city of Cincinnati, Ohio (2018-2020), will serve as writer-in-residence for the University during the 2023-24 academic year. Iris will visit the Crestview Hills, Kentucky campus each semester with the first event taking place Sept. 25, 2023. These events offer students, faculty, and staff the opportunity to get to know the world-renowned poet in an informal setting. "The English and Creative Writing Department is especially excited about Iris visiting because of his passion for working with students as well as his bilingual poetry, which explores language and culture in fascinating and important ways," says Sarah Gerkensmeyer, assistant professor.
A Mexican poet, Iris received two major literary awards from his home country, the Merida National award of poetry (2009) for his book "Notebook of dreams" and the Rodulfo Figueroa Regional award of poetry for his book "The disguises of fire" (2014). His first bilingual anthology of poems, "Traducir el silencio/Translating silence," was published in New York in 2018. This book won two different honors from the International Latino Book Awards, in that same year. Iris has published poetry, essays, and translations in magazines and literary journals from Mexico, Spain, Chile, Cuba, Colombia, Portugal, France, the United States, and Angola. In 2021, he became a member of the prestigious System of Art Creators of Mexico (Sistema Nacional de Creadores de Arte). Iris obtained his doctorate from the University of Cincinnati and has since made the city his home.
In addition to Iris, previous writers-in-residence for the University include Pauletta Hansel, the first poet laureate of Cincinnati and a regionally known poet, memoirist, teacher, and editor; and Richard (Dick) Hague, an award-winning poet, author of several collections of poetry and short stories, and teacher. Both Hansel and Hague drew from their Appalachian roots for their inspiration.
For more information about Thomas More University, visit www.thomasmore.edu.
###
About Thomas More University
For 100 years, Thomas More has created a university for the student who wants to Be More, Do More, Seek More, Win More, Achieve More, and Create More. Since its founding in 1921, Thomas More has provided a mission-driven, liberal arts education that is based in the Catholic Intellectual Tradition. Students learn to harness the power of human reason to solve problems and discover truth, which allows them to begin the journey to become the person they were created to be. Entering into the second century, it's time for More. Serving more than 2,000 students, Thomas More aspires to be the premier Catholic university in the Cincinnati/Northern Kentucky region, build upon its excellent return on investment (ranked #1 among private universities/colleges in Kentucky by MSN Money in 2021 and ranked #2 for long term gain in Kentucky by a 2022 Georgetown University study) and share with this generation the transformative power of the Thomas More experience. To find out more, visit thomasmore.edu.
MEDIA CONTACT: Lyna Kelley, director of communications and PR, kelleyl@thomasmore.edu, 859.344.3309