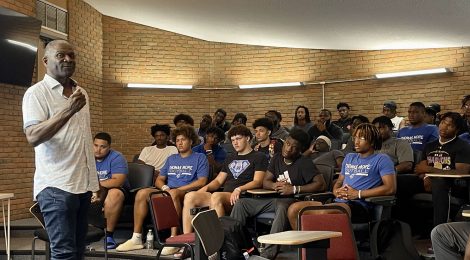 CRESTVIEW HILLS, Ky. (Aug. 8, 2023) — Former Cincinnati Bengals cornerback Louis Breeden visited Thomas More's Crestview Hills campus on Monday, Aug. 7, 2023, to talk with football players of color about his college experience and what led to his 11-year career with the Bengals. The talk was part of a pilot program the University launched this year entitled Own Your Year.
Detailing his road to the National Football League (NFL), Breeden shared with students a story of perseverance and overcoming obstacles. Many were surprised to hear that Breeden did not receive any college offers to play football. He instead found his path to higher education though baseball, while never giving up on his dream to play football. Breeden eventually made the North Carolina Central University football team, although not seeing the position or the playing time that he was hoping for. "There's something to be said about never giving up," Breeden explained to the young athletes. "You hear that all the time, but it's true." Breeden went from the bench to a two-time All-American football player, a team MVP his junior year, and then drafted by the Cincinnati Bengals in 1977. "I always tell people that you never know what life is going to hand to you, and you can't control all of the outside elements. You take it as it comes. Every day is different; a new opportunity."
Annabelle Bautista, dean of student diversity, engagement, and success for the University, organized the visit after meeting Breeden when he visited campus two years earlier. She was inspired by a conversation the two had regarding her vision for ensuring students of color had the tools necessary to be successful while at Thomas More. "Mr. Breeden offered to help in any way possible, and I was sure that I was going to take him up on that offer," Bautista recalled. With time and assistance from colleagues, Bautista developed the two-day program aimed at encouraging first-year students to see opportunities and engage all their resources, making the most of each day. "Know that this opportunity that you have is amazing," Bautista said to the student athletes. "It's up to you to take every moment of this opportunity to make sure that you receive your diploma while doing something you love."
First-year students participate in the Own Your Year program in cohorts that Bautista continues to engage with throughout the academic year. Day two of the Own Your Year program features various success workshops led by faculty and staff, geared toward first-year football players. Students rotate through workshops that focus on effectively communicating with faculty, notetaking, time management, and preparing for life after college. Administration hopes to grow this program in the future, adding additional offerings and serving more students.
For more information about Thomas More University, visit www.thomasmore.edu.
###
About Thomas More University
For 100 years, Thomas More has created a university for the student who wants to Be More, Do More, Seek More, Win More, Achieve More, and Create More. Since its founding in 1921, Thomas More has provided a mission-driven, liberal arts education that is based in the Catholic Intellectual Tradition. Students learn to harness the power of human reason to solve problems and discover truth, which allows them to begin the journey to become the person they were created to be. Entering into the second century, it's time for More. Serving more than 2,000 students, Thomas More aspires to be the premier Catholic university in the Cincinnati/Northern Kentucky region, build upon its excellent return on investment (ranked #1 among private universities/colleges in Kentucky by MSN Money in 2021 and ranked #2 for long term gain in Kentucky by a 2022 Georgetown University study) and share with this generation the transformative power of the Thomas More experience. To find out more, visit thomasmore.edu.
MEDIA CONTACT: Lyna Kelley, director of communications and PR, kelleyl@thomasmore.edu, 859.344.3309