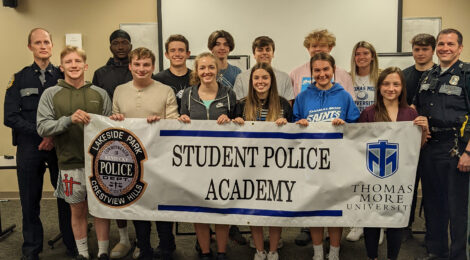 With contributions from Isabella Young, Thomas More University communications major
CRESTVIEW HILLS, Ky. (June 7, 2022) — Thomas More University criminal justice students are getting real-world experience through a continued partnership with the Lakeside Park- Crestview Hills police department. This partnership benefits both the students and Northern Kentucky police departments, who have faced diminishing applicant pools in recent years.
Seeking a hands-on career preparation opportunity for her students, Amy Thistlethwaite, Ph.D., professor of criminal justice at Thomas More University, collaborated with Michael J. Paolucci, MSSL, sergeant at the Lakeside Park- Crestview Hills police department, morphing a version of the police department's Citizen's Police Academy into a six-week student academy program. The first cohort of students began in October 2019. "The idea was to cover a variety of topics within the police profession while incorporating a hands-on approach to not only allow the students to experience what it was like to be a police officer, but to give them an opportunity to see how they would perform in certain police functions," explains Paolucci.
The initial launch of the program was a success but was ultimately placed on hold due to the COVID-19 pandemic. Ellie Megerle, M.S., assistant professor in the sociology and criminal justice department at Thomas More, worked with Paolucci to get the academy up and running again in 2022, this time as a seven-week program embedded in the curriculum of Megerle's theory and philosophy of policing course. "It has been a really great joint effort, combining academics with real life experiences in law enforcement," says Megerle. Thirteen students participated in the reintroduction of the course, gaining a unique perspective through closely working with officers. "My experience in the student police academy was a phenomenal one," declares Thomas More criminal justice major Tommy Ray. "The officers were more than helpful in assisting and aiding the students in how certain police operations and investigations work."
The immersive experience allows students to go beyond basic police functions, examining every aspect of an officer's role, including practical scenarios in patrol operations, communications, legal issues, crime scene processing, DUI and drug investigations, hiring processes, and homicide cases studies. "My favorite part would have to be meeting the SWAT team and seeing the K-9," says Alassane Diallo, a criminal justice student participating in the program. Students also visit the firing range and participate in a mock trial. "It gave me a better idea of what I would be going through in this profession," adds student participant Alison Whitley.
The Lakeside Park- Crestview Hills police department originally launched a Citizen's Police Academy in 2014, as academies of this type grew in popularity throughout the nation. The academy offers community members the opportunity to gain insight into some of the different facets of law enforcement while fostering a healthy dialogue between the community and the police department. The Citizen's Police Academy is a seven-week program that meets one evening a week to cover a range of topics related to modern day policing.
Through community partnerships and dedicated faculty, Thomas More remains at the forefront of offering experiential learning opportunities that best serve its students and prepare them for a successful future. "This experience made me grateful for the officers who protect and serve our community," states Ray. Megerle looks to continue the student police academy through the partnership with the Lakeside Park- Crestview Hills police department. "They made learning fun and created hands-on scenarios for us to do," expresses student participant Sarah Whaley. "This class allowed me to see how officers genuinely work and allowed me to ask real officers questions about the job."
For more information about Thomas More University, visit www.thomasmore.edu.
###
About Thomas More University
For 100 years, Thomas More has created a university for the student who wants to Be More, Do More, Seek More, Win More, Achieve More, and Create More. Since its founding in 1921, Thomas More has provided a mission-driven, liberal arts education that is based in the Catholic Intellectual Tradition. Students learn to harness the power of human reason to solve problems and discover truth, which allows them to begin the journey to become the person they were created to be. Entering into the second century, it's time for More. Serving more than 2,000 students, Thomas More aspires to be the premier Catholic university in the Cincinnati/Northern Kentucky region, build upon its excellent return on investment (ranked #1 among private universities/colleges in Kentucky by MSN Money in 2021 and ranked #2 for long term gain in Kentucky by a 2022 Georgetown University study) and share with this generation the transformative power of the Thomas More experience. To find out more, visit thomasmore.edu.
MEDIA CONTACT: Lyna Kelley, director of communications and PR, kelleyl@thomasmore.edu, 859.344.3309