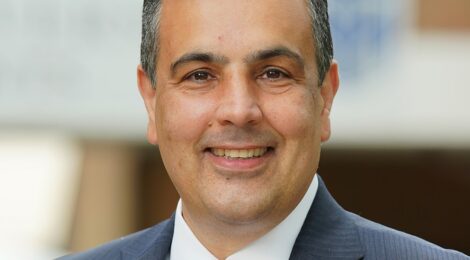 CRESTVIEW HILLS, Ky. (May 10, 2023) — BE NKY, previously Northern Kentucky Tri-ED, announced that Thomas More University President Joseph L. Chillo, LP.D., joins the BE NKY Growth Partnership's Board of Directors. The organization has served the region since 1987 and has led the successful location or expansion of 765 business projects, representing more than 74,150 primary industry jobs created with capital investment of more than $9.3 billion. BE NKY is governed by a 23-member board of directors comprised of business and community leaders, who are unpaid volunteers.
"I am truly honored to be joining the BE NKY Board of Directors," says Chillo. "The innovative and forward-thinking work that BE NKY does to improve our communities is essential. I am thrilled to represent Thomas More on the Board and create this partnership of institutions who value and uphold innovation and service to the community."
President Chillo has been widely recognized as a leader in the community. In 2022, for the third consecutive year, Cincinnati Magazine named Chillo one of the region's 300 most powerful business leaders, recognizing his accomplishments with the recent groundbreaking of the new Thomas More University academic center, as well as athletic victories such as moving from the NAIA to the NCAA DII and partnering with the Florence Y'Alls to introduce Thomas More Stadium, the official home of the University's baseball team. Chillo also joined the Leadership Kentucky class of 2022, a diverse group of people with a broad range of leadership experience, career accomplishments, and volunteer activity, brought together to gain insight into the complex issues facing Kentucky.
For more information about Thomas More University, visit www.thomasmore.edu.
###
About Thomas More University
For 100 years, Thomas More has created a university for the student who wants to Be More, Do More, Seek More, Win More, Achieve More, and Create More. Since its founding in 1921, Thomas More has provided a mission-driven, liberal arts education that is based in the Catholic Intellectual Tradition. Students learn to harness the power of human reason to solve problems and discover truth, which allows them to begin the journey to become the person they were created to be. Entering into the second century, it's time for More. Serving more than 2,000 students, Thomas More aspires to be the premier Catholic university in the Cincinnati/Northern Kentucky region, build upon its excellent return on investment (ranked #1 among private universities/colleges in Kentucky by MSN Money in 2021 and ranked #2 for long term gain in Kentucky by a 2022 Georgetown University study) and share with this generation the transformative power of the Thomas More experience. To find out more, visit thomasmore.edu.
MEDIA CONTACT: Lyna Kelley, director of communications and PR, kelleyl@thomasmore.edu, 859.344.3309