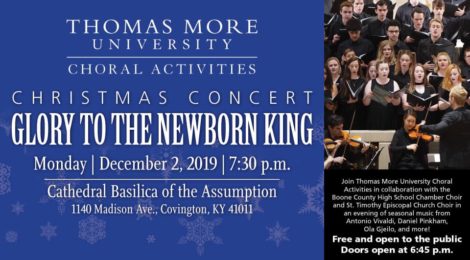 CRESTVIEW HILLS, Ky. (Nov. 14, 2019) — Thomas More University Choral Activities will present their Christmas concert, "Glory to the Newborn King," on Monday, Dec. 2 at 7:30 p.m. at the Cathedral Basilica of the Assumption in Covington, Kentucky. Thomas More Choral Activities, in collaboration with Boone County High School Chamber Choir and St. Timothy Episcopal Church Choir, will perform an evening of seasonal music from Antonio Vivaldi, Daniel Pinkham, Ola Gjeilo, and more.

"'Glory to the Newborn King' is all about collaboration and bringing joys of the holiday season together through music," said Director of Choral Activities Daniel Parsley. "We are lucky to feature our three Thomas More choruses housed in the department – the 40-voice Thomas More Concert Choir, the 24-voice Thomas More Women's Chorus, and the 24-voice Thomas More Chamber Choir – as they collaborate with the Boone County High School Chamber Choir, directed by Mrs. Lauren Barnwell, and the Saint Timothy Episcopal Church Choir. Over 120 voices will join a professional orchestra to fill the beautiful Cathedral Basilica of the Assumption with the music of Antonio Vivalid's stunning 'Gloria' and other favorites by Ola Gjeilo, Daniel Pinkham, and more sung in Latin, English, and French. We hope that you will be inspired to feel the glory and joy of this holiday season through beautiful choral music."
Admission is free, and doors open at 6:45 p.m.
For more information, photos of past concerts, or to stay up-to-date on Choral Activities' happenings, visit their Facebook page at facebook.com/TMUChoralActivities
Thomas More University provides students with something much more than job training. Graduates are prepared for any career. But they leave prepared for much more. They are exposed to the very best thought, literature, art, and music. They learn to harness the power of human reason to solve problems and discover truth. Most importantly, they have the chance to begin to become the person they were created to be. This is the power of the liberal arts in the Catholic Intellectual Tradition at Thomas More University. Our students come here looking for more. And that's exactly what we offer. Here our students take that opportunity and…Make It More. Learn more at thomasmore.edu.
###
MEDIA CONTACT: Rebecca Stratton, director of communications and PR, strattr@thomasmore.edu, 859.344.3309