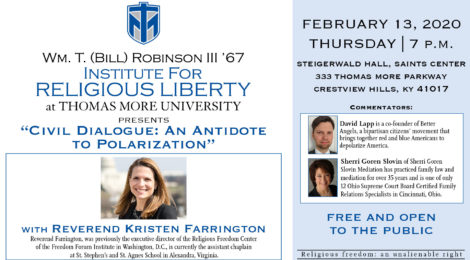 CRESTVIEW HILLS, Ky. (Feb. 5, 2020) — On Thursday, Feb. 13, at 7 p.m., the Thomas More University William T. Robinson III Institute for Religious Liberty (IRL) will host guest speaker Reverend Kristen Farrington to discuss an antidote to polarization.
"Civil Dialogue: An Antidote to Polarization," one of nine events held by the IRL since its founding in 2015, will take place on Thomas More's campus in Steigerwald Hall located in the Saints Center. The event is free and open to the public.
"This is a time when, seemingly like never before, politics seems driven by conflict and anger, and discord is all around us," noted Ray Hebert, Ph.D., executive director of the IRL. "More than ever, there is a need for understanding before argument and a return to civil dialogue rather than polarization. This program will bring together scholars who are also practitioners. They will discuss ways/experiences that demonstrate the successful promotion of civil dialogue."
Farrington, the guest speaker for the event, was previously the executive director of the Religious Freedom Center of the Freedom Forum Institute in Washington, D.C. She is currently the assistant chaplain at St. Stephen's and St. Agnes School in Alexandra, Virginia. While at the Freedom Forum Institute, compelling programs were hosted that engaged in the central debates of our time, including the role of a free press in a democracy, promoting civil dialogue and the significance of religious freedom in a pluralistic society – all programs that educate the public about the religious liberty principles of the First Amendment.
Sherri Goren Slovin is one of the two commentators for the event. Slovin has practiced family law and mediation for more than 35 years and is one of only 12 Ohio Supreme Court Board certified family relations specialists in Cincinnati. She was named the 2011 Cincinnati Best Family Relations Lawyer and the 2013 and 2015 Cincinnati Best Family Mediator by Best Lawyers in the United States, a peer-selection distinction given to only one lawyer in each practice area in each city. Additionally, she has received the highest peer review rating (AV) by Martindale Hubbell and has consistently been selected for the Ohio Super Lawyers Top 25 Female Lawyers in Cincinnati.
David Lapp, the second commentator of the evening, is a co-founder of Better Angels, a bipartisan citizens' movement that brings together red and blue Americans to depolarize America. Lapp helped to found Better Angels in the aftermath of the 2016 election, when he and others organized a workshop that brought together a handful of Trump supporters and Clinton supporters. Lapp serves as a co-investigator in the Love and Marriage in Middle America Project and his writings have appeared in The Wall Street Journal, National Review and First Things among other mainstream, conservative and liberal news outlets.
The William T. Robinson III Institute for Religious Liberty (IRL) serves to advance the American concept of religious freedom as an unalienable right and the protection of this right for all people. It was established in 2015 after several local business and educational leaders, including representatives from Hebrew Union College, discussed the need to celebrate and educate others about the constitutional privilege and right to freely worship and practice religion.
---
*Article updated with content from IRL presentation*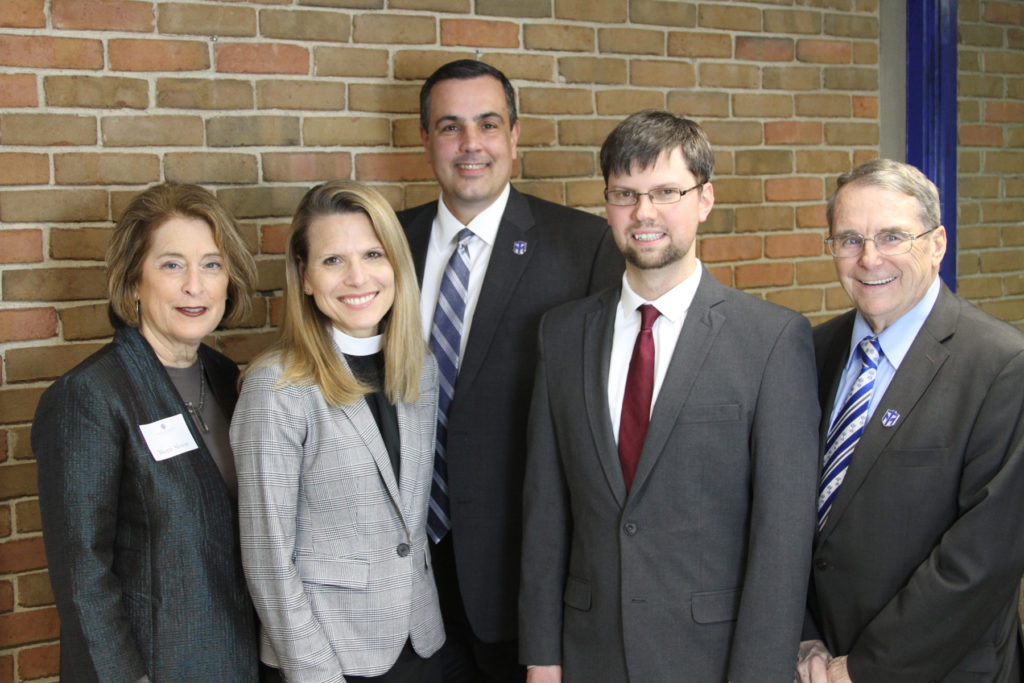 Thomas More University provides students with something much more than job training. Graduates are prepared for any career. But they leave prepared for much more. They are exposed to the very best thought, literature, art, and music. They learn to harness the power of human reason to solve problems and discover truth. Most importantly, they have the chance to begin to become the person they were created to be. This is the power of the liberal arts in the Catholic Intellectual Tradition at Thomas More University. Our students come here looking for more. And that's exactly what we offer. Here our students take that opportunity and…Make It More. Learn more at thomasmore.edu.
###
MEDIA CONTACT: Rebecca Stratton, director of communications and PR, strattr@thomasmore.edu, 859.344.3309