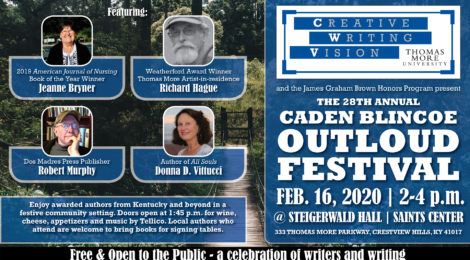 CRESTVIEW HILLS, Ky. (Feb. 11, 2020) – The Thomas More University Creative Writing Vision Program will present the 28th annual Caden Blincoe Outloud Festival from 2 – 4 p.m. Sunday, Feb. 16, in the Saints Center on campus.
The Outloud Festival, which is held in collaboration with the James Graham Brown Honors Program, will offer a unique celebration of writers and writing in a festival setting. In attendance will be the 2019 American Journal of Nursing Book of the Year winner Jeanne Bryner, Dos Madres Press publisher Robert Murphy, Weatherford Award winner and Thomas More Artist-in-Residence Richard Hague, and "All Souls" author Donna Vitucci. The event will also include music by Tellico, a three-generation Appalachian family band.
The event is free and open to the public. Doors open at 1:45 p.m. Local authors who attend are welcome to bring books for signing tables. Appetizers and refreshments will be served.
"The Outloud Festival reflects a strong value for literature as a resource for diverse cultures and groups," said Sherry Cook Stanforth, Ph.D., Creative Writing Vision director. "This year, the sciences meet the arts in nurse-author Jeanne Bryner, whose creative interpretations of healing and biographical efforts stand as inspiration for all of us. The Outloud Festival authors regularly feature diverse disciplines and themes – the mission here is to unify people from different perspectives and cultures in a meaningful celebration of the expressive arts. I feel honored to promote this historical event as a reflection of Thomas More and Kentucky spirit."
The annual event honors the late Boone County Kentucky Enquirer reporter and literacy advocate Caden Blincoe, who emphasized the importance of sharing great literature among all people, including those who may not read or have access to books. Blincoe was also a member of the Cincinnati Editor's Association, the Cincinnati Writers Project, and Adult Literacy.
The festival began in 1991 at Big Bone Lick State Park and, shortly after moving to the campus, became one of Thomas More's most popular public events, featuring regional greats including Frank X Walker, Crystal Wilkinson, Richard Taylor, the late Jim Webb, Cathy Smith Bowers, and Robert Gipe.
Thomas More University provides students with something much more than job training. Graduates are prepared for any career. But they leave prepared for much more. They are exposed to the very best thought, literature, art, and music. They learn to harness the power of human reason to solve problems and discover truth. Most importantly, they have the chance to begin to become the person they were created to be. This is the power of the liberal arts in the Catholic Intellectual Tradition at Thomas More University. Our students come here looking for more. And that's exactly what we offer. Here our students take that opportunity and…Make It More. Learn more at thomasmore.edu.
###
Media Contact: Rebecca Stratton, strattr@thomasmore.edu , 859.344