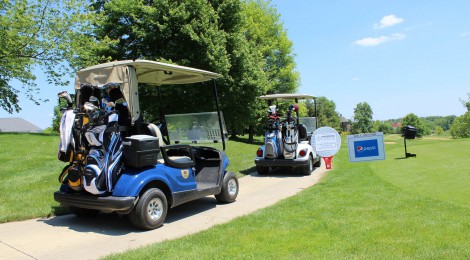 Monday, May 23, dawned sunny and mild as over 100 golfers arrived at Summit Hills Country Club to take part in the 2016 TMC Scholarship Outing. All proceeds from the outing benefit student scholarship programs at the College, which helps to make a TMC education affordable. It is well documented that affordability is a major factor in choosing a college and 100 percent of traditional, full-time students receive the benefit of financial assistance at Thomas More College. Thank you to the following companies and individuals for taking part as sponsors in the golf outing:
Villa Sponsor – USI Midwest
Foursome/Hole Sponsors – Aramark Higher Education, BB&T, Cassady Schiller CPAs & Advisors, Central Bank, Century Construction, CBTS, DBL Law, Evolution Creative Solutions, Fifth-Third Bank, Fourth Street Performance Partners, Gallagher SKS, Legacy Financial Advisors, Lexus RiverCenter, Pepsi, Republic Bank, Ronald B. Jones Funeral Home, St. Elizabeth Healthcare, Greg '94 & Angie '97 Stofko, Von Lehman & Company
Foursomes – Bexion Pharmaceuticals, Frost Brown Todd, SFA Architects/Thelen Associates, Tri-County Economic Development Corp.
Hole Sponsors – Liberty Mutual, ProSource, Skyline Chili.
Mark your calendar to take part in next year's outing, scheduled for Monday, May 22, 2017. For more information contact Director of Development Tony Roderick at tony.roderick@thomasmore.edu or 859-344-3530