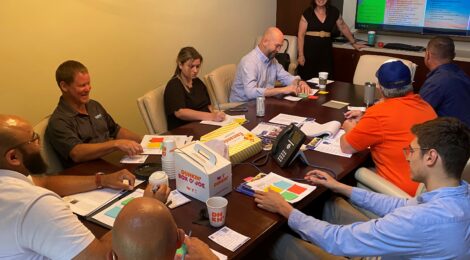 Submitted by Debby Shipp, director of co-op and corporate engagement at Thomas More University
CRESTVIEW HILLS, Ky. (August 5, 2022) — Thomas More University hosted the Structured Technologies, a Northern Kentucky technology solution provider, management team for a professional development session on June 28, 2022. The session entitled, "Time Management: Planning, Motivation, and Strategies for Everyday Work and Life," was presented by Heather Abbott, a higher education professional specializing in academic support and "life hack" strategies.
"The Thomas More development session our team attended was very insightful," says Creag Adams, president of Structured Technologies. "Each member took something different away from it. Everyone heard something unique, which is key for building strong teams. As owner of Structured Technology, I am always looking for ways to expand the skill set of our leadership team. Attending the Thomas More professional development session, I felt we achieved that. Any time you can bring fresh ideas to a group, you get an opportunity to grow in new directions. I'd recommend attending a session to anyone that asked."
July brought a new group of professional learners to Thomas More's campus, as the Houchen's Insurance Group attended "How to Communicate Across Lines of Differences" presented by Caitlin Powell, Ph.D., psychology department chair at Thomas More University. Powell's presentation was backed by her research focusing on social emotional and comparative processes. "This was an eye-opening experience, that forced me to analyze how I communicate with others," explains Michael Turner, director of operations at Public Entity Insurance. "Being able to empathize with others and see their perspective is something I will take from this training and keep with me long into the future."
In another excellent session, Bruce Rosenthal, Ph.D., dean of the College of Business at Thomas More presented on, "Getting Your Point Across: Making Effective Presentations." Rosenthal described effective methods in conveying points and engaging audiences. "I would highly recommend Dr. Rosenthal's seminar," comments Janie Oliver, chief operating officer of OrthoCincy. "He was able to provide us with practical information, tailored the session to our business, and made sure every question was answered. I think any professional would benefit from this seminar".
A local Chick-Fil-A management team also recently took advantage of Thomas More professional learning. In the session led by Anthony Schumacher, Ph.D., chair of Thomas More University's Institute of Ethical, Management, and Organizational Leadership department, presented "Leading High-Performance Teams." Schumacher believes in the opportunities provided by higher education and the potential online programs present in improving students' personal lives, careers, and their communities.
For more information on Thomas More's Professional Development Series, contact Debby Shipp at shippd@thomasmore.edu.
For more information about Thomas More University, visit www.thomasmore.edu.