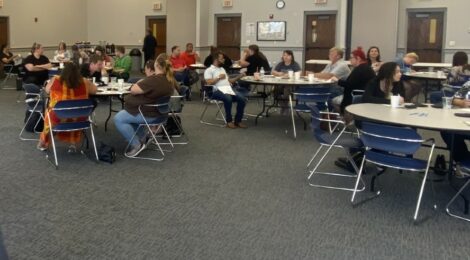 Submitted by Debby Shipp, director of co-op and corporate engagement at Thomas More University
CRESTVIEW HILLS, Ky. (June 29, 2022) — Over 40 staff members of the Welcome House of Northern Kentucky arrived at Thomas More University for a professional development session on June 23, 2022. Heather Abbott, a higher education professional specializing in academic support and "life hack" strategies, presented the session entitled, "Time Management: Planning, Motivation, and Strategies for Everyday Work and Life."
"As someone who has to constantly prioritize time during my workday, I was really appreciative of the tools that were provided at this seminar to help me do that," says Kelly Rose, vice president of marketing and development at Welcome House. "I feel that I have a lot more confidence on how to navigate my workflow without feeling overwhelmed or procrastinating."
Welcome House was founded in 1982 by Father William Mertes, then director of Catholic Social Services, and works to end homelessness by offering a continuum of services to assist economically disadvantaged citizens in Northern Kentucky. Since its founding, Welcome House has expanded services to not only encompass an emergency shelter, but to also take a holistic approach to ending homelessness.
"The missions of Thomas More University and the Welcome House of Northern Kentucky align in that they both realize their responsibility to others," says Debby Shipp, director of partnership development at Thomas More. "It was a pleasure to host them and to thank them for the important services they provide".
For more information on Thomas More's Professional Development Series, contact Debby Shipp at ShippD@ThomasMore.edu.
For more information about Thomas More University, visit www.thomasmore.edu.
###
About Thomas More University
For 100 years, Thomas More has created a university for the student who wants to Be More, Do More, Seek More, Win More, Achieve More, and Create More. Since its founding in 1921, Thomas More has provided a mission-driven, liberal arts education that is based in the Catholic Intellectual Tradition. Students learn to harness the power of human reason to solve problems and discover truth, which allows them to begin the journey to become the person they were created to be. Entering into the second century, it's time for More. Serving more than 2,000 students, Thomas More aspires to be the premier Catholic university in the Cincinnati/Northern Kentucky region, build upon its excellent return on investment (ranked #1 among private universities/colleges in Kentucky by MSN Money in 2021 and ranked #2 for long term gain in Kentucky by a 2022 Georgetown University study) and share with this generation the transformative power of the Thomas More experience. To find out more, visit thomasmore.edu.
MEDIA CONTACT: Lyna Kelley, director of communications and PR, kelleyl@thomasmore.edu, 859.344.3309