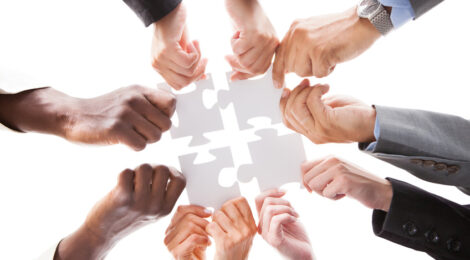 Since the COVID-19 pandemic began to change our lives earlier this year, we have learned that there are many things we cannot control. Or perhaps we just thought we were controlling our lives, but now we know that is just not the case. Sadly, some of us have lost loved ones and others are grappling with anxiety and depression. We have missed out on so much that was central to our lives: time with friends and family, special milestone events, our religious services, and even the feeling of being in a crowd of people. Moments canceled or replaced with social distancing and online meetings. At work, we are masked up and apart or working from home on our own. Yet within all the changes and uncertainty, every day I find something positive, a blessing amid the chaos, such as the wave of technology embraced across generations and more time at home with my family. We may also consider the reminder we have all been given about not taking for granted many of our activities and relationships. Life lessons can also be valuable.
As if the pandemic wasn't enough, the division within our nation has continued to grow with polarization fueled by the presidential election, a constant 24-hour news cycle, social media, and anxiety about our future as a country. Leaders are supposed to be strong and steadfast, yet in these times, we find ourselves tired at best and exhausted if we are being really honest. Considering all that is happening in the world, I know there are some truths of leadership that still hold true. People want to be part of something bigger than themselves. They also want to know that they matter, not for what they can deliver to an organization in the form of productivity, but as a human.
As we head into the holiday season with new hope for a new year, here are three ways leaders can lead during this season.
Create a Clear Shared Vision. Employees can accomplish more than what would seem to be humanly possible when they are clear on their goals and how they contribute to the organization's shared vision. This clarity should be a core priority for leaders during this time. When external forces are uncertain, it is more important than ever for leaders to clearly articulate the goals and vision for the future and allow every person to see how they contribute to it. Hold virtual team meetings to plan for the future, even if you have to come up with various scenarios.
Be Flexible. Every person on your team deals with a unique situation and has a myriad of feelings around what is happening in the world. Now is not the time for strict rules and inflexibility. Demonstrate to each employee that they matter by working with them to find ways to accomplish their goals at their work and manage their personal life. Encourage teams to work together to cover for one another as needed, which allows them to connect, even if they have to be physically separate.
Inspire Hope. Neurological research tells us that we spread emotions through a process called emotional contagion. Although being physically present with others amplifies this effect, make no mistake that employees look at their leaders' emails, facial expressions, and actions very closely right now, especially when interactions are less frequent. Find ways to shine a light on the contributions employees are making and inspire them to continue the value they are bringing to work each day. People have to believe that the future is bright. Leaders are responsible for painting that picture of hope and sharing their enthusiasm for it.
As my grandmother used to say, "this too shall pass." However, the choices we make as leaders right now will define our organizations and how we weather this storm. We can choose to allow our current circumstances to push us off course and send our organizations and employees into divided chaos, or we can create a shared vision, be more flexible, and inspire hope that unites us for the future.