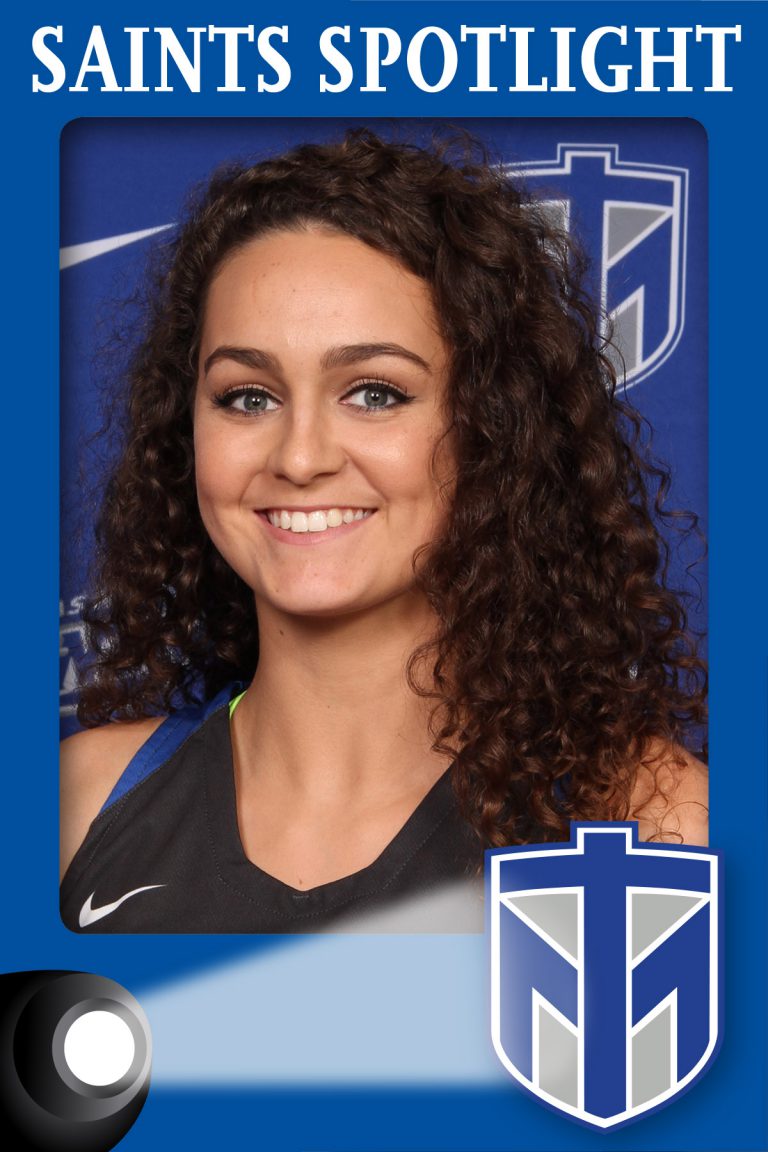 What is your favorite memory from this season?
Obviously, I want to say that winning a National Championship with my amazing teammates and coaches and all of our fans there was my favorite memory. But honestly the most memorable game for me, besides the championship, was our Elite 8 game against Wash U. I've never seen our crowd that big and to have their support in such a big game to help us celebrate every big play with us was awesome. I think it was a true testament to our team culture that we were able to play hard for one another and stick together to beat a really good program like Wash U. I'm definitely going to miss playing in our gym in front of the best fans!
Why did you choose TMU?
I chose Thomas More because I knew it had the competitive basketball program that I was looking for and it was close to home. I wanted to be able to contribute to a team and help them win another National Championship if I could. I also liked the idea of small class sizes so that I could develop better relationships with my teachers and focus more in the classroom.
What are your plans following your graduation from TMU?
Right now my plans are kind of up in the air. My goal is to play basketball professionally overseas for at least one year – to travel and see the world while getting paid to play the game I love. If that doesn't work out, or whenever I come back from that, I want to get a job in the sports field. Whether it's sports analytics, sports analyst, coaching, working for ESPN or the NCAA, etc. The possibilities are kind of endless for me, but as long as I'm doing something sports-related, specifically basketball if possible, then I will be happy.
I also hope to become a public speaker and share my stories with others in the future. I really like interacting with young athletes who are going through injuries – specifically ACL – to give them someone to relate to and give them any advice or support that they need. I'm hoping to write a book about my story and everything I went through and where I ended up!
What is the feeling of winning a national championship as a freshman then helping lead your team as a senior to another?
I'll start by saying both feelings were incredible. Our team my freshman year was a special one and I really wanted to win it for our seniors because they deserved it more than anyone. It was really fun being new to the whole thing – since they had just won a National Championship the year before I got there so they had all experienced it already. To experience it for the first time with my freshmen teammates and just have such a fun freshman year was awesome because I wasn't sure I even wanted to play basketball in college. The championship this year, however, was more special to me. We were all so close this season and I always just wanted to go out and play my hardest to help win for each one of them. I told Asyah Mitchell before the season started that I was going to get her a championship ring. I wanted all of my teammates to have the same experience I did and wanted to do whatever it took to help them feel what it's like to win a National Championship. I was so emotional after we won because I was so happy to finally finish where we wanted and to go out on top. There was no better way to end my senior year.
Where do you see yourself in 10 years?
I see myself working in sports in some capacity and starting a family. I hope to be loving my job and be happy and healthy. I want to have made an impact on young athletes who may be going through injuries by sharing my story with them and giving them someone to talk to for advice or just to listen. I also hope to have traveled and seen different parts of the world and to continue to travel.
Do you have any hidden talents or hobbies other than basketball?
I like to sing but I don't sing in front of other people because I get too nervous. I also like to play sand volleyball when I can because I loved volleyball when I used to play. I think a hidden talent is that I can say the alphabet backward and I can juggle.